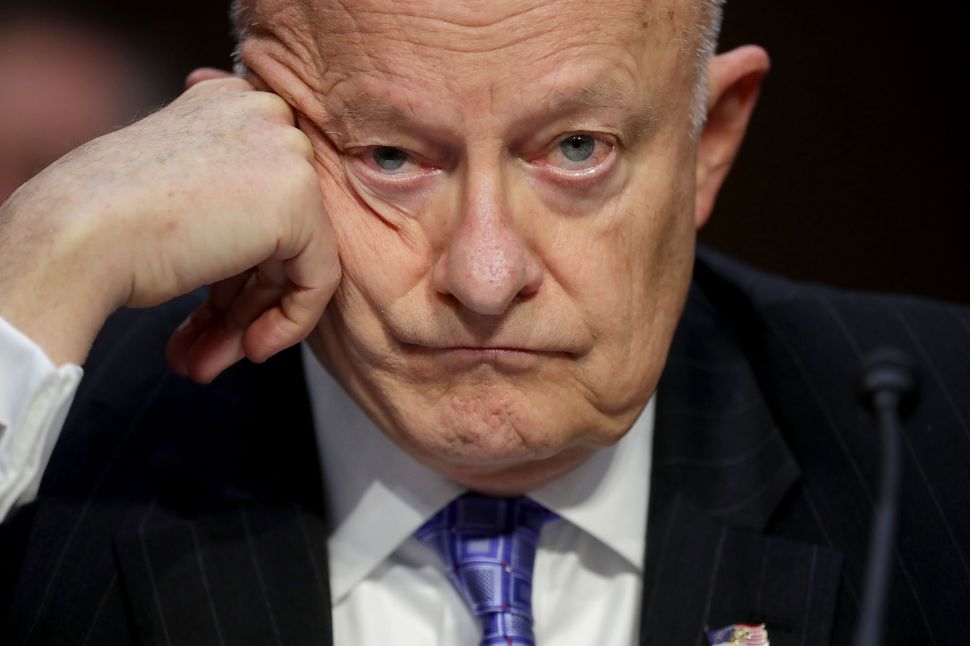 The Roy Moore sex scandal hijacked many minutes from most of TV's Sunday shows. All those unanswered questions.
Did the Bible-thumping Alabama zealot really molest a girl when she was 14 years old and he was 32? Did he really chase after high-school girls half his age? If true, should that disqualify the sanctimonious Republican from the ballot for a U.S. Senate seat on Dec. 12?
But one show, State of the Union on CNN, led with what may be a bigger issue overall: the knowledge the American intelligence agencies have collected and passed on about amateur President Donald Trump and his curiously friendly attitude toward Russia and President Vladimir Putin.
Host Jake Tapper interviewed John Brennan, the former Director of the Central Intelligence Agency, and James Clapper, the former Director of National Intelligence. They discussed Trump's coziness with Russia and Putin.
TAPPER: "Do you know of any compromising material the Russians might have on him?"
BRENNAN: "Uh, I, I have shared everything I know with the intelligence committees."
TAPPER: "Um, that's not a 'No' or a 'Yes.'"
According to Brennan, "Mr. Putin is very clever in playing to Mr. Trump's interest in being flattered. And, also, I think, Mr. Trump is, for whatever reason, either intimidated by Mr. Putin, afraid of what he could do, or what might come out as a result of these investigations… It's either naïvete, ignorance or fear in terms of what Mr. Trump is doing vis-a-vis the Russians."
Brennan and Clapper appeared because Trump—on his current tour of Asia—called them "political hacks." He also called former FBI Director James Comey a "liar" and a "leaker." Last January, Trump compared the American intelligence services to those of Nazi Germany.
Although American intelligence has determined that the Russians interfered with the 2016 election in which Trump defeated Hillary Clinton despite losing the popular vote, Trump has conflated that with accusations that he and his aides collaborated with Russia and has refused to concede anything.
These things are being investigated by three congressional committees and special counsel Robert Mueller. Trump had much to say Saturday about last week's smiles and handshakes with Putin and repeated denials of interference in the U.S. from the former KGB spymaster.
"He says, 'I didn't do that.' I think he is very insulted by that, if you want to know the truth," Trump said. "Every time he sees me, he says, 'I didn't do that.' And I believe, I really believe, that when he tells me that, he means it."
Trump said Putin told him again he didn't meddle in the American election.
"I asked him again," Trump said. "You can only ask so many times. But I just asked him again and he said he absolutely did not meddle in our election." On Twitter, Trump referred to those opposing his Russia outreach as "haters and fools."
When asked to clarify his thoughts about American intelligence later in a formal news conference, Trump still couldn't quite criticize Putin and Russia.
But he hinted that he—kind of, maybe, perhaps—sort of believes the American intelligence agencies now when they say that Russia interfered because he, Trump, has appointed his own people to lead them.
"I'm with our agencies, especially as currently constituted with their leadership," Trump said. "I believe in our intel agencies, our intelligence agencies."
Brennan told Tapper he didn't mind being called a hack by Trump.
"Considering the source of that criticism, I consider that criticism a badge of honor," Brennan said.
He added that Trump should be ashamed of impugning the character of Clapper on Veterans Day. Clapper fought in the war in Vietnam; Trump got several draft deferments.
"Reprehensible," Brennan said regarding Trump's attack on Clapper. "It's something Mr. Trump should be ashamed of. But it doesn't seem as though anything he does he feels any shame whatsoever."
Both Brennan and Clapper portrayed Trump as an amateur at foreign affairs.
"Both the Chinese and the Russians think they can play him," Clapper said, adding that Trump is susceptible to pomp and the red-carpet treatment when he visits foreign lands. Clapper also said it is "astounding" that Trump speaks only ambiguously about Russian espionage in the U.S.
"It poses a peril to this country," Clapper said. "The Russians do not harbor good intentions toward the United States. And there shouldn't be any illusions or any ambiguity about that. And our president fosters that ambiguity."
Brennan said Trump's failure to confront Putin amounts to "giving Putin a pass."
"It demonstrates to Mr. Putin that Donald Trump can be played by foreign leaders who appeal to his ego and try to play upon his insecurities," Brennan said, "which is very, very worrisome from a national security standpoint."
Other shows also touched on the Trump-Russia issue. On Face the Nation on CBS, panelist Jeffrey Goldberg of the Atlantic told host John Dickerson that Trump, "in his heart," seems to believe that the Russia controversy is manufactured by his enemies.
"And he really believes that Putin is in the driver's seat in their relationship," Goldberg said, "and he believe that he needs Putin more than Putin needs him. It's really quite fascinating, actually because this is unprecedented."
On NBC's Meet the Press, Republican Senator Pat Toomey of Pennsylvania told anchor Chuck Todd, "I don't think there's anything we can trust that comes out of Putin's mouth. I think he's a dangerous man and a thug."
Joe Lapointe spent 20 years as a sports reporter for The New York Times and worked as a segment producer for Countdown With Keith Olbermann. Recently, he has taught journalism at New York University, Rutgers and Long Island University-Brooklyn. follow him on twitter: @joelapointe