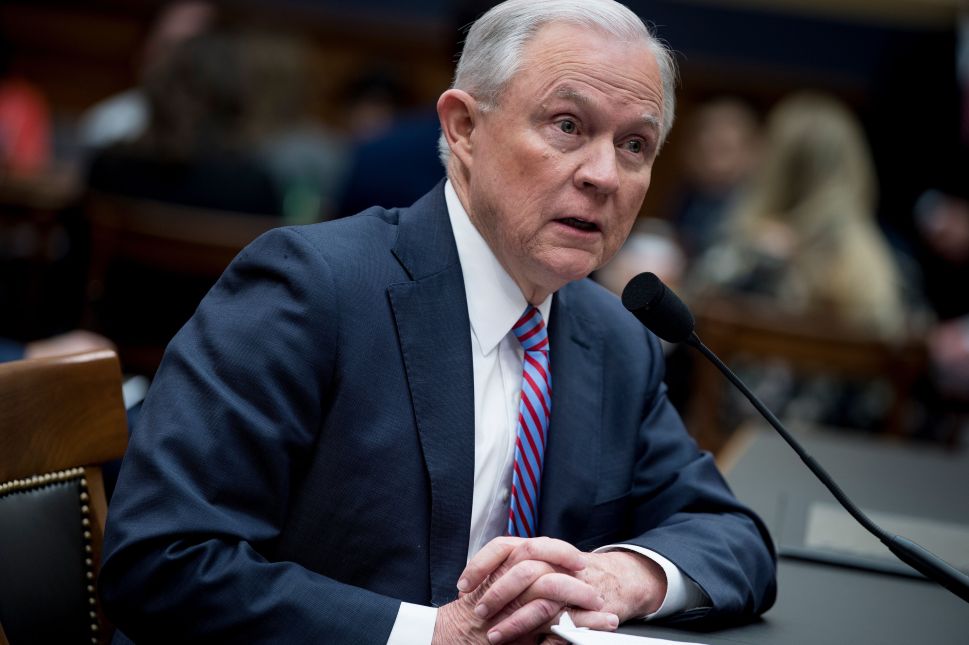 Jefferson Beauregard Sessions III, the attorney general of the United States, is a stiff-necked lawman who acts as if he saw Reefer Madness a long time ago and still thinks it was a documentary.
His antiquated attitude toward marijuana came up briefly again Tuesday when he testified before the House Judiciary committee. But there was no time to discuss his backward record on African-American voting rights because there was so much other stuff to cover.
Much of the hearing centered on how Sessions keeps changing his story about contacts between associates of amateur President Donald Trump and the Russian agents who tried to sabotage last year's election to beat Hillary Clinton. Sessions had a key role in Trump's campaign.
How much does Sessions remember about the Russians—if anything?
"I don't recall," Session said, in some form, more than a dozen times, in an edited video that ran at least twice on CNN.
"He should go see a doctor," said Ted Lieu, a Democratic congressman from California, on MSNBC, "because he has severe memory loss."
Erin Burnett assessed it skeptically on CNN when discussing Sessions' memory of a campaign meeting with self-styled Russia contact George Papadopoulos.
Sessions, Trump and others sat with him at a table when Papadopoulos proposed setting up a meeting between Trump and Russian President Vladimir Putin. Sessions remembered Tuesday that he turned down the offer, a different story than he previously told.
"So he didn't recall the meeting until he did," Burnett said of Sessions. "He has no clear recollection of the details except for knowing what he wanted to make clear to Papadopoulos which, of course, if true, means Sessions remembered what Papadopoulos was talking about in the first place—which was meeting with the Russians."
There also was much speculation on MSNBC, CNN and even Fox News Channel Tuesday about how Sessions soon might return to his old Alabama Senate seat if Roy Moore, the Republican candidate, either leaves the race before the special election on Dec. 12 or maybe even if Moore wins.
According to the second theory, Senate Majority Leader Mitch McConnell would force the Senate to expel Moore because he is accused of sexual molestations of teenage girls when he was in his 30s. That could set up a new Alabama election.
There are plenty of permutations from this theory. One of the most chilling was discussed on CNN's Anderson Cooper 360 by Richard Painter, a lawyer who worked in the White House for President George W. Bush in the office of ethics.
Should Sessions return to the Senate, Trump could appoint a new attorney general who might fire special counsel Robert Mueller, who is investigating the Russian election scandal. After all, that's what Trump wants.
"If they put in a different attorney general, and you've got an excuse to fire Robert Mueller, all heck's going to break loose," Painter told Cooper. "Going to end up with the president getting impeached." Painter also predicted a "constitutional crisis."
And there could be a different wrinkle.
Assuming that Moore gets elected and seated to the chagrin of his fellow Republicans, the "expel and call a new election" scenario assumes that Senate Democrats and many Republicans would unite in bipartisan disgust to evict the sanctimonious Bible thumper who claims to speak for God.
But what if the Democrats double-cross McConnell, just the way he did to them when he stole a Supreme Court choice from President Barack Obama and gave it, instead, to Trump?
What if Democrats refuse to expel Moore? McConnell would need 67 of 100 votes.
Perhaps, after absorbing right-wing venom for many years from holier-than-thou Republican elected officials and their right-wing media brown-nosers, the Senate Democrats could simply say to the Republicans:
"Sorry, folks. Roy Moore is all yours. He may be disgusting, ignorant and dangerously addled, but your voters elected him and he stays. He's going to embarrass you every day for the next few years. He's going to fight with you as much as with us. He's going to let Steve Bannon crow about another victory over the GOP establishment and that might hurt every one of you. He's going to help bring down the Trump presidency. Yes, indeed, Republican Senator Judge Roy Moore from the great state of Alabama is like an odor that won't go away. Get used to the smell."
Even the Trump fluffers on Fox started to back away from Moore Tuesday. Tucker Carlson, who has tried his best to ignore the story, said in the middle of Tucker Carlson Tonight that he is tiring of Moore equating his troubles with the persecution of Christians.
"God is not accused of trolling for teenagers in shopping malls," Carlson said. "This is not about Christianity. It's about Roy Moore."
In the following hour, Sean Hannity himself said that he, too—Sean Hannity!—would call for Moore to step down if he doesn't produce a suitable excuse within 24 hours.
Coincidentally, Trump returned from his Asia junket Tuesday night. Trump has been mostly silent on the Moore mess, but he talks often to Hannity, whose hedging Tuesday might be a straw in the wind signaling Trump's next move in this case.
Don't assume he'll make the right move. As is the case with the entire Trump era, the Moore fiasco might get worse before it gets better.
Joe Lapointe spent 20 years as a sports reporter for The New York Times and worked as a segment producer for Countdown With Keith Olbermann. Recently, he has taught journalism at New York University, Rutgers and Long Island University-Brooklyn. follow him on twitter: @joelapointe