Jemima Kirke's family home in East Hampton is now for sale. Click through to see inside.
Compass
Lorraine Kirke purchased the house in 2007, and entirely redid it.
Compass
It's on 0.5 acres.
Compass
Walls of glass doors lead outside.
Compass
There are hardwood floors throughout much of the 2,000-square-foot home.
Compass
The finished basement includes a movie theater.
Compass
The living room has a wood-burning fireplace.
Compass
The house is comprised of four bedrooms and four bathrooms.
Compass
It's now on the market for a touch under $3 million.
Compass
The master suite is located upstairs.
Compass
The dining room offers indoor and outdoor options.
Compass
There are various patterned wallpapers throughout.
Compass
It's in the Springs area of East Hampton.
Compass
It's right on Gardiners Bay.
Compass
The cedar soaking tub.
Compass
The adorable East Hampton home owned by Jemima Kirke's family is now on the market, at a discount.
Kirke's mother, interior designer Lorraine (she also owned Geminola, an erstwhile West Village boutique), bought the four-bedroom, 3.5-bathroom retreat in May 2007 for $2.25 million.
She entirely renovated, updated and designed the 2,000-square-foot house; the $2.995 million listing, held by Compass broker James Petrie, describes Kirke as a "published New York top interior designer." It doesn't make note of the other famous faces in the family—Jemima and her sisters, actress Lola and musician/doula Domino.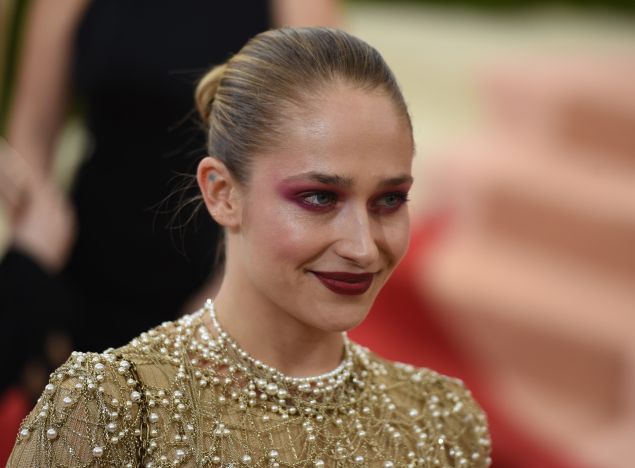 The 0.5-acre property is in the Springs area, located right on Gardiners Bay, so the views are entirely picturesque. The master suite is upstairs, with French doors that lead to a private balcony overlooking the bay, along with an outdoor shower.
The house, originally built in 1900, is hidden behind an iron gate. Inside, it's a rustic-beachy atmosphere, with hardwood floors, paneled walls and an iron beam in the eat-in kitchen, as well as an indoor-outdoor dining area. Patterned wallpaper on the main level adds a somewhat whimsical touch to the place.
The living room features a wood-burning fireplace, and there are also walls of glass doors that provide views of the water and lead to the deck, which is equipped with a cedar soaking tub. Downstairs, there's a finished basement with a screening room.
This isn't the first time the Kirkes have tried to part with the waterfront getaway. The house was on the market for $3.75 million in spring of 2016, and earlier this year was asking $3.58 million. It was also offered as an $85,000 rental in February. They seem more determined to say farewell to the place now, though, what with its new price cut.