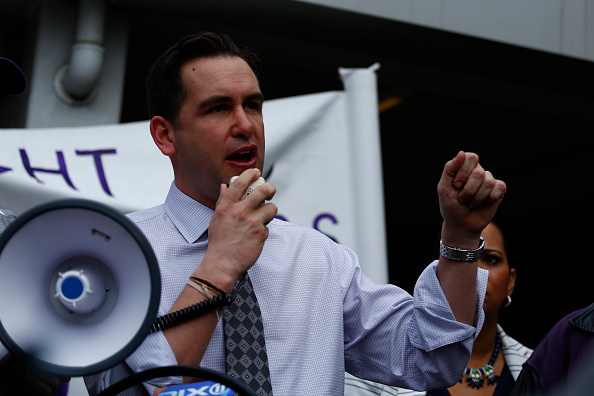 Jersey City Mayor Steve Fulop was re-elected on Tuesday, staving off a challenge from another Democrat, lawyer Bill Matsikoudis.
"Today is a record-breaking Election Day in Jersey City, with the largest percentage margin since 1947 to re-elect a mayor after four years," Fulop said in a statement. "From a larger police force, to new parks, to stable taxes, I know that the efforts of our first term can be seen every day, and I am honored to have been given another four years to build upon the progress we have worked so hard to achieve."
Fulop won despite questions in the home stretch of the race about whether some of his aides tried to steer a city contract to a specific company. In October, a 2014 recording was obtained by Politico New Jersey in which Fulop's former chief of staff, Muhammad Akil, and Jersey City Democratic Chairman Shawn Thomas discuss steering a city contract to a specific company. Politico also reported that, despite the audio, Fulop did not completely sever ties with Akil, paying him $10,000 from election accounts in August.
But Fulop, a Democrat, is a well-connected incumbent with significant institutional support. In addition to backing from Democratic organizations around the state and in Hudson County, Fulop and his council slate reported raising $2.9 million this campaign season. Fulop also had the backing of a number of labor unions, a significant fundraising resource.
Fulop will start his second term as mayor in January. In 2013, the former councilman defeated then-incumbent Mayor Jerramiah Healy.
Fulop was long rumored to be one of the top contenders for the New Jersey Democratic gubernatorial primary. In September 2016, Fulop ended speculation that he would be running and backed Democratic gubernatorial candidate Phil Murphy, now the state's governor-elect. There is lingering speculation that the Jersey City mayor may still have his sights set on higher office, particularly if Sen. Bob Menendez is forced to resign following an adverse jury ruling in his corruption trial.
Matsikoudis had been a vocal critic of Fulop's potential gubernatorial run, claiming that the mayor sidelined his duties in Jersey City to pursue the governorship.
Tuesday's election was the first time Jersey City held a municipal election in November. Last year, voters approved a referendum to move those elections from May in order to save costs. Matsikoudis was a critic of the move, claiming that it was an attempt by Fulop to secure his gubernatorial run without giving up his mayorship. That point ended up being moot when Fulop opted out of the governor's race.