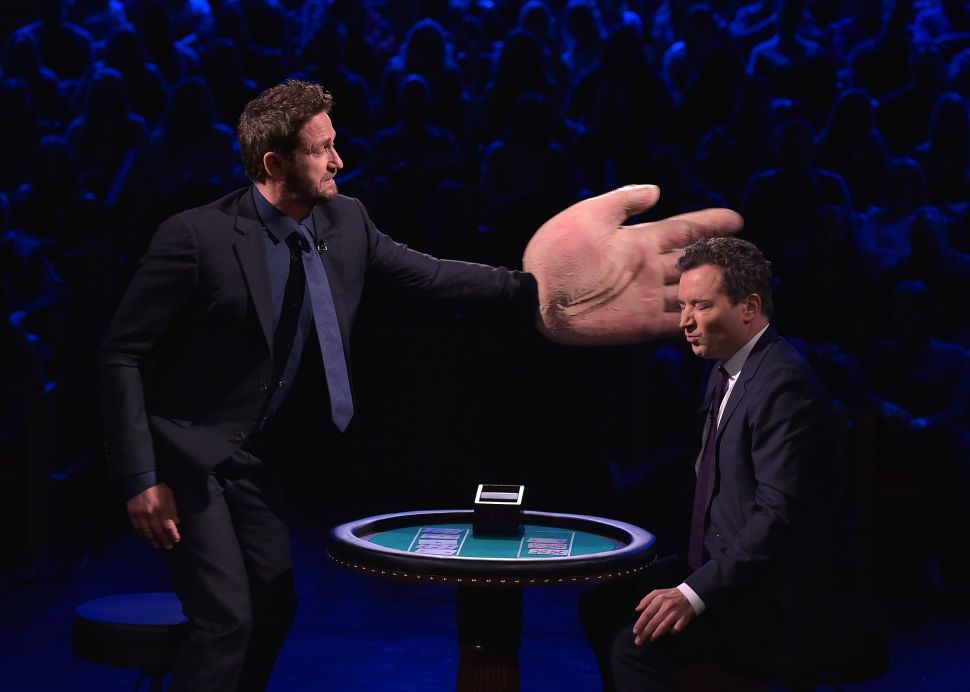 While Donald Trump has been a huge boon for late night TV ratings, one host who isn't enjoying an upswing is Jimmy Fallon. The good-natured nice guy persona Fallon has crafted on NBC's The Tonight Show is great for producing viral videos, but not so great for navigating a politically tumultuous era. As Stephen Colbert's The Late Show and Jimmy Kimmel's Jimmy Kimmel Live have continued to hone in on the Trump administration, and seen viewership rise as a result, Fallon has largely stayed out of the fray and is suffering because of it.
According to the New York Times, Fallon has lost 21 percent of his audience year over year since the fall season began on September 25. Since February, Colbert leads late night in total viewers by a wide margin and Kimmel has been gaining ground over the last several months as well. NBC's top brass have combated these trends by noting that Fallon still leads the field in viewers in the advertiser-friendly 18 to 49 demographic, but the New York Times points out that even that gap is closing.
Per Nielsen data, The Late Show pulled in just 57,000 fewer viewers than The Tonight Show during November's sweeps period, which ended last Wednesday. According to the outlet, that is the smallest lead NBC has held over CBS since Fallon and Colbert began competing 27 months ago. In other words, the ground is shrinking beneath the former's feet.
Fallon hit the ground running in 2014 when he took over for Jay Leno with a modernized Tonight Show that emphasized celebrity interviews and hashtag-worthy bits. Colbert, meanwhile, struggled in the early goings of his Late Show tenure in 2015. However, as Colbert has shifted his focus more and more towards politics, his ratings have continued to rise. He averaged 3.7 million total viewers per night during the latest sweeps period, which marks a whopping 23 percent rise compared to last year. Fallon, on the other hand, has seen his 18 to 49 audience sink by 26 percent since the fall season kicked off. Of the three shows, Fallon has seen the most dramatic viewership drop in this crucial demo.
Overall, The Tonight Show is averaging "just" 2.6 million total viewers per night, while Jimmy Kimmel Live is hot on its heels with 2.4 million, per the New York Times and Nielsen. If something doesn't change for NBC, the network could find itself in third place in the Late Night ratings race.