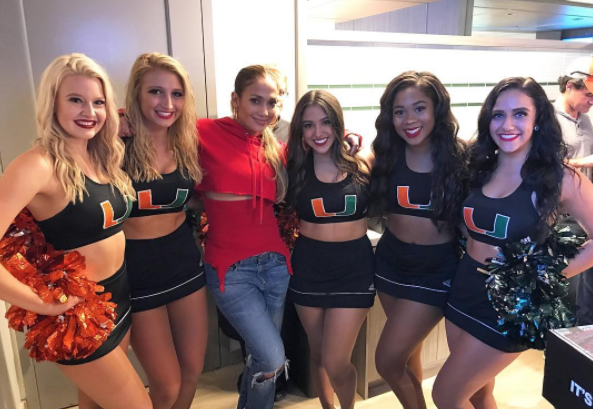 Jennifer Lopez and Alex Rodriguez (better known as J. Lo and A. Rod, of course), have been on quite the publicity tour as of late. They opened up about their relationship in a candid interview with Vanity Fair for the December issue and this weekend they appeared in Miami, for a very public date night.
The couple ventured to the Hard Rock Stadium to watch the University of Miami's Hurricanes play Virginia Tech; A-Rod's daughters also tagged along for the outing.
According to Page Six, Lopez had never attended a University of Miami game before, even though A-Rod is a noted fan of the team. In fact, Rodriguez is such a fan he wears a $100 model of their infamous gold turnover chain.
The Sun-Sentinel spoke to the creators of the chain and found that it was custom made and rewarded to the team's defensive players. The gaudy necklace is modeled after a Cuban link chain, only with a "U" charm made with sapphire stones. It was created by AJ Machado, who has also made jewelry for LeBron James, Dwayne Wade and Udonis Haslem.
Lopez dressed down for the game, with no chain in sight. Instead, she opted for a custom red hoodie made by Irene Roth on top of a bodysuit.
During halftime, UM's dance team, the Sunsations, performed a routine to J. Lo's song "Ain't Your Mama," without knowing she was in the audience. She made sure to say hello to them after the performance, but unfortunately did not join them for a dance.
The couple has been spotted in Miami quite a bit, as Rodriguez lives in Coral Gables with his daughters. They went to Prime 112 on Ocean Drive for a joint birthday celebration and they performed for a disaster relief concert broadcast at Marlins Park. They've also been seen dining at Casa Tua and Lario's. Hopefully, J. Lo will wear the turnover chain on their next South Florida excursion.