Johnny Depp sold the last of his penthouses in this LA building. Click through to see inside.
Redfin
An original Osgemeos mural adorns one wall.
Redfin
It's 1,839 square feet.
Redfin
It's a two-story loft.
Redfin
There's a lounge area downstairs.
Redfin
The master suite is located upstairs.
Redfin
The penthouse is already back on the market as a $5,500 a month rental.
Redfin
The building amenities include a saltwater pool on the roof.
Redfin
Over the course of just one year, Johnny Depp has entirely freed himself of his five Los Angeles penthouses.
The actor began purchasing the collection of units at the Eastern Columbia Building way back in 2002, but he never went about connecting them into one unit—he preferred to use each one as a separate entity.
Depp listed the five penthouses for a total of $12.78 million last year, either individually or together; the apartments were eventually purchased by various buyers for a grand total of $10.88 million. It wasn't quite the haul Depp was hoping to bring in, but it's still impressive. It's also better than he fared in Kentucky—earlier this year, Depp attempted to sell his Kentucky horse farm at auction—alas, it didn't garner any high enough bids, so it appears Depp's still looking for a buyer there.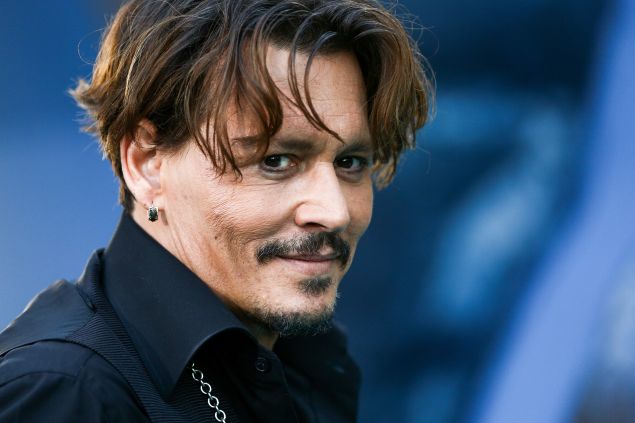 He sold the second-to-last apartment in the downtown Los Angeles building for $1.82 million in August this year, and now he's offloaded the final piece of the puzzle; a one-bedroom, two-bathroom loft that reportedly netted $1.43 million. It's just as unconventional as Depp's other units in the building, with brightly colored blue walls and unique light fixtures. There's even an original wall mural by Brazilian street artists Osgemeos in the living room.
The 1,839-square-foot two-story apartment has high ceilings, a lounge area by the staircase and a master suite located upstairs, with a full wall of exposed brick. The building has some enticing amenities, too—the rooftop deck has its own saltwater pool and spa.
It seems the buyer of this apartment, however, isn't planning on moving in anytime soon—the unit is already back on the market as a $5,500 a month rental.