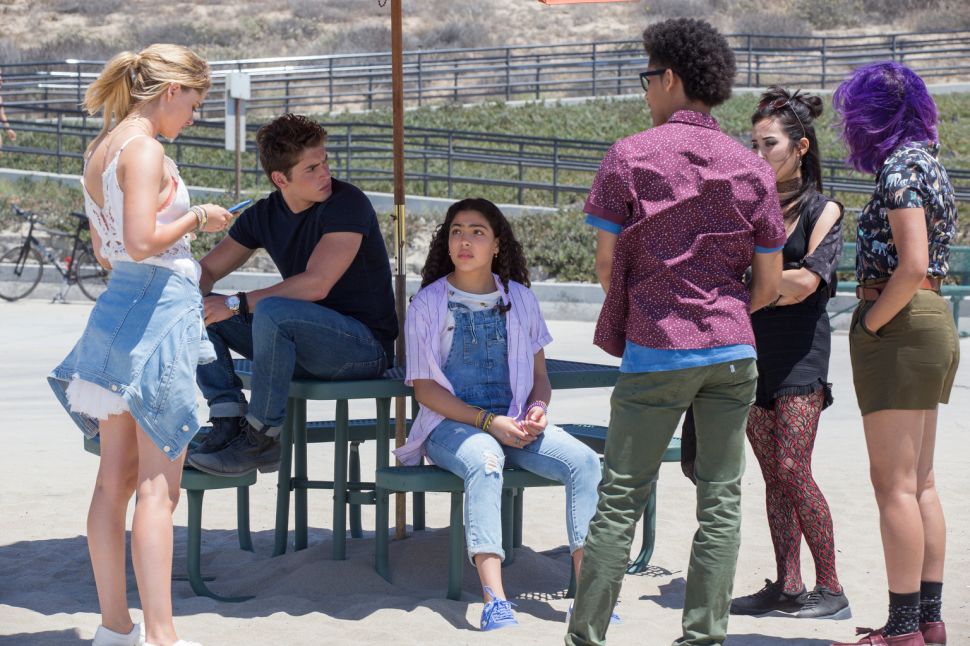 There are times when pretty much every teenager thinks his or her parents are evil—but what if it was actually true? Marvel's newest series, Runaways, is about just such a discovery, and the aftermath.
The show follows a group of six teenagers—Alex Wilder (Rhenzy Feliz), Chase Stein (Gregg Sulkin), Karolina Dean (Virginia Gardner), Nico Minoru (Lyrica Okano), Gert Yorkes (Ariela Barer) and Molly Hernandez (Allegra Acosta)—who realize that their parents are secretly members of a villainous group called The Pride. After deciding they're no longer safe in their own homes, the estranged friends go on the run. In the midst of hiding from their elders, the teens learn that they too all have secrets, but know that they must work together to stop their parents before it's too late.
The show is based on the comic book series by Brian K. Vaughan. Vaughan is also collaborating with the creative team behind the drama.
Producer Jeph Loeb, speaking at a press event, said that although the series is obviously fantasy, it does make some comments about actual events taking place right now. "Marvel stories work best when we take things that are happening in the real world and put them through the Marvel prism. They come out as action, adventure, drama, comedy, and those sorts of things, so that the audience can go, 'Oh, I get it. This is a way of their commenting on what's going on outside.'
Explaining the overall appeal of the show, Executive Producer Josh Schwartz, said, "I think [there] is a time [in life] where figures of authority are in question for some of us, and this is a story where teenagers are starting to see their parents as fallible and human and [they realize that] because somebody is in charge doesn't necessarily mean they're here to do good."
Feliz added, "Yeah. I think it's a very interesting situation to be put into—what happens when you find out that your parents aren't who they say they are? They aren't these loving figures. Seeing what these kids have to go through in order to reconcile that fact is an interesting journey."
Schwartz elaborated on the tone of the series, revealing, "It's important to us that there are no true villains in this. The book obviously tells the story from the point of view of the kids, and it's really important to us that we take the time to build up the parent characters in this story as well. In fact, our first episode follows the kids from their point of view. Then, the second episode tells the same story but from the parents' point of view. It's really important to really understand the motivation that's taking place for both sides of the equation."
Runaways is airing on Hulu, a different platform than all of the other currently airing Marvel series, thus calling into question if this series is still intertwined with the other Marvel entities. About this, Loeb said, "It's all in the same world. It's connected. Where it's connected, and what it is connected to, remains to be seen."
Schwartz and his producing partner Sarah Savage have a history of overseeing teen dramas such as Gossip Girl, The O.C. and The Carrie Diaries. The duo talked about continuing that trend, but with a twist.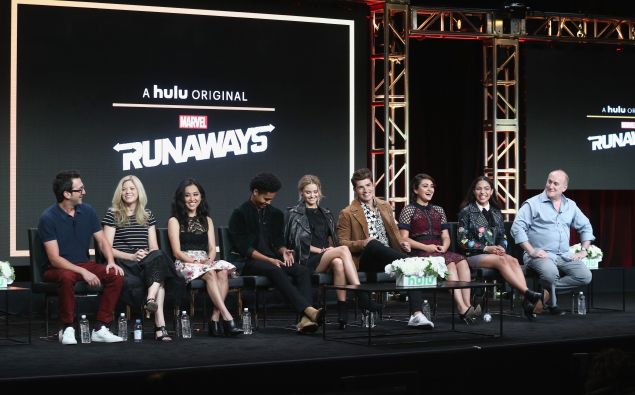 "The great thing about working in this sort of coming of age story is that when you're a teenager, everything feels like it's life and death stakes," explained Schwartz. "That's true here, and this felt like a really nice kind of evolution for us, in terms of storytelling."
He continued with, "We don't view it as a superhero show. We really view it as a coming of age drama, and it's a family drama where we get to tell that story inside of a Marvel show."
"We're making sure that it feels grounded," added Savage. "Then even when the characters are in extremely heightened situations, they still have real-world reactions to things, and that the emotion and the dynamics always feel true."
About the writing of the series, Gardner remarked, "Sometimes when you read teenage shows, it sounds like adults writing for teenagers, and it doesn't feel that way on this show. It really feels like they're writing for human beings. It's really honest."
As for the pace of the series, "What we've done is capture the spirit and the fun and the characters and essentially the drama of what's going on," said Loeb. "If all we're going to do is take scenes directly from the comic book and put them directly up on the screen, that's unfair to both the comic and to the television show. So, while certain adaptations need to be very loyal and be very faithful, I think what's exciting about this, certainly within the first 10 episodes, is that [everyone's] had a chance to explore these characters in a wider range than are in the first 10 issues of comics."
Acosta added, "Marvel's always done a great job to capture the human spirit and show triumph over evil, and that's what we're going to represent as we go along. It's going to be really fun for you guys to watch."
Marvel's 'Runaways' premieres Tuesday, November 21 on Hulu.
Anne Easton is a West Coast based writer for The Observer. She's an Emmy-award winning writer and producer who has worked in news, sports and children's television for FOX, ABC/Disney and the ReelzChannel. Follow her on Twitter at @anne_k_easton.