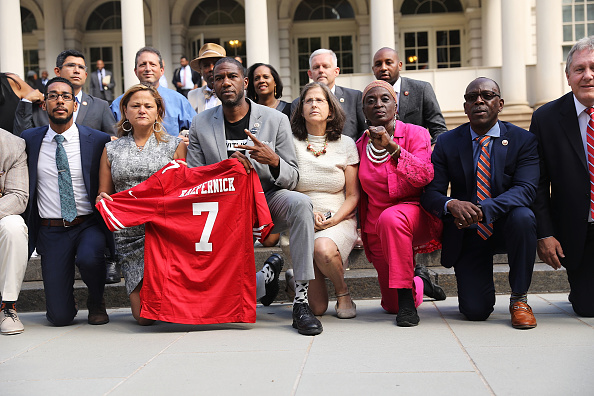 Brooklyn Councilman Jumaane Williams, one of eight City Council members who hopes to become the next speaker, has unveiled his agenda for continuing "progressive government," which includes increasing members' powers, supporting women in office, and a "New Deal" agenda to support marginalized groups.
Williams is distributing the 17-page agenda to the 50 other Council members, which outlines how the legislative branch of city government can build on the "progressive gains" of City Council Speaker Melissa Mark-Viverito, who is term-limited.
"As a person of color and the son of immigrants who overcame a disability, I aspire to also break a historical barrier," Williams wrote. "But more importantly, I want to build upon the legacy of our current speaker and continue to bring a brand of progressive government to our city that has so far enacted transformational change."
Williams, who ran for speaker in 2013, said the body has to put up a "legislative line of defense" against the "draconian policies" of President Donald Trump.
"It is easy to practice progressive principles when the economy is good and the job force continues to grow steadily, thanks to the Obama administration's legacy," he continued. "However, as we have learned in the past, the good times sometimes hit a bump in the road, the market has a possible downturn and an economic recession looms in the future."
As part of his agenda for the 2018-2021 legislative session, Williams said he would seek more support for members to have bills drafted and introduced independently as well as push for more transparency on the sponsorship of bills during the drafting process. He also aims to grant committee chairs more power in regards to hiring staffers, to increase the Council's oversight powers, to evaluate the process of committee hearings and votes, and to reduce the number of committees.
As part of his budget agenda, he aims to give the borough delegation chairs a greater role within the Budget Negotiating Team; increase discretionary and capital funding; and increase member staff budgets so they can offer more competitive salaries.
Other elements of the budget agenda are the creation of the Melissa Mark-Viverito Internship Program For Young Women, a fully-funded salaried initiative that recruits young women interested in public service careers. Williams wants to hire a paid staffer for the City Council Women's Caucus and establish a universal hiring policy for all caucus staff.
He described these steps as an effort to increase the low number of women in the Council. Next year, the Council will only have 11 female members—it dropped from 12 when incumbent Queens Councilwoman Elizabeth Crowley lost her bid for reelection—compared to the current count of 13. All eight speaker candidates are men, but the Women's Caucus has secured some key promises from the candidates.
The councilman's "New Deal" agenda includes a plan for youth employment, which Williams said would require an additional $100 million out of the city's $85.6 billion budget; free mental health counseling in communities of color, due to the stigmatization of mental health in those communities; free SAT prep classes and community college tuition; and further expanding the city's Crisis Management System.
Williams' is also proposing that Council members be allowed to serve three terms, which all other candidates support as well. In 2008, then-Mayor Michael Bloomberg extended the two-term limit for the mayor, the Council and all citywide offices, but the limit was eventually restored.
Williams, who is in his third and final term, said he has been drafting legislation for several years since testifying before the City Charter Revision Commission in 2010 and is planning to introduce the bill "very shortly" with the hopes of it passing in the next session. He believes that the matter should again be decided by the voters through referendum.
He argued that the first term involves learning the nuances of legislative, constituent and budgetary work and that members need 12 years to see major projects through to fruition.
"Critics may believe that voters have permanently decided this matter. I would counter that even good ideas need tweaking some time because they have unintended consequences," he said.