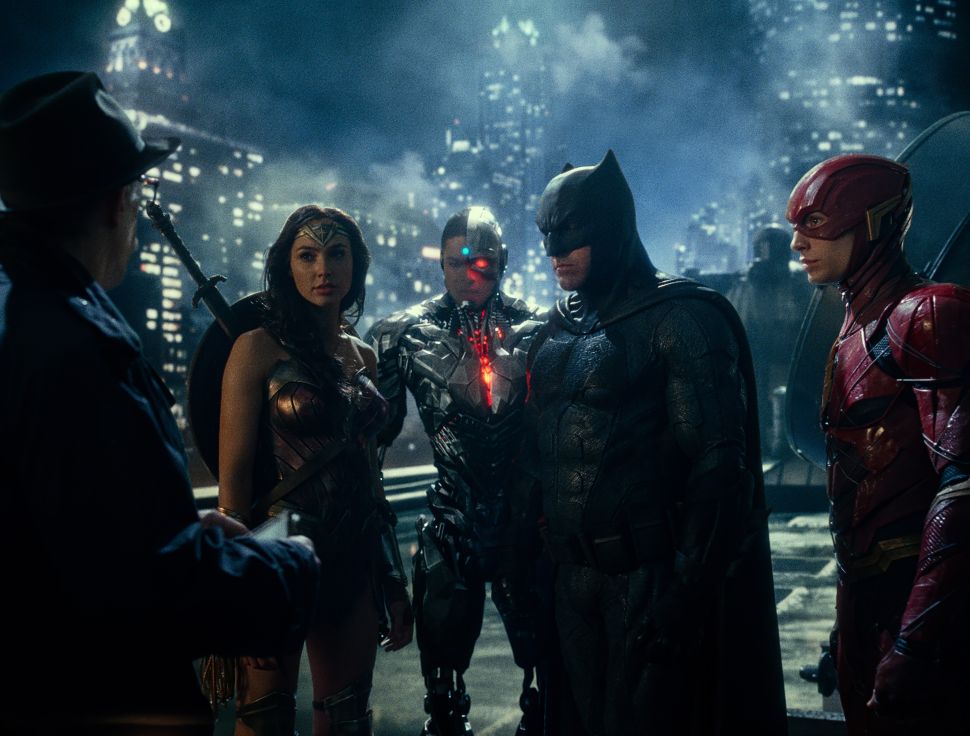 The critics have spoken, the box office projections are set and Justice League is finally hitting theaters. But what about that pesky Rotten Tomatoes score?
In today's Hollywood landscape, Rotten Tomatoes scores are believed to play an important role in opening weekend box office figures. Studios market top scores ahead of a film's release, while others blame the aggregation site for torpedoing their movie with negative marks, especially when a project flops domestically. The anticipated grade for Justice League has come under particularly tough scrutiny after it was delayed nearly a day so that it could be revealed on the site's new Facebook show See It/Skip It. While the site has done this before, Warner Bros.' close relationship with Fandango, which owns a percentage of Rotten Tomatoes, raised some eyebrows.
But now the score is out for the world to see and as it stands right now, Justice League has earned a 43 percent. That's considerably lower than what we predicted based on the mixed-to-positive first reactions to the film and puts the movie in the mid-tier of DC Extended Universe entries.
The DCEU has had a hard go of it so far with Wonder Woman (92 percent) being the only slam dunk of the bunch. Batman v Superman: Dawn of Justice (27 percent), Suicide Squad (26 percent) and Man of Steel (55 percent) have all been met with mixed-to-negative reactions thus far. Justice League's score will likely change as reviews continue to pour in, but it's unlikely to rise dramatically in the coming days.
Some have criticized Warner Bros. for trying to race to the finish line in its world building effort when it comes to this shared cinematic universe. Rumors at the time suggest that the studio may have been spooked by Man of Steel's polarizing reception and underwhelming box office totals relative to expectations (it made just $20 million than Thor: The Dark World) and decided to rush a big budget team-up in Batman v Superman as a result. Whatever the case may be, it's clear that the studio has yet to perfect the formula, though they deserve credit for attempting to do something different early on.
With the upcoming The Flash solo movie adapting the popular time travel Flashpoint storyline, WB has an opportunity to launch a soft reboot of the DCEU and course correct as they see fit. And with rumors of standalone superhero films unconnected to the DCEU, the studio can still leverage these big name characters in interesting and creative new ways. So there's no need to panic even if Justice League isn't quite as great as we all hoped it would be.