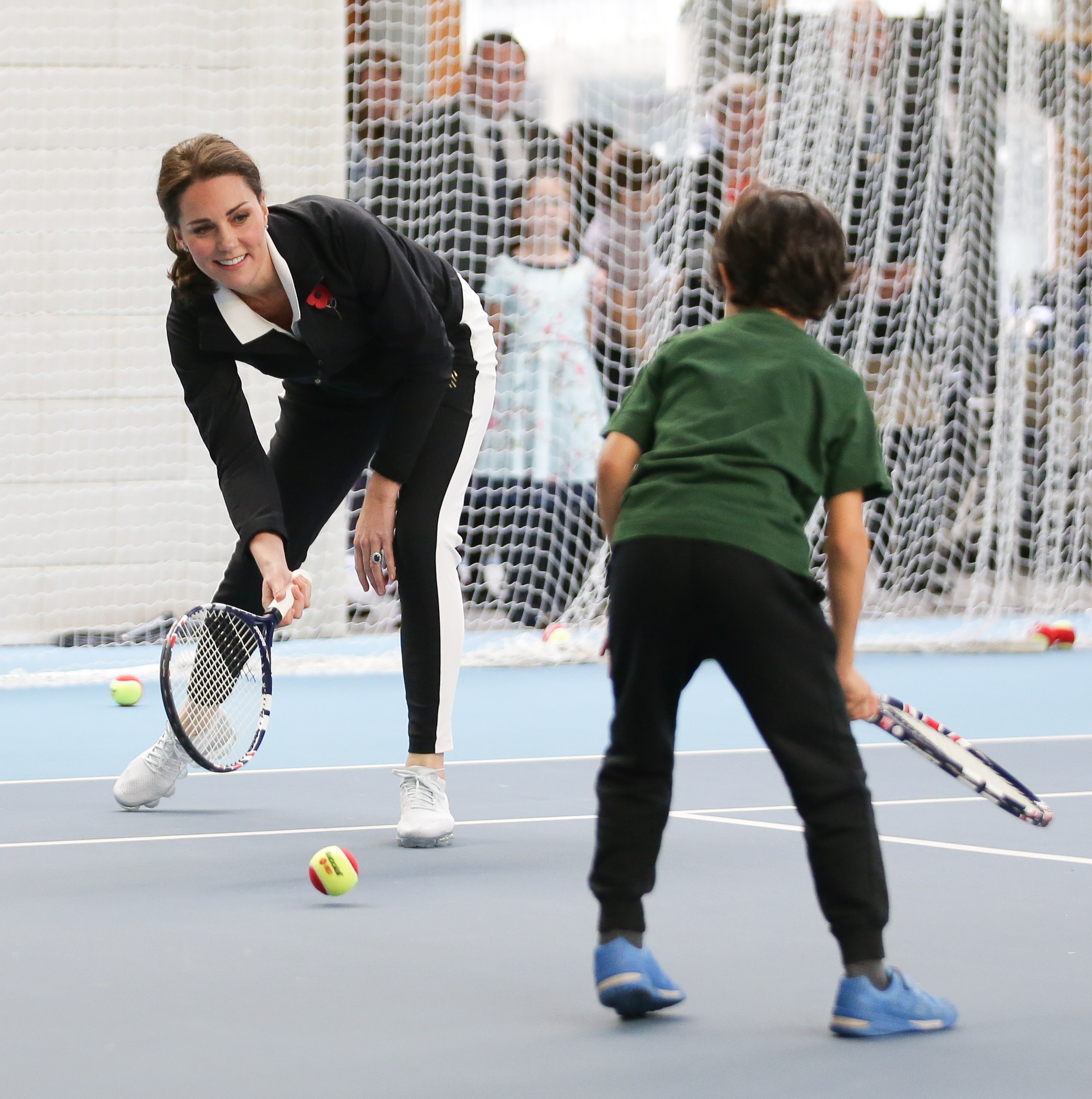 Ever since Kate Middleton's pregnancy was announced, she's only made a handful of public appearances, and all for a good cause. The Duchess of Cambridge is dealing with debilitating morning sickness, so she has to choose her events wisely. So far, she's danced with Paddington Bear and attended a graduation ceremony. Her most recent event was for tennis and benefited children, combining two of her favorite interests.
The royal spent Halloween in a tracksuit, so it's kind of like she dressed up for the occasion—but wearing casual clothes is her costume. She visited the Lawn Tennis Association for a day of tennis lessons, where she actually volleyed with a few lucky kids. The organization will benefit 22,500 children this year and give each of them a free tennis racket.
Unfortunately, Prince George and Princess Charlotte did not join their mother at this sporty event. She should have brought them along to show off their costumes, but with recent ISIS threats against Prince George, it might be better for him to stay safe at school.
Official royal photographer Chris Jackson was also noticeably absent, as he's currently on an official tour with the Prince of Wales and Duchess of Cornwall. Their trip began on Tuesday in Singapore and is moving on to Brunei, Malaysia and India.
The Duchess of Cambridge met with the President of the LTA, Martin Corrie, and the LTA Director of Human Resources, Vicky Williams, to discuss their latest activities. She then watched a few matches, before joining a group of kids, aged five to eight, who were taking part in a free tennis coaching session.
But of course, her tennis court appearance led to pregnancy policing on Instagram including, "The baby bump disappeared!" and "Doesn't look pregnant." Others commenters were far more supportive, ranging from "She's a great role model in handling the pressure of public life. Take note future girls who want to join the family" to "Props to The Duchess! When I had morning sickness, I didn't want to move, let alone do any sports!"