Kanye West and Kim Kardashian made a serious profit in Bel Air. Click through to see the home they're leaving behind.
Instagram/Kim Kardashian West
The palatial Bel Air Crest house sold for $17.8 million to Marina Acton.
Courtesy Douglas Elliman
It's comprised of six bedrooms and eight bathrooms.
Courtesy Douglas Elliman
The automated sliding glass is custom.
Courtesy Douglas Elliman
The couple entirely renovated every inch of the house.
Courtesy Douglas Elliman
Outside, there's a glitzy pool overlooking the Los Angeles cityscape.
Courtesy Douglas Elliman
The Wests are moving back to Calabasas.
Courtesy Douglas Elliman
Kendall and Kylie Jenner aren't the only members of their family with a penchant for real estate.
The youngest siblings both made some big home changes this year—Kendall left West Hollywood for Beverly Hills, while Kylie has been buying and selling numerous homes in close proximity to one another in Calabasas—but their oldest sister may have outdone them both.
Indeed, Kim Kardashian and Kanye West scored a major sale in Bel Air, in a $17.8 million deal that set a record in Bel Air Crest.
The couple parted ways with their approximately 9,000-square-foot residence for a staggering $17.8 million—a serious mark up from the $11 million they doled out for the place in early 2013, even factoring in the millions they spent on renovations for every single part of the house.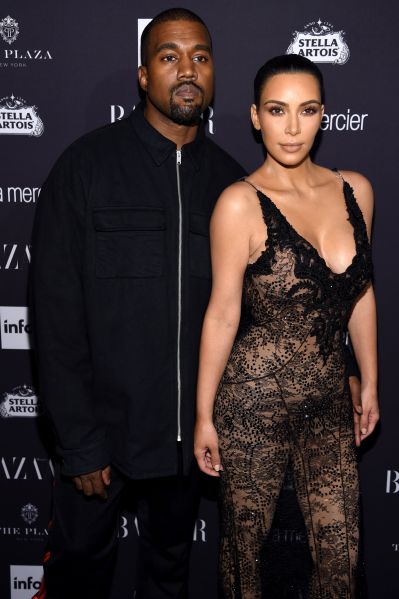 The residence was a rather over-the-top Tuscan-style villa when the Wests bought it, but after a reported two-year renovation, it's almost unrecognizable—in a good way. The six-bedroom, eight-bathroom home now has a very minimalist, contemporary aesthetic, in a neutral color palette of white, grey and beige.
The buyer is Ukrainian entrepreneur and philanthropist Marina Acton, who apparently wants to start spending more time in the Los Angeles area in order to focus on her singing career. In fact, Kardashian managed to seal the deal by giving Acton a personal tour of the nearly 9,000-square-foot mansion, Douglas Elliman brokers Josh and Matt Altman explained to Architectural Digest, and Acton was particularly taken with the ability to potentially install a recording studio within the Bel Air abode.
Automatic sliding glass windows and doors in the house open to the outside, where there's a sleek pool surrounded by gray stone slabs and a cabana.
The couple already made their next purchase. Kardashian and West, who are expecting their third child via surrogate early next year, paid $22.68 million for a palatial home in the Kardashian-beloved enclave of Hidden Hills, in Calabasas.