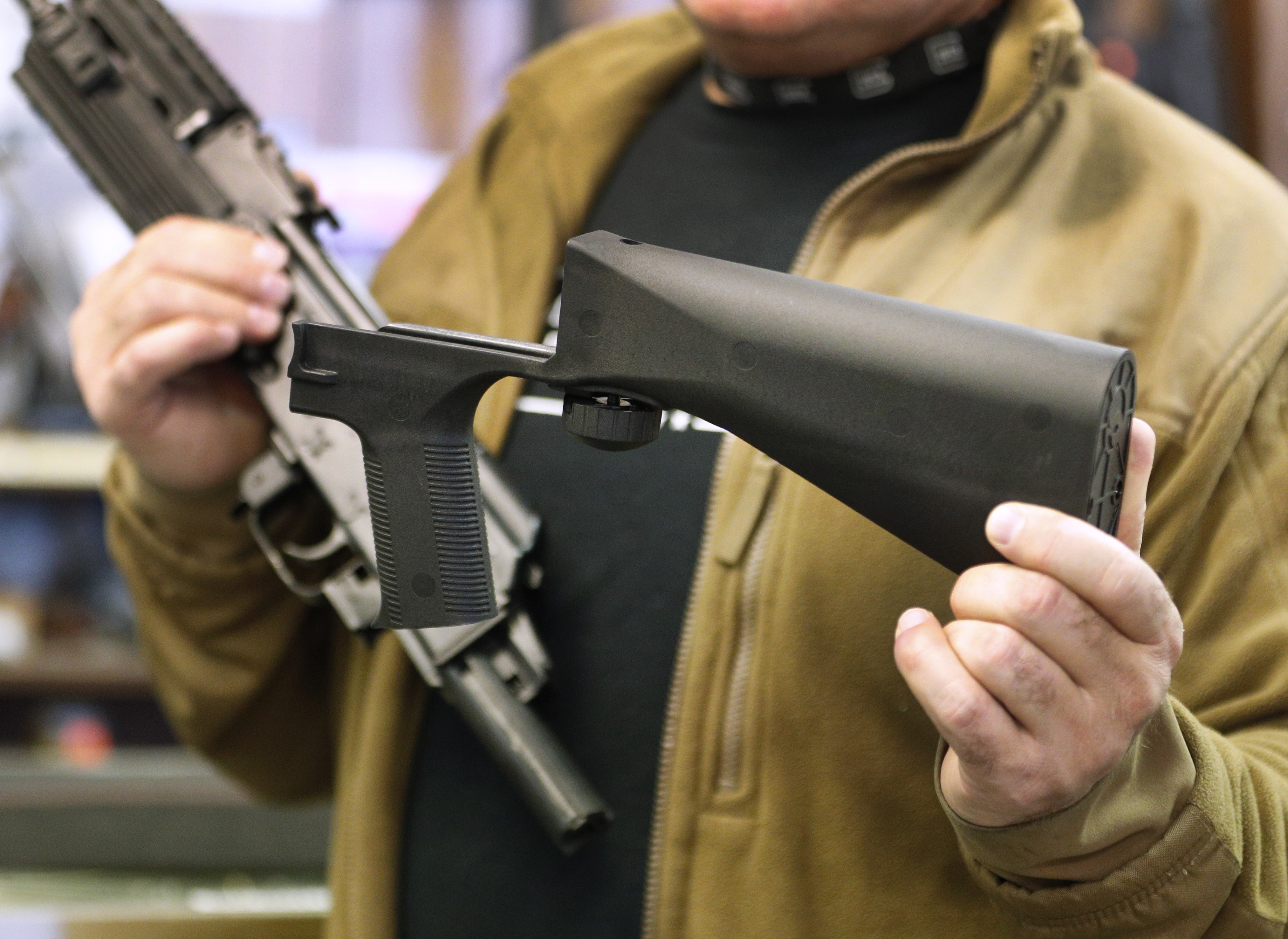 An Assembly panel will consider a bill Thursday that would ban the use a gun accessory found in the hotel room of the Las Vegas mass shooter.
The Assembly Law and Public Safety Committee will hold a 2 p.m. hearing on legislation that could ban in state sales of controversial "bump stocks" — attachments to semi-automatic rifles that allow shooters to fire faster — and establish criminal penalties for those possessing the attachments.
A national debate about bump stocks was sparked by the Oct. 1 Las Vegas mass shooting where 59 people were killed and hundreds were injured after a lone gunman opened fire from his hotel window. The bump stock device was found attached to 12 of the alleged shooter's rifles. New Jersey Democrats introduced the bump stock ban bill just three days after the Nevada shooting.
If the bill (A5200) is released from committee on Thursday, it could be put up for a vote in the Legislature before the end of the year during the lame-duck legislative session. While Gov. Chris Christie — the state's outgoing Republican governor — has vetoed several gun-control measures in the past, he has signaled that he's open to banning bump stocks.
"I am not in favor of infringing any further on people's Second Amendment rights," Christie said during an October press conference in Trenton. "They have no Second Amendment right to own a bump stock."
This lame-duck session will be Christie's last chance to sign or veto any legislation before he leaves office and it is possible that even if the bill clears committee on Thursday, Democrats could hold the bill until after Governor-elect Phil Murphy's inauguration. Murphy is a Democrat who has spoken in favor of "common sense" gun legislation and a bump stock ban.
The Public Safety Committee will also weigh a bill that could establish a restricted use driver's license endorsement for some people with a suspended license due to unpaid surcharges or excess points (A3490). That bill would allow restricted license users to go to certain pre-approved places like place of employment, child care facilities, health care facilities or schools. Another bill on the docket would require the state Attorney General to conduct an audit of untested sexual assault examination kits and report findings to the Legislature (A5031). Advocates say the audit would help law enforcement determine proper procedures for logging, tracking, and storing of kits for expedient action.
Thursday in Trenton will also see a number of other committee hearings, an effort by legislators to take action on pending legislation before the end of the year.
The Health and Senior Services Committee will consider a bill to combat attempts to exclude those with pre-existing conditions from obtaining health coverage (A1877) and a bill that requires health care professionals who treat overdose patients to provide information regarding substance abuse treatment (A2430), a response to the national opioid epidemic. The Health and Senior Services hearing will begin at 10 a.m.
For the full Thursday list of Senate and Assembly Committee meetings and bills, click here.