Rep. Frank LoBiondo (R-2), a fixture of New Jersey politics for more than three decades, announced Tuesday that he will retire from Congress, setting up what is likely to be a high-voltage contest next year for his South Jersey seat.
New Jersey Democratic leaders immediately made a play to fill the power vacuum — encouraging state Sen. Jeff Van Drew (D-Cape May) to run for the congressional seat next year.
"I am considering it seriously," Van Drew told Observer. "It is something I would like to do, but I want to look at it … speak to friends, family, advisers. I will make a decision relatively shortly."
LoBiondo announced his move in the middle of Election Day — and it hit the state's political class like a bomb. Van Drew was on the ballot Tuesday running for re-election to the state Senate, where he has served since 2009.
First elected to Congress in 1994, LoBiondo won re-election to his seat last year by a 22-point margin and was not on the list of top targets for Democrats in 2018. But more than a few moderate Republicans have announced they will not run for re-election next year. LoBiondo is the 28th GOP House member who has announced he will not run for re-election or is seeking another office.
His unexpected decision to retire reshapes the political dynamics in a district where registered Democrats outnumber Republicans by 15,644 voters. President Trump carried the 2nd district last year, but before that, former President Barack Obama won twice, in 2008 and 2012.
"I just spoke with Jeff Van Drew and encouraged him to run for the open congressional seat and pledged my full support," said George Norcross, the state Democratic Party's top fundraiser and South Jersey power broker.
LoBiondo, a moderate Republican who has represented the South Jersey district for 22 years, condemned the increasing political polarization in Congress in announcing his decision Tuesday. But he said his decision was not based on electoral politics and expressed confidence that he would have won re-election had he chosen to run in 2018.
"As some of my closest colleagues have also come to realize, those of us who came to Congress to change Washington for the better through good governance are now the outliers," LoBiondo said in a statement. "In legislating, we previously fought against allowing the perfect to become the enemy of the good. Today a vocal and obstinate minority within both parties has hijacked good legislation in pursuit of no legislation."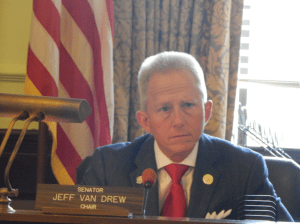 The Democratic Congressional Campaign Committee has the 2nd district in its cross hairs as it tries to seize on Trump's deep unpopularity in New Jersey and pick up seats in the House. In particular, Democrats have been lining up to challenge Reps. Rodney Frelinghuysen (R-11), Leonard Lance (R-7) and Tom MacArthur (R-3).
Two Democrats already have announced campaigns for the 2nd congressional district: Tanzie Youngblood, a retired teacher, and Sean Thom, a school administrator.
"I was willing to take on a 22-year incumbent and I'm excited to be running in what is now one of the most competitive races in the country," Youngblood said in a statement.
"Representative LoBiondo's retirement is welcome, though past due," said Jonathan Weisbrod, a spokesman for Thom. "New Jersey's second district deserves a true public servant's representation — not that of a career politician."
But LoBiondo's exit also opens the door for the powerful and deep-pocketed South Jersey Democratic machine led by Norcross. Van Drew and other prominent South Jersey Democrats had toyed before with the idea of running for the seat, but didn't want to take on LoBiondo, a popular incumbent.
Van Drew, a conservative-leaning Democrat, is renowned for his constituent services and for being a champion of local issues in Cape May County. The 2nd district spans the southernmost stretch of New Jersey, from the Delaware River to the Atlantic Ocean.
"They've always wanted Jeff," said a Democratic operative who spoke on the condition of anonymity so as not to get ahead of an official announcement. Referring to the state Senate race happening today, the source added, "Jeff will probably win today with probably 60 percent of the vote in a Republican [legislative] district that's in that congressional district."
Another popular Democrat who could jump into the race is Assemblyman John Burzichelli (D-Gloucester), although he would have to move into the district from nearby Paulsboro. The district includes 11 other towns in Gloucester County.
Atlantic County Republican Committee Chairman Keith Davis, who said LoBiondo told him of his decision to retire on Monday, predicted an "epic Democratic primary battle" but was confident Republicans would keep the seat.
"We have a tremendous bench of candidates who I believe can pick up the mantle and continue to fight hard for South Jersey and make sure New Jersey is a more affordable place for working families," Davis said.
In Atlantic County, that bench includes Assemblyman Chris Brown (R-Atlantic), who is running for state Senate today, and Atlantic City Mayor Don Guardian, who managed to win a 2013 election in a city dominated by Democrats.
In a statement, DCCC spokesman Evan Lukaske said LoBiondo's retirement "opens up a very competitive seat that President Obama easily won twice."
"Democrats are confident that a strong candidate will step up to run," he said.
National Republican Congressional Committee Chairman Steve Stivers said while LoBiondo will be missed, "I am fully confident a strong Republican nominee will hold the seat."