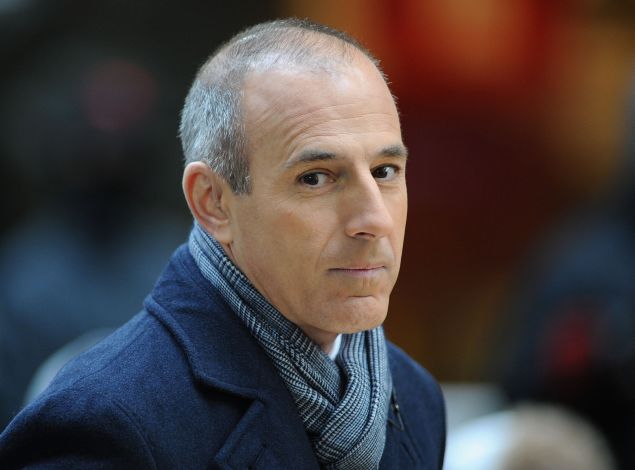 Yet another television titan has been toppled by sexual misconduct allegations.
NBC has fired Today host Matt Lauer over "inappropriate sexual behavior in the workplace." Andrew Lack, chairman of NBC News, announced the move in a memo to staff this morning.
"It represented, after serious review, a clear violation of our company's standards," Lack wrote.
While Lack didn't address the specifics of the complaint, according to Page Six Lauer allegedly sexually harassed a female NBC staffer during the 2014 Winter Olympics in Sochi, Russia. The staffer came forward on Monday, and Lauer was fired last night.
Lack also wrote in his memo that the network was investigating other allegations against Lauer, who had hosted Today since 1997.
"While it is the first complaint about his behavior in the over 20 years he's been at NBC News, we were also presented with reason to believe this may not have been an isolated incident," Lack wrote.
The Lauer news became public only 10 minutes before Today went on the air, and hosts Savannah Guthrie and Hoda Kotb were visibly shaken as they started the broadcast.
"All we can say is we are heartbroken," Guthrie said, on the verge of tears. "We are devastated and we are still processing all of this."
According to CNN's Brian Stelter, several outlets were preparing stories on Lauer's alleged misconduct before Lack's announcement today. A Variety story had been in the works for two months, and The New York Times (which started the flood of sexual harassment revelations with its Harvey Weinstein scoop) had also been investigating Lauer for several weeks.
The news didn't just affect media Twitter—it helped the stock market as well. Shares in Comcast, which owns NBCUniversal, jumped over three percent in morning trading as a result of the company's action.
Lauer has locked horns with female Today staffers in the past, most notably former co-host Ann Curry, who departed the show in 2012. The two reportedly had an "icy" dynamic on set and wouldn't even look at each other when the cameras stopped rolling.  When the pair reunited for a segment at the London Olympics, Curry refused to make small talk with Lauer and didn't respond when he said "Nice to see you."
The host was also criticized for his treatment of Hillary Clinton, the first female major party presidential candidate. At a forum in September 2016, Lauer peppered Clinton with questions about her private email server while refusing to challenge Trump on falsehoods such as his statement that he was against the Iraq War. (For his part, Trump spent the morning tweeting unsubstantiated rumors about other NBC staffers).
Lauer's personal life has also been riddled with controversy. In 2006 his wife Annette Roque filed for divorce over his "cruel and inhumane" treatment of her, including "extreme anger and hostility." Roque reportedly felt "abandoned, isolated and alone" while raising the couple's three children. In spite of this, she eventually withdrew the filing and the couple is still married.
The news of Lauer's firing comes only eight days after CBS This Morning anchor Charlie Rose was ousted over similar allegations. New York Times reporter Glenn Thrush, political journalist Mark Halperin and NPR editor Michael Oreskes have also been dismissed over sexual harassment claims in recent weeks.