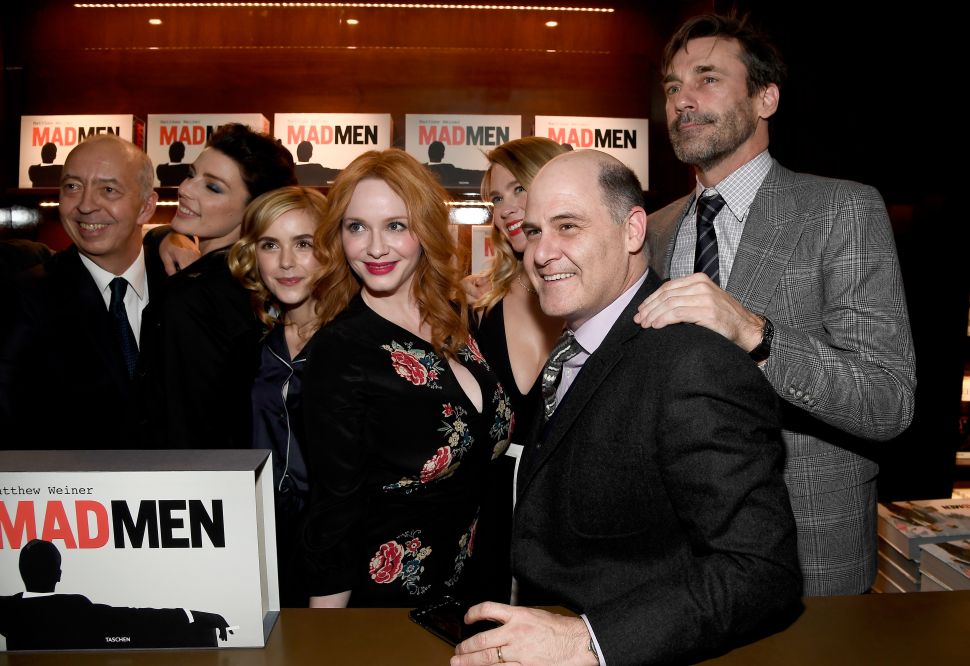 Matthew Weiner, creator and showrunner of AMC (AMC)'s network defining drama Mad Men, has been accused of sexual harassment. Kater Gordon, an Emmy winning writer for the series, has come forward with allegations against the decorated TV writer.
On Thursday, Gordon told The Information Web site that Weiner said she "owed it to him to let him see her naked." Gordon said that she then "froze and tried to brush [the comments] off, but decided that she was in a "no-win situation."
"I had an Emmy, but instead of being able to use that as a launch pad for the rest of my career, it became an anchor because I felt I had to answer to speculative stories in the press," she said. "I eventually walked away instead of fighting back."
Gordon was quickly promoted during her Mad Men tenure from writers' assistant in the first season to staff writer in the third. In 2009, she won an Emmy for writing "Meditations In An Emergency" with Weiner.
A spokesperson for Weiner denied to allegations while speaking to The Hollywood Reporter.
"Mr. Weiner spent eight to ten hours a day writing dialogue aloud with Miss Gordon, who started on Mad Men as his writers assistant," they said.
"He does not remember saying this comment nor does it reflect a comment he would say to any colleague. During the nine years he was showrunner on Mad Men, Mr. Weiner had a predominantly female driven writers room.
"He has long believed in and implemented an egalitarian working environment including the highest levels of production and writing based on mutual respect for all."
Weiner is currently working on a highly-hyped new anthology drama for Amazon (AMZN), The Romanoffs, that stars Mad Men alums John Slattery, Christina Hendricks and other big name talent. The show was meant to premiere in 2018, though it is unknown if Gordon's allegations will impact that. The Harvey Weinstein scandal forced several high profile projects at Amazon to be shuttered right before Amazon studio head Roy Price was forced to resign due to his own sexual misconduct accusations. It is also unclear if any of this upheaval will affect Amazon's planned ambitious budget expansion to find the next Game of Thrones.
Gordon's comments come just one day after five women accused popular comedian Louis C.K. of sexual misconduct.