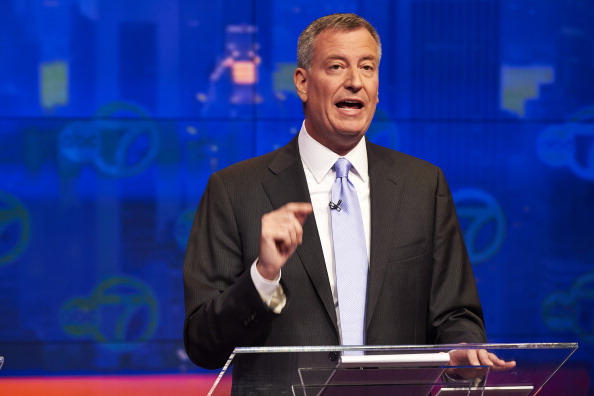 Mayor Bill de Blasio faced off against GOP candidate Nicole Malliotakis and independent Bo Dietl for the last time before the election on Tuesday in a debate that centered on a recent terror attack in Lower Manhattan and pay-to-play allegations against the mayor and other issues.
The first part of the debate centered on a terrorist attack by an Uzbek immigrant, Sayfullo Saipov, in Lower Manhattan that claimed eight lives.
When asked whether there is a way to monitor threats without infringing upon the civil liberties of Muslim New Yorkers, de Blasio said that the city can prevent such attacks through intelligence gathering, building close relationships with communities and ensuring that people know to report anything they see.
"The surveillance program in the past failed because it alienated our police from the very people we needed information from and it violated people's rights," the mayor said. "We can do better and over the last four years, we beefed up our anti-terror capacity. We've deepened our intelligence gathering, working closer together with our federal partners and we're working more closely with the very communities that we need information from to protect everyone."
It was reported that the Masjid Omar Mosque in Paterson, N.J., where Saipov worshipped, was among mosques in New Jersey that the Police Department singled out as part of its surveillance of Muslims in New York and New Jersey.
A federal court had approved adjustments to court-mandated rules dictating the NYPD's Intelligence Bureau's investigations of political activity mandated in the Patrol Guide—which was intended to settle two lawsuits alleging inappropriate surveillance of Muslims. The city agreed to appoint an independent civilian representative to the internal NYPD committee.
Malliotakis said that police officers need to be given the tools that they need to do their job and access to preventive measures utilized in other parts of the world.
"I think it's very important that we not limit them in their ability when they get a lead. We're not going to be targeting any particular group or any particular type of religion," she said. "However, if there is a significant lead that is credible, we're gonna give the police force the resources they need to do their job and I believe it's very important that we work with the federal government to receive the funding necessary to expand the programs that we currently have in existence as well."
Dietl, a former police detective, seemed to indicate he was in favor of police profiling individuals based on their physical appearance.
"What we have to have is an effective community relation but as far as this profiling thing, worrying about it, well, just look at this terrorist. What did he look like?" Dietl said. "Did he look like the terrorist? If you looked in the dictionary with that beard, the way he had — this is something that we have to get past. Political correctness cannot be there all the time. We have to have proper information and if you have a lead, you get a warrant like they took a warrant on that mosque."
Despite the back-and-forth, there was a moment of agreement between Malliotakis and de Blasio. The assemblywoman said that she is not sure her parents would have been able to enter the country if a merit-based immigration system was in place. The mayor said that his grandparents would not have been able to, either.
But Malliotakis said that her issue is the city wanting to purge the records of the IDNYC card, the city's municipal ID program for people who do not have other forms of government paperwork — a move meant to protect the records of undocumented immigrants. De Blasio disagreed with her assertion.
And a cloud that loomed over the final debate was recent testimony by top de Blasio donor Jona Rechnitz, a Brooklyn real estate developer who pleaded guilty to charges of corruption, alleging that he gave money to the mayor's campaign in exchange for favors from City Hall.
Rechnitz claimed that de Blasio asked him to give more than $100,000 in 2014 to help Democrats regain control of the state Senate and that he financed the hotel stay of his key campaign fundraiser in the Dominican Republic.
"What we know about, what we didn't know then, he is a liar, he's a felon," de Blasio said of Rechnitz. "Don't believe anything he says. He was a donor who provided resources at one point. That's all I knew of him. I did not have any kind of real relationship with him."
When asked whether he will release his phone records, he said that he is not releasing any more information about his dealings with Rechnitz and reiterated that federal authorities fully investigated the matter and did not file any charges.
Dietl, who asked U.S. Attorney General Jeff Sessions to investigate and Gov. Andrew Cuomo to appoint a state special prosecutor from out of state, said that he would "get rid of the mayor" to address the pay-to-play issue and said he "wanted to take a shower" when he saw Rechnitz in court, calling him "disgusting and a "creep."
"You want the people of New York to think we're that stupid, that you didn't know this guy?" Dietl said to de Blasio.
Malliotakis, who called for the mayor's political fundraising efforts to be reinvestigated, also blasted de Blasio over Rechnitz's allegations in court testimony.
"I think the question is for the public, if they want a mayor who looks for that little loophole to skirt the law, to get an intended outcome for him and his friends," she said.
Contrary to the first general election debate, which had a noisy and rowdy audience that frequently interrupted the candidates, the spectators at the second debate, hosted by CBS and the New York Daily News, were silent.
The candidates also fielded questions about and discussed how they would deal with gentrification, the NYPD's handling of safety in schools, reforming the property tax system, tackling the city's homelessness crisis, the mayor's commission to review the city's statues and monuments and mass transit.
De Blasio has a wide lead in the polls as he runs for a second four-year term in Tuesday's election.