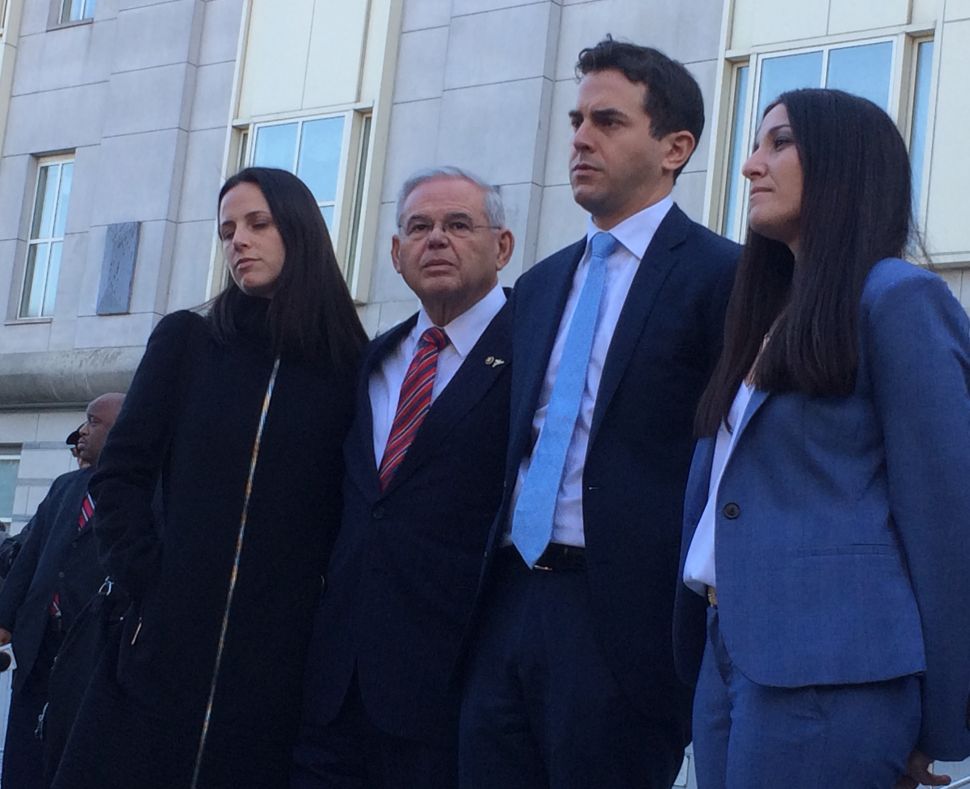 NEWARK — In a striking reversal of fortunes, Sen. Bob Menendez survived a corruption trial after the jury deadlocked on all counts Thursday.
U.S. District Judge William H. Walls declared a mistrial after the jurors — seven women and five men — indicated for the second time this week that they were at an impasse, with no unanimity on any of the 18 counts against the Democratic senator and a co-defendant on their fourth day of deliberations. For 11 of those jurors, deliberations extended over another four days last week before an alternate was subbed in on Monday.
Two and a half years after being indicted, Menendez dodged the bullet of a criminal conviction. He will return to Washington after 11 weeks on trial, scarred and bruised but with a new lease on his political life.
Addressing a crowd of reporters outside the Newark federal courthouse, choking up at several points, Menendez thanked God, his family, his legal team, and Sens. Cory Booker and Lindsey Graham, who took the stand to vouch for his integrity.
"I want to thank the jury," Menendez said, "12 New Jerseyans who saw through the government's false claims and used their Jersey common sense to reject it. I appreciate their service. I appreciate their sacrifice."
He blasted the FBI and the Justice Department.
"The way this case started was wrong. The way it was investigated was wrong. The way it was prosecuted was wrong and the way it was tried was wrong as well," he said. "Certain elements of the FBI and of our state cannot understand or, even worse, accept that the Latino kid from Union City and Hudson County can grow up to be a United States senator and be honest.
"I can't even begin to tell you how many people have come to tell me that the FBI went to them and asked them, 'What can you give us on Menendez?' That is not what the FBI and the Department of Justice is supposed to be doing, and they're not supposed to be leaking to the press during the early stages of their investigation, which violated my rights to a fair process."
He added, "I've made my share of mistakes, but my mistakes were never a crime."
Menendez also had a message for some Democrats who were circling around him, testing the waters for a potential Senate run in the event of a conviction.
"To those who were digging my political grave so they could jump into my seat, I know who you are and I won't forget you," Menendez said.
Justice Department prosecutors could choose to retry the case. They did not address reporters outside the courthouse Thursday and did not say whether they would pursue a new trial.
"The Department of Justice appreciates the jury's service in this lengthy trial," Justice Department spokesman Wyn Hornbuckle said. "The department will carefully consider next steps in this important matter and report to the court at the appropriate time."
The case had implications far beyond New Jersey. With a slim, 52-seat Republican majority in the Senate, a Menendez conviction could have strengthened the GOP in Congress. In the conviction scenario, for Republicans to gain a seat, Menendez would have had to resign before Jan. 16, the last day of Gov. Chris Christie's term.
Now, Menendez is poised to run for re-election in 2018. He did not take questions outside the courthouse. But his top political strategist, Mike Soliman, said New Jerseyans could expect an announcement "in the coming weeks."
"If you take a look at the senator's fundraising activities and active public schedule despite the trial of the past weeks, all things indicate to him running for re-election, and you should expect an announcement from him in the coming weeks," Soliman told Observer. As of Sept. 30, Menendez's campaign had $3.9 million in cash on hand, according to Federal Election Commission records.
Prosecutors had charged that Menendez, who joined the Senate in 2006, acted as the "personal United States senator" for his top donor and co-defendant, Florida eye doctor Salomon Melgen.
In the arrangement described by prosecutors over nine weeks before the jury started deliberating, Melgen regaled Menendez with lavish accommodations on a trip to Paris, flights on a private jet, stays at Melgen's private villa in the Dominican Republic, and more than $700,000 in political donations to Menendez and Democratic political committees in New Jersey supporting his 2012 re-election bid. Those perks afforded Menendez a "lifestyle that reads like a travel brochure for the rich and the famous," lead federal prosecutor Peter Koski argued.
In exchange, prosecutors charged, Menendez went to bat for Melgen on several occasions in Washington, pressing Obama administration officials to answer what they could do to ensure that the Dominican Republic honored a contract Melgen had acquired to provide cargo-screening equipment at 12 Dominican ports, and nudging State Department officials to grant visas to Melgen's foreign girlfriends.
When Melgen was under scrutiny from federal health regulators over $8.9 million in irregular billings to Medicare, Menendez met with then-U.S. Health and Human Services Secretary Kathleen Sebelius to ask whether the Medicare reimbursement policies affecting Melgen made sense, although he did not name the eye doctor at that meeting.
https://www.youtube.com/watch?v=Lch27EBpmSc
U.S. bribery law required the prosecution to prove beyond a reasonable doubt that Menendez and Melgen explicitly agreed to an illegal quid pro quo. But defense attorneys for both men said that Melgen and Menendez were friends going back decades and that their relationship was being misconstrued.
"Acting out of friendship is not improper, it is not corrupt," Menendez's lead attorney, Abbe Lowell, a top Washington criminal defense lawyer, argued at the outset of the trial.
Koski argued that "there is no doubt that the defendants enjoyed each other's company and developed a friendship."
"Friends can commit crimes together," Koski argued. "Friends can bribe each other."
Koski and a team from the Justice Department's Public Integrity Section in Washington, D.C., laid out in detail how Menendez would receive gifts or donations from Melgen at certain points closely coinciding with the senator's moves pressing issues in Washington that would have benefited the eye doctor's interests. Menendez and his attorneys said he had legitimate concerns about those policy issues, regardless of the way he came to learn of them.
Legal analysts and pundits following the trial said it was a circumstantial case, with a series of unseemly facts but no smoking-gun email, wiretap, recording or witness testimony to prove that Menendez and Melgen agreed to a quid pro quo.
"There was no smoking gun," Ed Norris, a member of the jury, told reporters after exiting the courthouse, adding that jurors leaned 10-2 toward acquittal. "They just didn't prove it to us."
After debating to a dead end, jurors were fed up and ready to end the case Thursday, he said.
"I find that you're unable to reach a verdict," Walls said from the bench shortly after 1 p.m. on Thursday, "and that there's no alternative but to declare a mistrial."
Asked about the possibility of a retrial, Soliman said it was "very telling" that prosecutors could not convince a jury in New Jersey to convict.
"After millions of dollars spent against him and an arsenal of unlimited resources, it's a hung jury — and this is after … weighing hundreds of documents of evidence and testimony from witnesses on both sides," he said.
Brigid Harrison, a political science and law professor at Montclair State University, said Menendez would emerge from the case "more powerful than ever."
"In a time when many people presume politicians to be corrupt, his case was so compelling that several jurors were willing to give up days of their lives on the principle that he was not guilty," Harrison said. "I think that in this day and age, that says something."
She added, "The credibility of the Justice Department is tainted because of their failure to make their case."
Governor-elect Phil Murphy, Senate President Steve Sweeney (D-Gloucester), and the state Assembly's incoming speaker, Assemblyman Craig Coughlin (D-Middlesex), said Thursday after Walls declared a mistrial that Menendez would have their support if he chose to run.
"Senator Menendez is a strong voice for New Jersey, and I look forward to working with him to stand up for our people against President Trump's disastrous tax hike and further efforts to kill the Affordable Care Act," Murphy said in a statement. "Should he decide to seek re-election, he will have my full support."
Sweeney said he would "absolutely" back Menendez in 2018.
"He was tried, they brought their charges and they couldn't find him guilty," Sweeney said. "We should move on."
Coughlin said in a statement that "New Jersey's working middle-class families could not have a stronger advocate fighting on their behalf in Washington than Bob Menendez." He added, "I am committed to supporting Senator Menendez and doing everything I can to ensure that he is elected to another term next November."
Menendez also got support from the top Democratic fundraiser in the state, South Jersey power broker George Norcross, whose brother, Rep. Donald Norcross (D-1), had been talked about for months as a potential replacement in the Senate in the event of a Menendez conviction.
"I spoke to Senator Menendez this evening and I pledged my support for his re-election," George Norcross said. "My brother Donald and I held a fundraiser for him this year and we look forward to working for his re-election. He's been a great champion for New Jersey and we look forward to his continued work in the United States Senate."
Republican strategist Chris Russell said Menendez was not out of the woods yet. If prosecutors chose to retry his case next year, Menendez could be running for re-election while standing trial — a "nightmare scenario," Russell said.
"We all know it's very difficult for Republicans to win a United States Senate seat," Russell said. "It hasn't happened in a really long time. He certainly represents the best opportunity, given his personal problems, that we've had in a really long time."
Even without a retrial, Russell said, the Republican nominee likely would have the best shot since 1972, the last time a New Jersey GOP candidate was elected to the Senate.
"It still opens up a whole set of attacks," he said. "His numbers clearly took a hit during this process. He's not going to be able to rehab himself completely over the course of the next several months."
A spokesman for the National Republican Senatorial Committee said that if Menendez chose to run again, "New Jersey voters will reject him."
"After hearing details of Bob Menendez's corruption during his bribery trial, New Jerseyans are disgusted," said NRSC spokesman Bob Salera, pointing to a Quinnipiac University poll released last month in which 59 percent of likely voters said Menendez did not deserve re-election.
After the mistrial news, Senate Majority Leader Mitch McConnell (R-Ky.) called on the Senate ethics committee to restart an investigation into Menendez. "He is one of only 12 U.S. senators to have been indicted in our history," McConnell said in a statement. "His trial shed light on serious accusations of violating the public's trust as an elected official, as well as potential violations of the Senate's code of conduct."
But at least one Republican senator, Graham, the South Carolina Republican, said he was "pleased" for Menendez.
"I've always thought he was an honest guy," Graham said after Walls declared a mistrial, according to Herb Jackson of the Record.
The cloud has been hanging over Menendez since days after his re-election in 2012. The bribery case began amid a much more lurid backdrop than what ended up in the indictment. The Justice Department received word from an anonymous tipster in 2012 claiming that Menendez had been patronizing underage prostitutes in the Dominican Republic, Melgen's native country, where the two men would sometimes travel to unwind.
There were no prostitutes. Several Dominican women who were named by the anonymous tipster denied ever having met Menendez. One woman who said she was interviewed by the Daily Caller promoting the prostitution story later recanted and said she was paid by a Dominican lawyer to smear the senator. ABC News reported that a Republican operative was shopping around the claims to U.S. media outlets. The Washington Post reported based on anonymous sources that "the CIA had obtained credible evidence, including Internet protocol addresses, linking Cuban agents to the prostitution claims and to efforts to plant the story in U.S. and Latin American media."
But the salacious din of prostitution, although it never yielded any charges, led the FBI and prosecutors down a separate path investigating Menendez's relationship with Melgen, by far his top financial backer for years.
Melgen was paid $21 million by Medicare in 2012 — the highest-billing physician in the United States. In a separate trial earlier this year, Melgen was convicted of defrauding Medicare through his use of the drug Lucentis, which is used to treat macular degeneration. Melgen's fraud was parceling out the contents of one vial of Lucentis to several different patients, and billing Medicare per patient instead of per vial. It was this billing issue that Menendez raised with Sebelius and other officials.
Menendez thanked Melgen and his family on Thursday and alluded to the eye doctor's pending appeal in that case. "I wish my dear friend Sal success in his continuing search for justice," Menendez said.
A former chairman of the Senate Foreign Relations Committee, Menendez could be difficult to topple in blue New Jersey next year if Democrats rallied around him, especially if the Justice Department dropped the case. Former Sen. Bob Torricelli, a Democrat who had been eyeing another Senate run in the event Menendez was convicted, told Observer on Thursday that he would not compete in the primary next year.
"Is it possible that some Republican would emerge and mount a challenge?" Harrison said. "I guess anything is possible but it is hard to believe that in New Jersey in 2018, New Jerseyans would send a Republican to the Senate with President Trump in office."
Menendez seemed to be in a fighting mood as he left the courthouse.
"I've spent 43 years, my entire adult life, in public service to the people of New Jersey and the nation," Menendez said. "I look forward to going back to Washington to fight for the people of New Jersey and all across the country."
"Today is resurrection day, and I want to thank God once again," he added.
Christian Hetrick contributed.