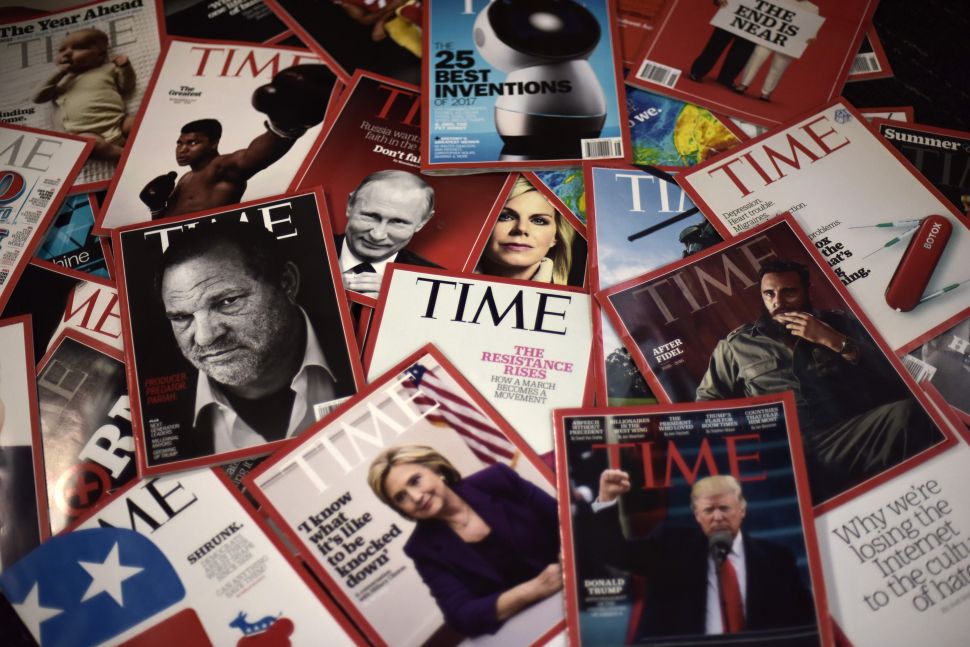 After two failed attempts, media group Meredith Corporation has confirmed an all-cash deal to buy Time Inc. for $2.8 billion in the first quarter of 2018, The Wall Street Journal first reported last night.
Time Inc., the 94-year-old magazine publisher that owns Fortune, People and Time, will be acquired at $18.50 per share. That's 46 percent higher than the company's closing price on November 15, the last day before Meredith's interest in a deal was made public, and 66 percent higher than its 10-day average trading price ending that day.
Time Inc. said in a statement said CEO Rich Battista will leave the company after the deal closes.
It's possible that many more Time Inc. employees will have to go, as well. Meredith expects to cut cost by $400 million or $500 million in the first two years after the merger. The New York Post speculates that a good chunk of cost savings would come from Time Inc.'s payroll, citing industry experts.
Billionaire brothers Charles Koch and David Koch financed $650 million to the deal through their private investment firm, Koch Equity Development, in non-controlling stocks, meaning the Koch brothers will not have influence in Meredith's editorial or managerial operations. Meredith said in a statement that the Koch brothers will not seek seats on the company board.
Other backers include RBC, Credit Suisse, Barclays and Citigroup.
The acquisition is a major exemplification of the media industry consolidation to produce full-range content under one umbrella, and, more importantly, compete with the Internet platform giants like Google and Facebook in the advertising space, where the size of user data is key.
Based on the two companies' current financial data, advertising will account for a third of the revenue for the merged entity, Meredith said in an investor call this morning. After the merger, Meredith will have a database of more than 250 million user contacts, the company said in a statement, creating a stronger edge in advertising.
Meredith's business model is highly focused on a female audience and local television. It owns several women-focused lifestyle publications: Better Homes & Gardens, Martha Stewart Living, allrecipes.com and Parents magazine. Its 17 local television stations have contributed to more than half of the profit so far in 2017.
In contrast, Time Inc.'s publications are much different and more diversified. Meredith CEO Stephen M. Lacy said in a statement that the acquisition will strengthen Meredith's "position in reaching Millennials."
The sentiment at Time Inc. is much darker. "It will be a tragic end to a Time story that was once glorious but turned sad as corporate woes increasingly affected the editorial product at one of America's iconic news outlets," Charles Alexander, a former editor at Time, wrote last week.
Fortune business editor Adam Lashinsky wrote this morning, "A company that defined American journalism in the 20th century will be no more."