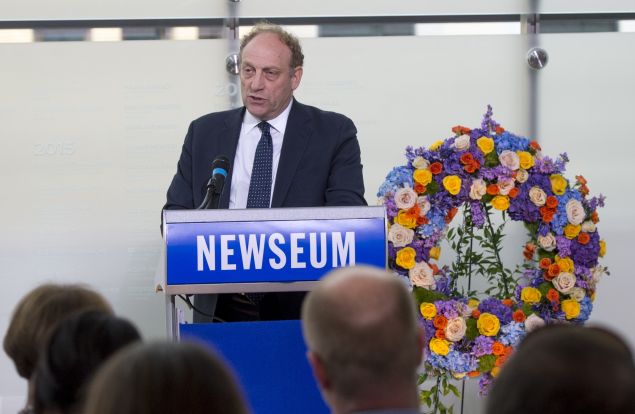 Another influential editor has been accused of sexual harassment as dominoes continue to fall in the media world.
NPR has placed its editorial director and vice president of news Michael Oreskes on indefinite leave after two unidentified female journalists detailed the editor's inappropriate behavior in a Washington Post story.
The incidents allegedly occurred in the late 1990s, when Oreskes was the Washington bureau chief at The New York Times. Both women claim that after they met with Oreskes to discuss job prospects, he kissed them and stuck his tongue in their mouths.
While neither of the women were hired, Oreskes, a 63-year-old who's also worked at the Associated Press, allegedly continued his advances. One of the women claimed Oreskes took out a personal ad in the Washington City Paper's "Adult Services" section attempting to reestablish contact with her. When she didn't respond, he emailed her.
The two ended up sharing a cab to the airport when they were both booked on the same flight to New York. At the end of the taxi ride, Oreskes again kissed her and slipped his tongue in her mouth.
"He utterly destroyed my ambitions," the woman told the Post.
The second woman met with Oreskes at her apartment, where the editor allegedly placed his hand in the small of her back as she showed him around. She then similarly drove him to the airport and received an unexpected kiss.
When the woman later told Oreskes his actions were "totally inappropriate," he claimed he was "overcome with passion" and "couldn't help" himself.
Oreskes' deputy at the time, Jill Abramson, later became the executive editor of the Times. She told the Post that in retrospect she wishes she had told Oreskes to "knock it off." Another editor ended up giving Oreskes "a father-son talking-to," according to the Post.
Both the Times and NPR are looking into the allegations. After the Post story was published, current NPR employee Rebecca Hersher came forward with her own story about an uncomfortable dinner she had with Oreskes in which he referred to his "sex girlfriend."
"We take all appropriate steps to assure a safe, comfortable and productive work environment for everyone at NPR," CEO Jarl Mohn said in a statement. "This is our NPR. And I will stand up for it, and every one of you."
"I am deeply sorry to the people I hurt. My behavior was wrong and inexcusable, and I accept full responsibility," Oreskes wrote in an internal memo.
Both women in the Post story said they were compelled to come forward by the ongoing Harvey Weinstein sexual harassment scandal. They said it was "hypocritical" that Oreskes was in charge of harassment coverage, and that he should recuse himself.
Since the Weinstein allegations came to light, several other high profile entertainment figures have been embroiled in decades-old sexual harassment claims, including actors Dustin Hoffman and Kevin Spacey, director James Toback and Amazon executive Roy Price.
The media world has also been rocked by a barrage of scandals. The flood of accusations started when over 20 women including Gretchen Carlson accused late Fox News CEO Roger Ailes of sexual harassment. Fox personalities Bill O'Reilly and Eric Bolling were fired from the network after similar allegations.
Many allegations have also come to light in the world of print media in recent weeks. First, former New Republic editor Leon Wieseltier was accused of sexual harassment by several female ex-staffers. He allegedly commented on their outfits, made passes at them, kissed them on the mouth and asked them for details about their sex lives, among other offenses.
Once these stories came out, the backers of a new magazine Wieseltier was supposed to edit severed ties with him.
New Republic president and publisher Hamilton Fish is also on leave following a wave of harassment allegations, though the details of his alleged activity have not yet been reported.
And at least 12 women accused veteran political journalist Mark Halperin of sexually harassing them while he was at ABC in the early 2000s. Halperin allegedly placed his erect penis on female employees' bodies without consent, masturbated in front of others and once threw a woman staffer against a restaurant window before attempting to kiss her.
NBC News and MSNBC fired Halperin as a political analyst, while HBO and Showtime both shelved projects with him.
Powerful men who have exerted influence on the casting couch or in the newsroom for decades are finally being exposed as the stigma of reporting sexual harassment seemingly fades. It's not clear yet whether this will lead to a new reckoning in the media industry, but the sheer number of cases is impossible to ignore.