Mike Myers is giving it another go in Soho. Scroll through to see the lavish loft.
Compass
He bought the duplex in 2007.
Compass
There's a wood-burning fireplace in the living room.
Compass
As well as built-in bookshelves.
Compass
Walls of windows look outside.
Compass
There's a private rooftop terrace.
Compass
The master suite is on the lower level.
Compass
There are a total of four bedrooms.
Compass
It's located at 72 Mercer Street.
Compass
It's not clear where Myers is heading next.
Compass
Actor and comedian Mike Myers is hoping to make his Soho penthouse a bit more enticing to buyers.
Myers has relisted the condo at 72 Mercer Street, and it's now offered at a $3 million discount—it's asking $13.95 million, says Curbed. The Austin Powers actor and his wife, Kelly Tisdale, bought the apartment for $7.98 million in 2007, and originally tried to offload the four-bedroom, 4.5-bathroom duplex in April 2015, when he stuck a $16.95 million price tag on it.
It sat on the market for a few months, despite Myers adding an additional unit in the building into the mix (with the potential to combine it, to create a triplex) until the whole offer disappeared altogether by July 2015. But now, over two years later, the apartment is back on the market.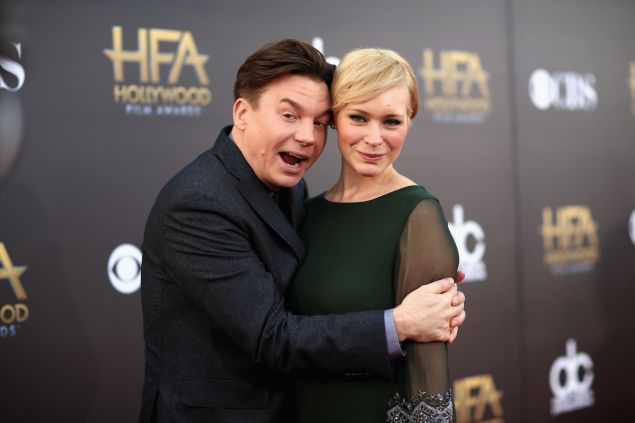 An elevator opens directly into the duplex, which has white oak hardwood floors throughout, a skylight and a large staircase that leads to the upper level and private roof terrace.
The kitchen is fitted with maple and aluminum cabinetry and stone counters, per the listing shared by Compass brokers Leonard Steinberg, Herve Senequier, Amy Mendizabal and Calli Sarkesh. The living room, meanwhile, contains a fireplace and custom bookshelves. The master suite is located on the lower level, with plenty of closets and an en-suite bathroom bedecked in marble.
Myers is surely hoping to fare better with this sale than he did with a Tribeca deal earlier this year—the comedian was an early buyer in celeb-favorite 443 Greenwich; he paid $14.65 million for the condo. He tried to flip it just a week after the deal closed, when he listed the apartment for $15 million. Alas, he apparently didn't find too many interested parties—he sold the unit for $675,000 less than he paid for it.