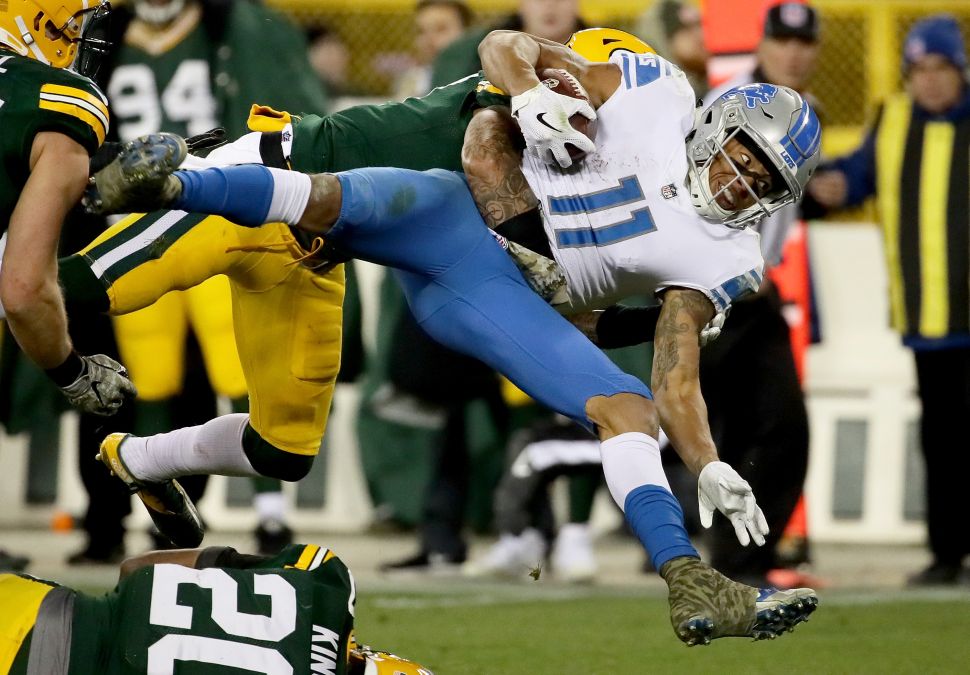 It's been another down year in the ratings for the NFL. The league's juicy primetime matchups are dipping across the board, most notably NBC's Sunday Night Football. While ESPN's Monday Night Football saw a bump in last night's game between the Detroit Lions and Aaron Rodger-less Green Bay Packers, its viewership still came in lower than its 2016 counterpart.
Deadline reports that Detroit's 30-17 victory last night scored a 7.6 rating in metered market results for the NFL and ESPN. That marks a 6 percent rise compared to the October 30 game between the Kansas City Chiefs and the Denver Broncos, which scored a 3.5 rating among the advertiser-friendly 18-49 demo with 10.42 million total viewers. It's also a big 25 percent hike compared to MNF's season-low October 16 game between the Tennessee Titans and the Indianapolis Colts. So while the game marks a bit of an uptick for 2017, it still doesn't compare favorably to MNF's Week 9 outing of 2016.
That matchup between the Seattle Seahawks and Buffalo Bills took in 3 percent more viewers on November 7, despite arriving on the eve of the 2016 presidential election. Overall, the game scored a 3.8 rating with 11.20 million total viewers, per the outlet.
Looking at the big picture, ESPN's 2017 MNF offerings are down 3 percent compared to 2016. While the National Anthem protests may be playing a big role in the ratings decline, the quality of play also likely has something to do with it. Due to an unusual rash of injuries to marquee players this season—Rodgers, Deshaun Watson, Odell Beckham Jr., J.J. Watt, etc.— game play has been particularly sloppy in some instances. That has likely contributed to some viewers changing the channel.
But overall, the NFL is looking at two straight years with ratings turbulence.