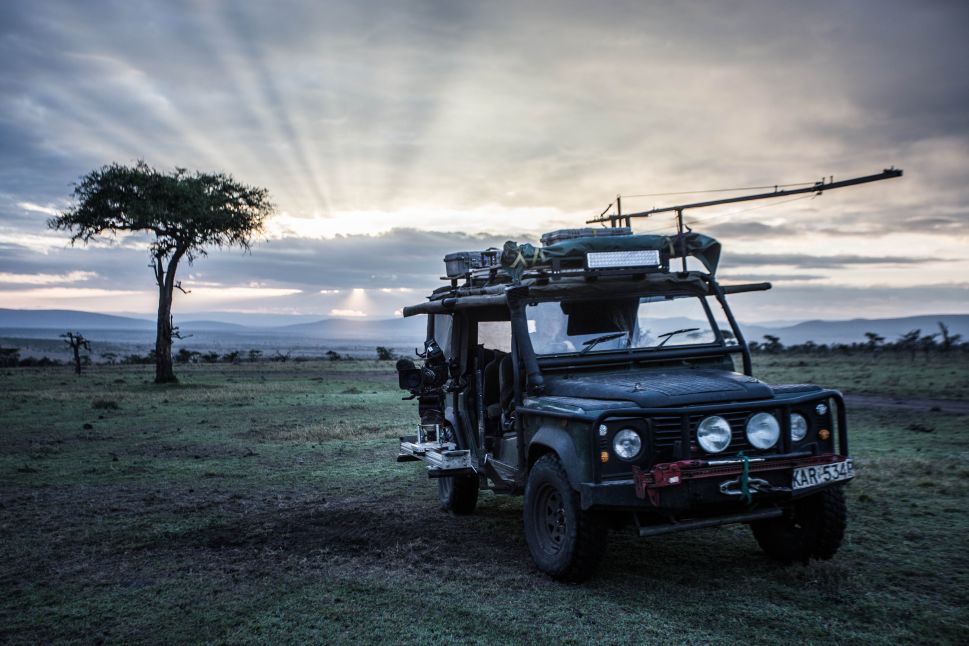 Going on an African safari was something I had never imagined doing. Although I'm a city girl, I was excited about Savage Kingdom: Uprising, Nat Geo Wild's four-part miniseries narrated by Charles Dance, Game of Thrones' Tywin Lannister, premiering November 24. I was even more excited when they offered me the chance to see some of what was captured on film, in real life.
Before flying to Nairobi, Kenya, to start the safari (which Nat Geo Wild were hosting as a promotion for the show) I received six vaccinations. Meanwhile, just looking at the horse-size malaria pills I'd need made me nauseous. I packed 15 Luna bars in my suitcase because allergies made it tough to know what I could eat. Political unrest in Kenya was also a concern, and I feared being petting distance from a lion before learning hippos are the animal most responsible for human deaths in Africa.
Going with a group of journalists, the Nat Geo Wild safari started when we stepped off a small hopper plane at the air strip. After settling into an open-top vehicle, the tour guide handed out silver reusable water bottles, none of which contained water. Apparently it's a long-running tradition to begin every safari with a gin and tonic.
"This is our house," our guide, Benjamin, said, waving toward the clear-skied, panoramic view of the Masai Mara grasslands. "We are all brothers and sisters. If you spot something, please don't keep quiet. Mind your hands. Keep your head in the car. Sometimes, things get bumpy. We call it an African massage. If you fall out, the lions get an early dinner."
On that first drive, I saw elephants eating leaves off trees, zebras, giraffes walking gracefully through the bush and lionesses playing with their cubs. The animals were completely unbothered by our presence. They perceive vehicles as larger prey and won't attack. Step out of the car, however, and it's a different story. So I stayed firmly in my seat, bumping along the rugged terrain. It felt like being on Disneyland's Indiana Jones ride, except this was real, with herds of living, breathing wildebeests passing by us.
Then I realized I had to pee. Camp was nowhere in sight, and unlike a zoo, you can't expect to come back later to see the same thing. You could be on a drive all day and witness nothing, but the bouncy ride was doing me no favors and I had to go so bad, I thought it might come out my eyes.
After finally relieving myself at camp, I told this story to Bob Poole, an Emmy award-winning cinematographer and star of Nat Geo Wild's upcoming Man Among Cheetahs, premiering in December.
"Why didn't you speak up?" Poole asked, laughing hard. "At any time, the vehicle can pull over to a safe space so you can go. That's why there are tissues and little paper bags in the truck."
I felt stupid. But Poole and his wife, Gina, also a wildlife expert, encouraged me to ask more questions about Kenya's native animals and their nature, like how can you tell the difference between a male and female giraffe? (Their horns.) And which animal has the biggest schlong? (Elephants.)
We were up by 6 a.m. most days, because that's when the animals are most active. In the morning, we'd see elephants grazing, and families of baboons with their cute butts running about. When the sun rises, they seek shelter from the heat by hiding in the bush.
Breakfast was a daily magical event. Our guides would find a clearing in the shade and set up a full buffet. Hot pastries filled with bacon, hard-boiled eggs, granola, yogurt, fruit and coffee fueled us before we'd head out. We shrieked with excitement upon seeing rhinos, buffalos, alligators and hippos.
Figuring out which tour guide suited you best was like finding the right therapist. At Naboisho, I loved Evaline Sintoya, the first female from the Masai village to graduate college, a trailblazing woman with a face that belonged on the cover of Vogue.
"Even I can't stop taking pictures and I've been here five years," she said. "The 'This is the best', and 'No! This is the best!'—it never stops."
Unlike Mara West, a public park with strict in and out times where straying from the roads is forbidden, Naboisho Camp is a private conservancy. We had the freedom to go off-road and explore as late as we wished. The Pooles let me drive their stick-shift Range Rover for an insane adrenaline rush, though I barely cracked 20 mph. Yes, there are speed limits in the wild, and we yield to animals. The main goal of all conservancies: Animals should live and die from the natural order of life, not human interference.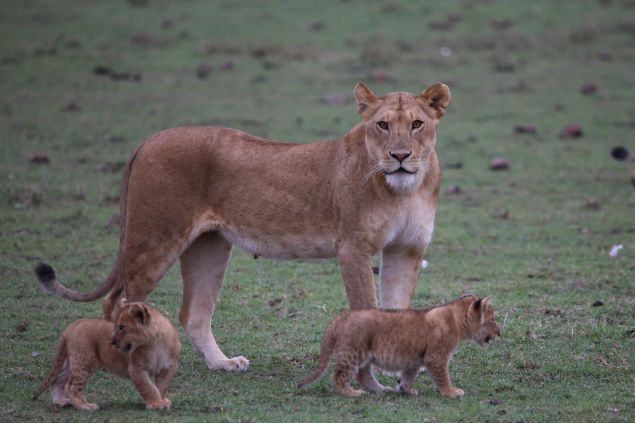 During my final game drive in Mara West, I witnessed a truly Savage Kingdom event. And while it was definitely more thrilling watching it live, it sent me down a path of pondering that speaks to why nature shows such as Nat Geo Wild's new offering are so compelling—keeping us in touch with our animal roots.
I watched as a trio of hyenas taunted a lioness and her cub as they devoured a zebra carcass. The aggressors kept howling, and within minutes a dozen other hyenas appeared, forcing the lions to abandon their dinner. With mouths covered in blood, the hyenas fought with one another over limbs of meat. They yanked out arteries, ripped apart organs and ate until there was nothing left but zebra bones.
I had an unexpected visceral reaction watching this scene. Seeing animals hunt prey, fight to provide food to their family and communicate with one another—these were all such familiar human instincts. It's merely our advanced intellect that separates humans from our animal brethren. It was a reminder that human nature is not all that different from animal nature, at the end of the day.
It's fitting that Savage Kingdom premieres on Black Friday, a day when mankind hunts for holiday gift deals, willing to trample over one another to catch their prey. In the wild, the brutality at least makes sense. There's an order, a symbiotic relationship between animals and their land, a respect for one another knowing that every species serves an integral part to the circle of life. Humans should take note.