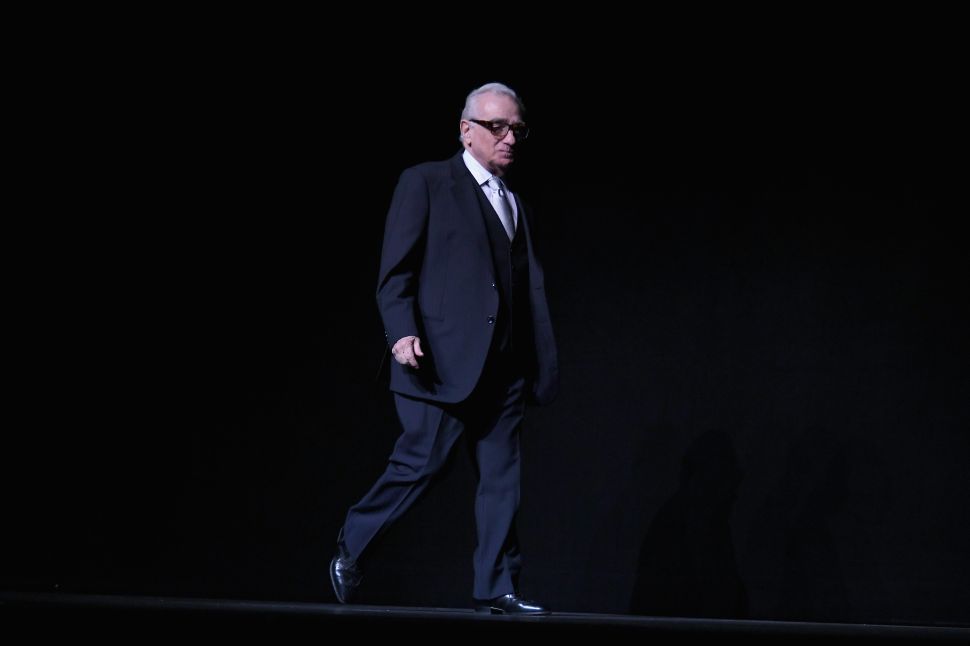 Netflix is very obviously not big on theatrical releases in the same way that other streaming services, like Amazon, are. They prefer as small of a release as possible to qualify for the Oscars (two weeks) while the movie is also released on the their platform on the same day. Such was the case for this summer's Okja and this Friday's awards-worthy Mudbound. But will such a 21st century approach work for Martin Scorsese's expensive and highly-hyped The Irishman?
According to Variety, Scorsese (known to be a classic film lover) sought a guarantee from Netflix that his film would receive a theatrical run in 2019, despite the movie's troubled production. The outlet reports that such a commitment was made by Netflix's film division chief, Scott Stuber, and that The Irishman would hit theaters for at least two weeks. However, Netflix head of film publicity Julie Fontaine told Variety that "it's premature to say anything at this point" in relation to how viewers will be able to consume The Irishman.
This matters as the project has the potential to be a major awards contender. For starters, the film marks Scorsese's return to the gangster genre after 11 years away. Based on the 2003 book I Heard You Paint Houses by Charles Brandt, the story follows Frank "The Irishman" Sheeran, who worked as a real-life hitman for the mob. The guy claimed to have carried out 25 hits for organized crime bosses over the years. Who better to handle such material than the director of Goodfellas, Casino and The Departed?
Additionally, The Irishman boasts a throwback all-star cast with Robert De Niro re-teaming with the director for the ninth time and the first since 1995. He'll be joined by Al Pacino, Harvey Keitel, Ray Romano, Anna Paquin, Bobby Cannavale and Joe Pesci, who is coming out of retirement for the project.
Perhaps Netflix is waffling on The Irishman's distribution due to its enormous price tag. Mainstream Hollywood studios were uneasy about the film's reported $100 million budget and further turned off by the growing costs its CGI would incur. Paramount and STX Entertainment were involved with the film at one point, but neither remain with the picture at this time. Producer Gaston Pavlovich told Variety that a rough estimate for the film's budget right now is $125 million and that it could still "go over that."
The movie reportedly includes several flashbacks that would feature a younger version of De Niro's character. The visual effects necessary to de-age someone don't come cheap and George Lucas' Industrial Light & Magic is said to be utilizing the same techniques employed in The Curious Case of Benjamin Button.
"We quickly realized that that Marty and De Niro really thought that the aging process was going to be a very important aspect of this film," Pavlovich told the outlet. "The traditional [business] model was not going to work with this new vision of the project, and that's when we entered conversations with Netflix."
Based on Pavlovich's comments, it sounds as if Netflix's involvement allowed for more creative freedom. While no studio, including Netflix, wants to lose money, it does sound as if a movie making model not solely based on box office returns could become more prevalent moving forward.
"The market and the dynamics of the market would not give us the possibility…to risk that amount when all our data was telling us that it [the money] was not going to come back," Pavlovich said. "We would have had to do a box office similar to The Wolf of Wall Street, or even better than that, to have something even close to a return. And that movie had Leo DiCaprio and sex, drugs, and rock-n-roll….This is different, and Marty knew it."