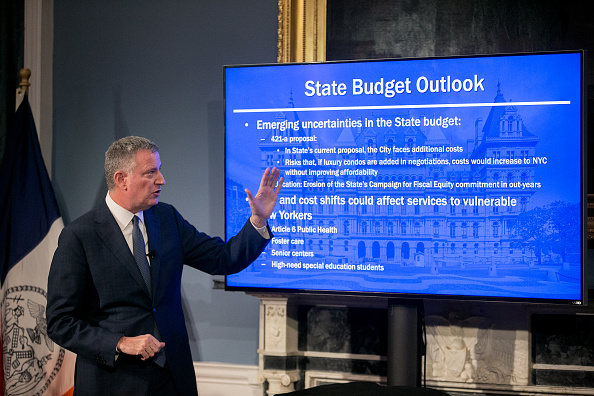 Mayor Bill de Blasio released the city's November financial plan update for fiscal year 2018 and an updated four-year financial plan in which he said city spending was entirely offset by savings.
City spending, which rose by $47 million in fiscal year 2018 and $59 million in fiscal year 2019, was balanced out by $234 million in new savings this fiscal year and $234 million of new savings and $238 million of new savings and $123 million in pension savings next, according to de Blasio. The savings include debt service savings, health care savings and agency adjustments.
Most of the growth in the budget — now at $85.99 billion in fiscal year 2018 — stems from increases in federal funding for Hurricane Sandy recovery efforts and homeland security grants. Additional increases are due to State Asset Forfeiture funds.
"When we came into office four years ago, we promised to bring opportunity to those who for so long had been left without," de Blasio said in a statement.
"Since then, we've created an entirely new grade for our youngest learners, brought police and community closer together while driving crime to historic lows, and are on track to invest more in affordable housing than any administration in decades," he continued. "While we will continue to provide for New Yorkers however we can, we must also be cognizant of the fact that Washington continues to threaten billions of dollars of federal aid and investments must be thoughtful."
Under the November plan, the city is lowering city tax revenues by $207 million for the current fiscal year, which mostly shows a decrease in business taxes even with a partial offset by increases in real property tax collections.
In addition to federal funding being at risk, the tax reform plan proposed by Trump and the GOP, which will eliminate a popular state and local tax deduction on which high-tax states such as New York, New Jersey, California and Virginia depend.
New spending in the budget includes $4.5 million to help finance the city's new construction safety program, money to help with New York City Emergency Management's work to send supplies and city workers to Puerto Rico to assist with recovery efforts. The city will spend $4 million on those efforts.
The city also said that it is updating the 311 call-taking platform and other citywide information technology projects support by DOITT. Upgrades will cost $7 million in fiscal year 2018. It is also building out the new citywide procurement system, PASSport, which will be an extra $10 million in fiscal year 2018.