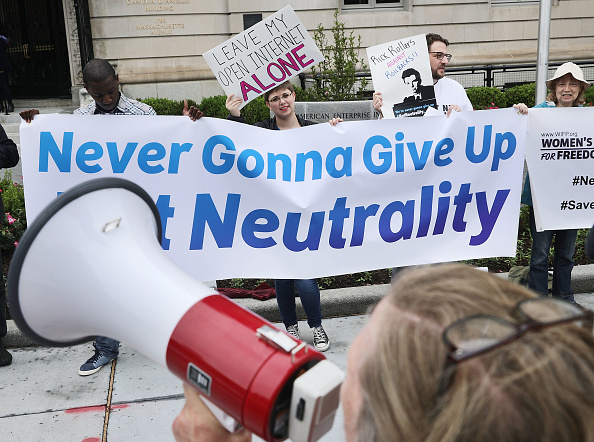 Top New York Democrats said that they would fight against the Federal Communication Commission's plan to end "net neutrality" after FCC Chairman Ajit Pai released his proposal to gut it on Wednesday.
The proposal will get rid of "net neutrality" rules instituted under former President Barack Obama in 2015 that ban broadband providers from blocking and slowing down applications, according to a fact sheet released on Wednesday on FCC Chairman Ajit Pai's proposal.
The plan ignores thousands of consumer complaints and millions of individual comments that request that the FCC save net neutrality "and uphold the principles that all traffic should be created equal," the fact sheet states.
Senate Minority Leader Charles Schumer said that consumers, small business owners, hospitals and schools across the country will "be at the mercy of internet service providers."
"It's official," Schumer said. "FCC's wrongheaded decision flies in the face of the millions of public comments you left urging the FCC to leave internet protections in place. We won't stand for this."
New York Attorney General Eric Schneiderman released an open letter to Pai in which he noted that his office has been investigating who carried out a huge scheme to interfere with the FCC's notice and comment process through the misuse of large numbers of New Yorkers' and other Americans' identities for the past six months. He said that the FCC has refused multiple requests for key evidence in its sole possession.
"In today's digital age, the rules that govern the operation and delivery of internet service to hundreds of millions of Americans are critical to the economic and social well-being of the nation," Schneiderman wrote. "Yet the process the FCC has employed to consider potentially sweeping alterations to current net neutrality rules has been corrupted by the fraudulent use of Americans' identities — and the FCC has been unwilling to assist my office in our efforts to investigate this unlawful activity."
Rep. Joseph Crowley (D-Queens/Bronx) said that he would continue to fight for Americans' access to a "free and open internet." He said that the FCC's move will hurt consumers who rely on the internet "to reach the world and realize new opportunities."
"Congress must act to ensure access to the internet is guaranteed for all Americans," Crowley said in a statement. "I urge Republicans and Democrats to work together to fix another problem created unnecessarily by the Trump administration."
Gov. Andrew Cuomo called on everyone to fight the proposal.
Mayor Bill de Blasio also weighed in on the plan.
"Repealing net neutrality would stifle opportunity for individuals, students and small businesses, while letting huge corporations profit at our expense," de Blasio said in a statement on Wednesday afternoon. "New York City stands with other cities against the repeal of Net Neutrality. We will do everything within our power to keep the internet open and accessible for all. New Yorkers, I call on you to not be silent. Contact your representatives and make your voice heard."