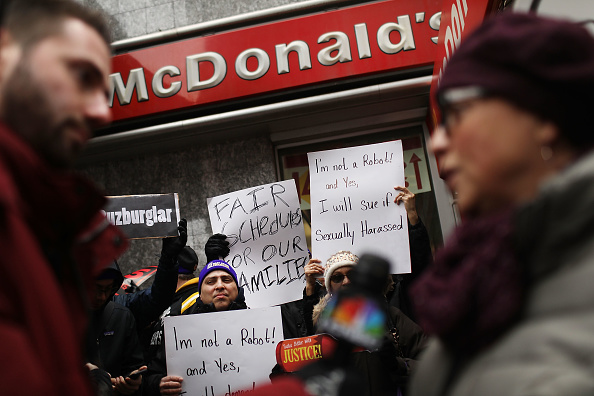 Gov. Andrew Cuomo announced new regulations designed to prevent employers from scheduling or canceling workers' shifts hours before or after they start.
New regulations will require employers to let employees know their schedules two weeks in advance and provide two hours' extra pay for last-minute assignments. They also will mandate that employers pay for at least four hours for shifts that canceled 72 hours before the scheduled start time.
The regulations include no blanket prohibitions or mandates. Employers will still be able to decide their scheduling practices, but those who provide predictable scheduling will see no additional compliance costs.
"In New York, we have achieved nation-leading success in workers' rights, and we will continue to fight to protect all hard-working New Yorkers," Cuomo said in a statement. "The regulations advanced by the Department of Labor will increase fairness for workers and allow employers to retain flexibility."
The governor noted that when employers engage in "just in time," "call-in" or "on-call" scheduling, they leave workers struggling to find child care and make them miss appointments, classes or major family commitments. These practices, he said, affect workers in retail and other service sectors and can cost them hours and pay for which they already accounted in their budget.
In September, Cuomo directed State Labor Commissioner Roberta Reardon and the Department of Labor to hold public hearings on the issue.
New York City Fair Work Week 
At the end of May, Mayor Bill de Blasio signed the "Fair Work Week" legislative package into law, a package of bills that require fast food employers to provide written notice of schedules to their employees at least two weeks in advance, written "good faith" approximations of weekly hours to new employees and regulate the method of "clopenings" — consecutive closing, then reopening, of shifts.
If an employer makes changes to any employee's schedule with less than 14 days' notice, the employer will be required to pay the employee a premium. Another fast food-industry bill requires employers to remove and send voluntary contributions to nonprofits when their employees make the request in writing, if the recipient nonprofits meet requirements.
The city law is set to go into effect on Nov. 26. The mayor has said that New York City is the largest city to end abusive scheduling practices in the fast food and retail industries.
The governor's office has said that its new standards would build upon those the city put into law, and apply statewide.
National Movement for Fair Schedules  
At the end of June, Emeryville, Calif., enacted a "Fair Work Week Ordinance" that applies to retail firms that have 56 or more employees as well as fast food firms that have 56 or more employees and have 20 or more employees in Emeryville. The law went into effect on July 1.
In September 2016, Seattle passed a "secure scheduling" law to support retail and food service workers that also went into effect on July 1. In 2014, San Francisco was the first major city to pass a fair work week bill, the Retail Workers Bill of Rights.
And at the end of June, Oregon became the first state to mandate that certain businesses provide workers with their schedules one week in advance and at least 10 hours of rest between shifts. The law will go into effect in 2018.