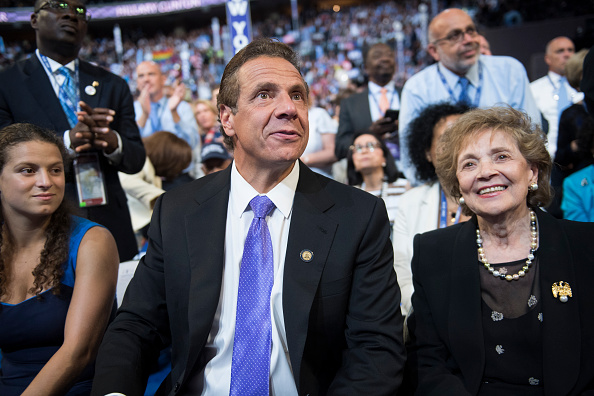 The new head of the New York State Democratic Party — a former staffer for former President Barack Obama — plans to build on recent Democratic victories across the country by winning Republican seats and uniting two rival Democratic caucuses in the state Senate.
On Election Day last week, Phil Murphy beat former Gov. Chris Christie's lieutenant governor, Kim Guadagno in New Jersey. Ralph Northam, a Democrat, won the governor's race in Virginia.
In New York, George Latimer, a Democratic state senator, beat Rob Astorino, the two-term GOP incumbent, to become Westchester county executive. Democrat Laura Curran, a county legislator, won against former state Sen. Jack Martins, a Republican, to become Nassau County executive. And Mayor Bill de Blasio won re-election in a landslide victory.
Geoff Berman, the new state party head, said at a meet and greet in Harlem hosted by State Sen. Brian Benjamin on Monday night that 2018 "presents an opportunity."
"Nothing is guaranteed and I don't want to just see us win back a seat or two," Berman said. "I want to see us take the full potential of this year and see how many seats we can win, not just one or two congressional seats, not just one or two Senate seats."
There are nine Republican seats and six were recently held by Democrats.
"There's a range in terms of where party registration is in those districts, there's a range in how popular the sitting GOP congressman and women are, how popular they are in those districts but there's no reason why we can't try to win all of these districts," Berman continued.
Berman, who started his new job the day before Election Day, said that when he was working in a campaign office in Missouri he opened up in 2009 while organizing for Obama, he came to realize that organizers can help people feel like the time they devote to helping make their communities better is "useful."
He was the state field director and state director for Obama's Organizing for America. He also served as deputy national training director and deputy national get-out-the-vote director for his 2021 reelection campaign.
"That same philosophy is what I am going to apply in this role, which is how can we use and raise collective energy so that we are efficient and making a difference and giving structure and an avenue for people to get involved," he added.
His first mission, he said, is flipping Republican seats in Congress into Democratic hands in the hopes of winning back the House for the Democrats. His second goal is bringing members of the Independent Democratic Conference, a group of breakaway Democrats currently caucusing with Senate Republicans, back into the Democratic fold.
"If all the IDC members came back tomorrow, we'd have a majority," he said. "It's unlikely that we would flip the 10 or so seats currently held by Republicans. … It will require some of both."
Opposing President Trump would be key, he said.
"If you look at what happened in Virginia and New Jersey last week, people are using their ballot as a way to reject what's coming out of Washington, D.C., to reject what Trump is doing," he said. "There are people, whatever the prior administration may be, who sometimes vote, they may vote for Hillary [Clinton] for president but maybe locally, they voted for a Republican in their local district, for Assembly or county executive or something like that in this election last week, they voted Democrat for those local races."
A number of residents and leaders at the Harlem event questioned Berman about why his strategy does not include getting IDC members out of office, with some claiming that they do not trust the IDC.
"I don't want to see us spend all these finite resources fighting each other when we agree on conservatively 90 percent of stuff, probably close to 99 percent of stuff," he said in response.
Gov. Andrew Cuomo has drawn criticism for not doing enough to get IDC Democrats to break away from caucusing with Republicans. Democrats have 32 seats in the state Senate, but the eight IDC members are in a power-sharing arrangement with the GOP, and Brooklyn State Sen. Simcha Felder, a Democrat, caucuses with the GOP.
Retired U.S. Rep. Charles Rangel (D-Harlem) asked Berman what he can do to "shatter the myth that he [Cuomo] somehow enjoys what is going on in the state legislature." Berman said Cuomo wants a Democratic majority.
"I know that people are frustrated that it hasn't happened yet and I know that the governor is the head of the Democratic Party in New York State and obviously therefore a powerful figure and so it seems like we haven't gotten this solved and I understand that frustration," he said. "I am confident that we will resolve it. … I know he's working very hard on it."
Dani Lever, a spokeswoman for Cuomo, urged both sides to come together and unite.
"In the age of Trump, and while defending New York from Washington attacks, it's now more important than ever that we have a unified Democratic party," Lever said in a statement. "We urge both side to stop the personal attacks against each other and come together."
Benjamin told Observer that the state Senate Democrats themselves have to decide how they want to deal with the IDC. He said that they are trying to negotiate to see if they can come back together before next year.
"We're negotiating with them and we're keeping our options open as to how we will deal with this. Hopefully the negotiations work," he said.
He said that if that does not "bear fruit," they will consider other options: ignoring them and winning GOP seats or fighting with them and trying to take some of those seats and Republican seats.
The IDC did not immediately respond to a request for comment.