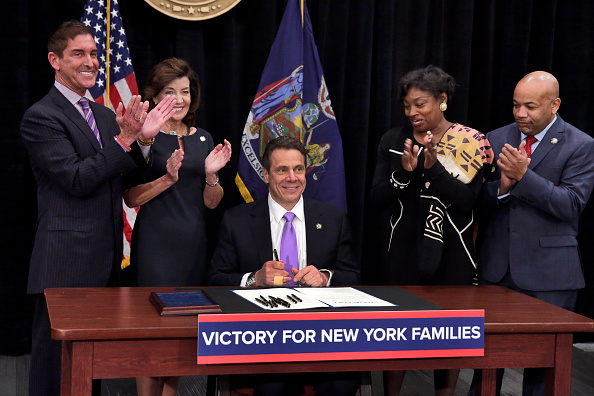 Four top New York State Democratic officials have outlined a path to reuniting warring Democratic factions in the state Senate that entails the leaders of the two groups forming a majority coalition.
The Independent Democratic Conference, led by Bronx State Senator Jeff Klein, has been allied with the GOP since 2011. Even though they have fewer seats, the Senate GOP controls the chamber because of their alliance with the IDC. Brooklyn state Sen. Simcha Felder, a conservative Democrat who is not a member of the IDC, has caucused with the Republicans since his election in 2012.
Byron Brown, chairman of the New York State Democratic Party; former City Council Speaker Christine Quinn, vice chairwoman of the New York State Democratic Party; Rep. Joseph Crowley (D-Bronx/Queens), House Democratic Caucus chairman; and Hector Figueroa, president of 32BJ SEIU and at-large member of the Democratic National Committee, sent a letter to Senate Democratic Leader Andrea Stewart-Cousins and Klein on Monday.
There are currently two vacant seats in the Bronx and Westchester County, the officials noted. They anticipate a post-budget special election to fill those seats and expect that Democrats will win both seats if they work together.
At that point, they said, there will be 32 Senate Democrats, including the IDC and Felder—and if all of them come together, Democrats would have a majority. They said that after hearing each side out many times over the past several years, they see a "reasonable solution" as both sides pledging to unite to win the special elections and subsequently reconvening as co-leaders.
"Both would have the right to attend leaders' meetings, approve bills that come to the floor, and both would have the right to approve each other's deputies," they wrote. "Both would refrain from participating in primary challenges against incumbent senators. Both would work together and coordinate resources to mount effective campaigns and win seats in the upcoming general election."
The officials said there will be secondary issues that the two parties have to work out, including titles, committee heads and chairmanships but that they can be resolved through "discussions and mutual agreement."
"We believe this is an equitable way to resolve the ongoing impasse and your responses will determine the genuine motivation of the respective parties," they continued.
And the party leaders laid out the consequences of either side not accepting the offer.
"If the IDC refuses to accept this offer, the State Democratic Party infrastructure would be prepared to unite in presenting primary challenges to IDC members," they added. "If the main conference refuses to accept this solution, the same infrastructure would be prepared to unite in calling for a new leadership team committed to unifying all Democrats."
They reminded Stewart-Cousins and Klein that Brown sent them a letter on Oct. 1 underscoring the importance of the Democratic agenda "at this time of a federal Republican assault on our state and our values."
The real mission, they said, is to win congressional seats to take back the U.S. House of Representatives and shore up a larger Democratic majority in the Senate to continue the state's progressive agenda and ensure a "fair and effective redistricting process."
"This long-running dysfunction has existed in one form or another since 2009, and exists ONLY within the Senate Conference and nowhere else in the party in this state," the leaders said. "We do not believe the senators in the main conference support their continued diminishment and they have made it clear that they want to unify. No individual member agendas justify frustrating that goal. We want unity."
In a statement, Stewart-Cousins said that her conference has long called for all senators elected as Democrats "to work together and not empower the Republican minority."
"We continue to stand firmly in that posture as we seek a coalition under similar terms as have existed between the IDC and Senate Republicans, and are willing to enter a coalition consistent with the recent correspondence from state Democratic party officials," she said. "There is too much at stake for New Yorkers to wait any longer for their wishes to be fulfilled."
Klein called it a "very exciting development." He said that since its inception, the IDC has worked to move the Senate "out of dysfunction to advance progressive policies."
He said that the IDC is ready to move forward on the condition that any final agreement is based on the legislative agenda that they put forth on May 22. That agenda, he said, includes the Reproductive Health Act, the DREAM Act, the Gender Expression Non-Discrimination Act, public campaign finance and single-payer health care.
"We are eager and ready to be part of a Democratic Coalition that could proudly and publicly state what its legislative positions are going into the 2018 session," he said in a statement. "There is no reason for the special elections to be held up and I suggest they be held as soon as the law permits."
Neither the governor's office nor a spokesman for Felder immediately responded to requests for comment.
Earlier this month, Geoff Berman, the executive director of the New York State Democratic Party, announced a strategy for ensuring Democratic victories in 2018 that includes flipping Republican seats in Congress into Democratic hands and returning the IDC to the Democratic fold.
Berman took to Twitter to put Klein on the spot.
After the general election, Gov. Andrew Cuomo, who has been accused of not doing enough to reunite the IDC with the Democrats, said that the two sides should reunite. The governor met with both groups.
An anti-IDC grassroots movement popped up after the election of President Donald Trump, including groups such as No IDC New York, Rise and Resist and True Blue New York. Anti-IDC activists immediately expressed disapproval of the proposed solution.
Quinn told Observer that the plan will move the party forward in a "true progressive manner at a moment where we need the strongest Democratic Party."
"We need a united Democratic party in New York State and the behavior and quite frankly just the existence of the IDC has prevented numerous important pieces of progressive legislation from moving forward," she said.
She added that Klein should accept the deal.
"Leader Stewart-Cousins has an openness to it," she continued. "It's really time for Jeff Klein to step forward."
And she said she sympathized with critics of the deal.
"We have to move the party forward and get this split party that the IDC has created out of power and control, no question," she added. "And if Senator Klein can't agree to this then I think we're clear what our next step is. But we'd rather be able to use all our resources pushing more Republicans out of power—not just in the Senate but in Congress as well."