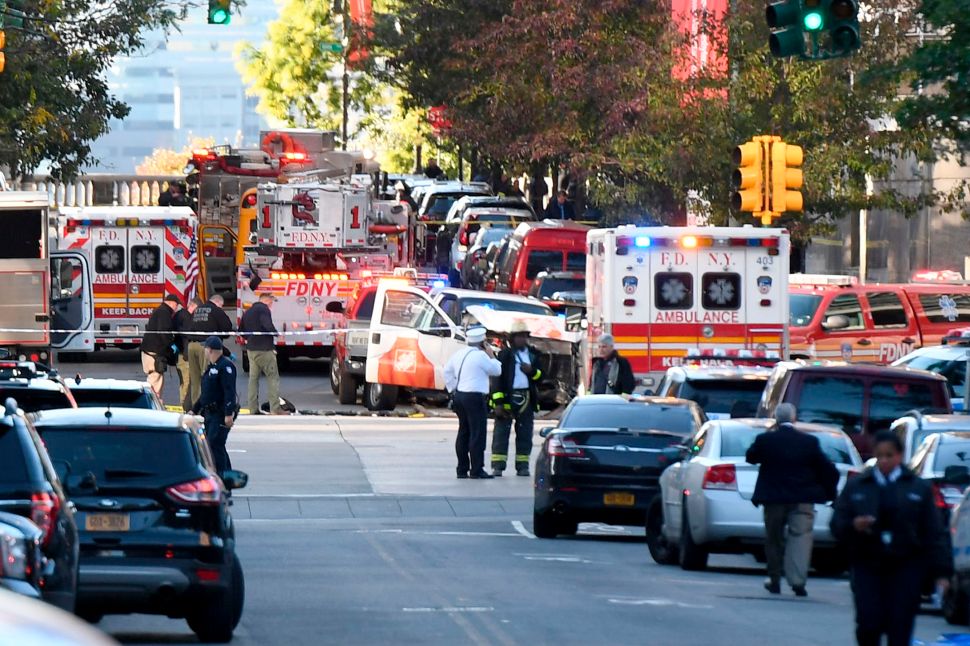 The brutal attack by an Uzbek man on innocent people walking and riding their bicycles along a park path in New York City highlights an increasing trend for citizens coming from a region of the world most Americans know little about: Central Asia.
Comprised of five mostly Muslim nations with a combined total population of roughly 70 million people, the entire region used to be under the thumb of the Soviet Union. Afghanistan is sometimes included in the regional bloc.
Since independence, those nations'—Uzbekistan, Tajikistan, Kyrgyzstan, Kazakhstan and Turkmenistan—national development strategies have worked to put the countries on paths to industrialization.
But with that, and globalization, came the introduction of radicalization, too, no thanks in part to several decades of continuing warfare in Afghanistan. That country has been a magnet for Central Asian young men looking to join the Mujahideen in Afghanistan for decades—first against the Soviets, then the Taliban, and for the last 17 years, against the U.S.
In more recent years, young men from Central Asia, a region with a deep history of strongmen and authoritarian rulers have joined jihadist wars across the Middle East and North Africa, and have become recruitment avenue for the Islamic State.
Twenty-nine year-old Sayfullo Saipov, who mercilessly killed eight people and injured 11 more by driving his Home Depot-rented truck in New York, came to the U.S. in 2010 from Uzbekistan, which is the most populous Central Asian nation and has developed a reputation for its citizens becoming radicalized abroad. But there's an important distinction to be made, says Dr. John Heathershaw, an associate professor at the University of Exeter in England whose research lies in the political and security environments of the authoritarian governments in Central Asia.
"There is an important geographical distinction here," Heathershaw told the Observer by email on Wednesday. "This is not radicalization in Uzbekistan, but of Uzbeks. There is a pattern this year of persons having left Uzbekistan many years before with little sign or no sign of militancy, and committing terrorist acts in a more permissive (less authoritarian) environment—Russia, Sweden, Turkey, New York City."
Heathershaw was referring to incidents this year in which an Uzbek man detonated a suicide bomb on a St. Petersburg, Russia train, leaving 15 dead; another drove a truck into a group of pedestrians in Stockholm, Sweden, killing five; and an Uzbek national, Abdulkadir Masharipov, killed 39 revelers at a nightclub in Istanbul; and then Saipov came along on Tuesday.
Saipov had written a note before his attack pledging his allegiance to the Islamic State.
Uzbek President Shavkat Mirziyoyev offered his country's support to President Donald Trump on Wednesday. In a knee-jerk reaction, Trump earlier on Wednesday called for the permanent end to the visa lottery program that allowed Saipov to come to the U.S., where he worked various jobs in several states before becoming a tractor-trailer driver.
But using Tuesday's attack to justify any repercussions is folly, argued Heathershaw.
"This should not lead us to jump to the conclusion that liberal states should imitate autocrats," Heathershaw said. "A better approach is to recognise that this is a transnational phenomenon and we must look at the relationships between push factors in dictatorships and the pull factors which emerge in more open environments. Also, why so many Uzbeks? Their greater number of migrants? Specific recruitment networks within their migrant communities? Their more repressive environment at home? These are the questions, but I don't think we don't have the answers yet."
Heathershaw said there is a large amount of guesswork in detailing the number of Uzbeks who have joined the Islamic State, but he believes roughly 500 have joined group, seeking a brand of militancy that employs terror as a primary negotiating tactic.
That number comes from The Soufan Center, which publishes an annual report on foreign fighters who join the Islamic State and what countries they originate from before joining the jihad.
On Wednesday it was widely reported that Saipov was found by local investigators to be on the radar of federal agencies. Why then, didn't the feds act earlier? The answer is complicated, but articulated well in the Soufan Center report.
"Given the numbers involved, the real problem for the authorities is in prioritizing tar­gets, and in establishing what sort of approach to take in each case," the report, written by Richard Barrett and published in October, said. "When a 'known wolf', meaning a terrorism suspect, is able to carry out an attack, it is not necessarily because the authorities are paying no attention; it is more likely because they have decided that their attention should be focused elsewhere. Allocating more resources to security is not always the answer; the focus has to be on reducing the threat to manageable levels rather than increasing the capacity of the State to surveil its citizens, a policy that in any case may be more likely to increase terrorism than to reduce it."
If heavy-handed nation-state responses to security issues is a primary driver of extremism, what can governments do to curb the problem?
As of now, that's unclear. It's a tightrope for each country, but here in the U.S. civil freedoms have been slowly dissipating since our own worst-ever attack in New York on 9/11.
Sixteen years later, we're still trying to figure out how to handle terrorism.
Les Neuhaus is a National and International Politics contributor for the Observer. Follow him on Twitter @LesNeuhaus