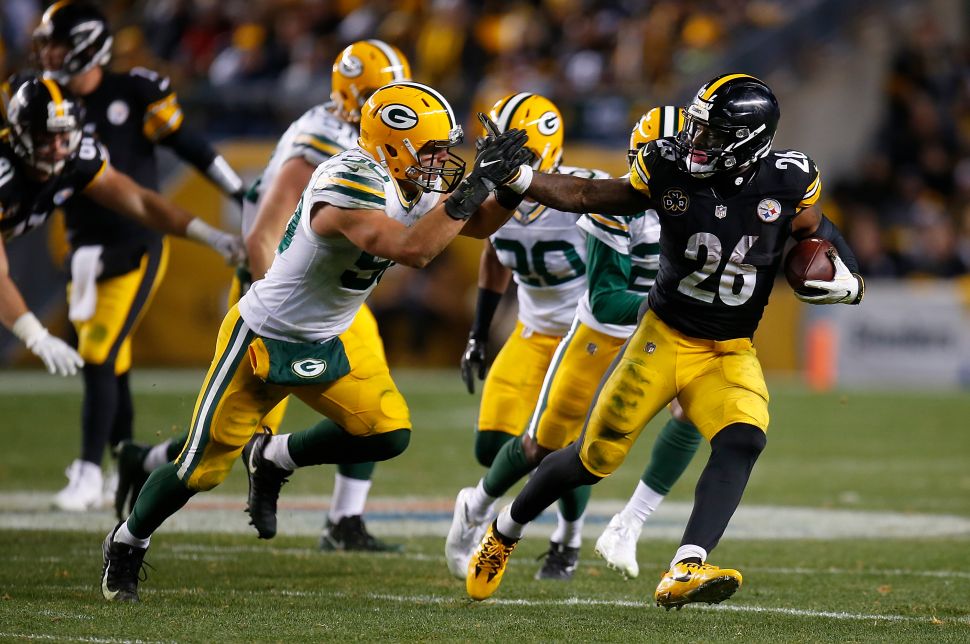 It has not been the best of years for the National Football League's television ratings. Following tumultuous viewership trends last year, the NFL has seen ratings continue to drop in key primetime games throughout the 2017 season. Unfortunately for the football powers that be, they don't have a wonky presidential election to blame this time around. Many have pointed the finger to the ongoing National Anthem protests while others have cited poor game quality as the cause. Whatever the case may be, it's no secret that the NFL, while still momentously popular, is in somewhat of a rut.
But league commissioner Roger Goodell will be happy to hear that last night's Sunday Night Football matchup between the Pittsburgh Steelers and Green Bay Packers performed well in the ratings. According to Deadline, Pittsburgh's 31-28 victory over the Packers scored a 12.2/20 in metered market ratings. While that marks a 10 percent dip from last week's high-note game that managed to snag 21.06 million total viewers, it also represents a 3 percent rise in year-of-year numbers compared to Week 12 of last season. It's all about perspective, folks.
Last year's SNF matchup between the Kansas City Chiefs and Denver Broncos garnered a 6.2/21 rating in the advertiser-friendly 18-49 demographic and 18.44 million total viewers. That means this year's SNF Week 12 outing was easily the most-watched offering in its time slot. Even when the NFL is down, it's still the most popular entertainment around.
Competing against the Miss Universe competition and a juiced up edition of The Walking Dead that revealed which character would be crossing over with companion series Fear the Walking Dead, Sunday Night Football managed to hold steady in viewership. In fact, it peaked with an impressive 12.9/24 metered market rating. Some of this had to do with the built-in appeal of the annual post-Thanksgiving Day game. But the competitive nature of the match—with big, highlight reel plays from both teams and a dramatic finish—also helped to attract attention. If only every game could be this entertaining.
Next week's Sunday Night Football will see Cam Newton and the Carolina Panthers (8-3) take on Russell Wilson and the Seattle Seahawks (7-4) in a game that will have major implications on the NFC Wild Card race. On paper, it should be a solid ratings draw.