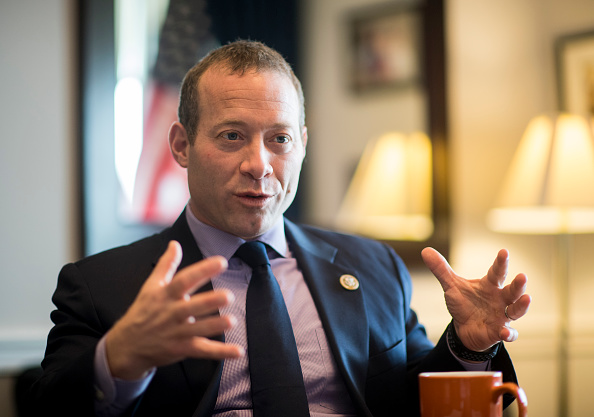 Democrats have outpaced Republicans in voter registration gains in New Jersey's battleground congressional districts, converting a larger share of unaffiliated voters since 2012.
Democrats are preparing to take over the governor's office and expand their majorities in the Legislature after cleaning up in the Nov. 7 elections.
Coupled with President Trump's unpopularity in New Jersey and voter fatigue with Gov. Chris Christie after eight years, the Democrats' registration gains could signal that the political winds are blowing in their favor as they seek to flip and defend congressional seats next year, and potentially run Sen. Bob Menendez for another term after he survived a corruption trial.
The Cook Political Report predicts that Democrats could be headed for a wave election and win congressional majorities in 2018.
In the 5th congressional district, where freshman Rep. Josh Gottheimer (D-5) will be running for a second term next year, Democrats now narrowly outnumber Republicans in what is considered one of the most conservative parts of the state, according to data from the Division of Elections.
There were 147,775 Democrats and 147,235 Republicans in the district as of Nov. 7. Democrats and Republicans each have roughly 29 percent of all voters in the district.
In 2012, when New Jersey's congressional districts were last redrawn, there were 119,242 Democrats and 131,509 Republicans. That gave Democrats 25 percent of all voters and Republicans 27 percent at the time.
From 2012 to this month, the share of unaffiliated voters in the 5th fell from 48 percent to 42 percent.
The GOP had had more registered voters than Democrats in the district since at least 2009, the earliest year the Division of Elections had party registration data for congressional districts on its website.
Republicans still outnumber Democrats in the 7th and 11th congressional districts, where incumbent Reps. Leonard Lance (R-7) and Rodney Frelinghuysen (R-11) are expected to face tough re-election bids. But the gap between registered Republicans and Democrats has tightened since 2012 as the number of unaffiliated voters fell.
In the 7th congressional district, the share of unaffiliated voters dropped from 47 percent to 41 percent. Democrats converted more of those voters than Republicans, going from roughly 24 percent to 28 percent of all voters from 2012 to November. Meanwhile, Republicans increased their registration totals by less than one percentage point, rising to nearly 31 percent. Republicans still outnumbered Democrats, 160,458 to 147,799, as of Nov. 7, according to the state Division of Elections.
This pattern — more Republicans overall, but larger Democratic gains in terms of voter registration — also appeared in Frelinghuysen's 11th congressional district. Registered Democrats grew from 25 percent to 29 percent of the electorate there, while the share of Republicans ticked up from 30 percent to 31 percent. Unaffiliated voters make up less than 40 percent of district, down from 45 percent. Republicans outnumbered Democrats, 167,812 to 156,422, as of Nov. 7.
The reduction in unaffiliated voters and accompanying surge in registered Democrats is largely a result of the 2016 presidential primary, said Patrick Murray, director of the Monmouth University Polling Institute. Even though the presidential nominations were essentially determined by June, many voters were still enthusiastic about their candidates, particularly Bernie Sanders supporters, Murray wrote in an email.
But Murray said the recent spike is also part of a "statewide phenomenon representing slightly more Democratic enthusiasm." Republicans are still holding their own in pro-Trump areas, such as Ocean County, he added.
"What's interesting is that party registration continued to grow for both parties into 2017 — even though we had low primary turnout this year," Murray wrote.
The 3rd district saw both Democrat and Republican registration grow by roughly 3 percentage points since 2012, as the number of unaffiliated voters fell by 6.5 percentage points. Democrats outnumber Republicans there, 154,664 to 143,328 as of Nov. 7, according to the Division of Elections. The district is represented by Rep. Tom MacArthur (R-3), who is also being targeted by Democrats in the 2018 midterms.
In the 2nd District, where Rep. Frank LoBiondo (R-2) is retiring at the end of his term, Democrats outnumber Republicans, 147,472 to 131,799. Democratic registration grew by 3 percentage points since 2012, while Republicans saw a 2-point increase. The number of unaffiliated voters fell by nearly 6 percentage points.