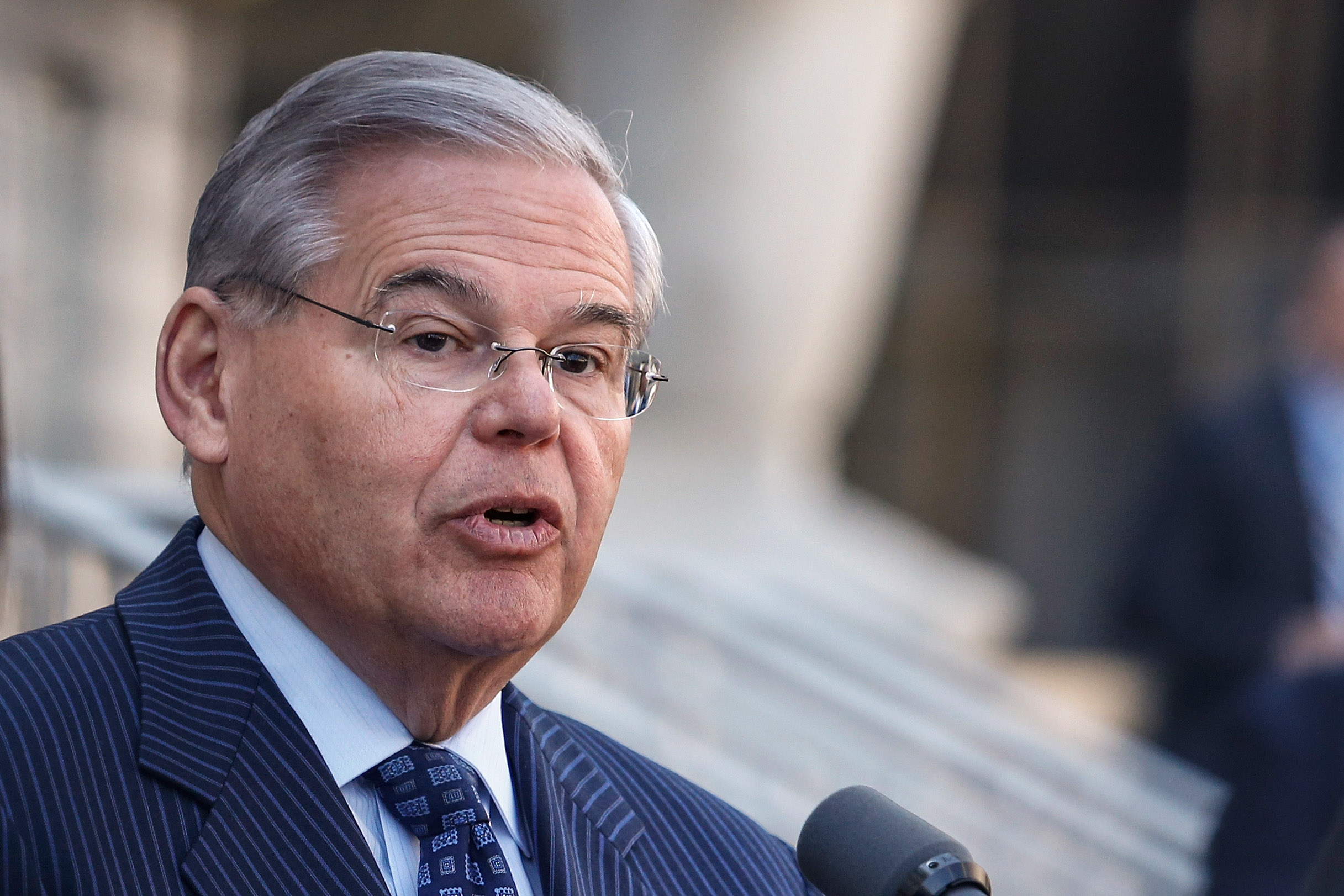 A juror dismissed from Sen. Bob Menendez's corruption trial said the senator should be acquitted of all charges because he didn't do anything wrong.
Evelyn Arroyo-Maultsby, who was excused from the jury because of a planned vacation, told reporters Thursday that she thought the actions Menendez took to help his top donor stemmed from a close friendship, not an illegal bribery agreement. She alluded to the possibility of a hung jury, saying several jurors agreed with her about the senator's innocence.
Governor-elect Phil Murphy announced that Sheila Oliver, who will be New Jersey's next lieutenant governor, will also lead the Department of Community Affairs. Murphy also met with Gov. Chris Christie on Thursday to discuss "transition stuff," but he didn't give reporters any details.
And it's finally official: Craig Coughlin will be the Assembly speaker when a new Legislature returns in January. Current Assembly Speaker Vincent Prieto conceded the speakership and formally endorsed Coughlin.
Quote of the Day: "I don't think he did anything wrong." — Evelyn Arroyo-Maultsby, a dismissed juror for Sen. Bob Menendez's corruption trial.
Dismissed Menendez Juror Says Senator Is 'Not Guilty'
A juror dismissed from Sen. Bob Menendez's corruption trial on Thursday provided a rare and stunning glimpse into the jury's deliberations, saying she believed Menendez was not guilty and signaling trouble for the prosecution's case.
Alyana Alfaro, Observer Read more
Sweeney: Millionaires Tax and Legal Marijuana Coming
Senate President Steve Sweeney said he will move quickly to pass a millionaires tax when the new Legislature returns in January, setting up Governor-elect Phil Murphy for an early victory on one of his policy priorities.
Christian Hetrick, Observer Read more
Victory Lap Interview With Senate President Steve Sweeney
Senate President Steve Sweeney (D-Gloucester) was one of the big winners on Election Day, running up an 18-point margin in his race against the NJEA-backed Republican, Fran Grenier, and expanding the Senate majority by one seat.
Salvador Rizzo, Observer Read more
Oliver Named Department of Community Affairs Commissioner
Lieutenant Governor-elect Sheila Oliver will lead the Department of Community Affairs in the coming Murphy administration, the transition team announced Thursday.
Alyana Alfaro, Observer Read more
Prieto Endorses Coughlin, Ending Battle for Speakership
The last piece of the statehouse puzzle is set, with Assembly Speaker Vincent Prieto conceding defeat in his battle with Assemblyman Craig Coughlin for the leadership of the lower house.
Salvador Rizzo, Observer Read more
Christie Nominates Joe Kyrillos to Horizon Board
Gov. Chris Christie on Thursday nominated state Sen. Joe Kyrillos (R-Monmouth) for an appointment to Horizon Blue Cross Blue Shield's board of directors.
Christian Hetrick, Observer Read more
NJ Elections: Phil Murphy starts building his team, meets with Chris Christie
Governor-elect Phil Murphy met with Gov. Chris Christie on Thursday for the first time since winning the election to succeed him.
The Record Read more
Murphy win puts spotlight on the guy who helped get him elected
Brendan Gill, the Democratic strategist who managed Phil Murphy's once-unimaginable campaign for governor, won big on Tuesday night.
NJ.com Read more
Christie and Trump: The Best Friend NJ Democrats Ever Had?
Democrats dominated in New Jersey in Tuesday's general election for a host of reasons, including a bigger war chest and a better get-out-the-vote effort, but the two biggest reasons were Republicans who were not on the ballot: Chris Christie and Donald Trump.
NJSpotlight Read more
As Democrats in Suburbs Take Victory Lap, Focus Shifts to 2018
After all the postcard-writing parties, the back-porch fund-raisers and the sidewalk and door-to-door volunteer work, there was always the nagging doubt: What if this wasn't enough? What if all this suburban anger toward President Trump still couldn't unseat Republicans in the New York suburbs?
New York Times Read more
Race-baiting ads backfired, says Sikh who broke barriers in South Jersey freeholder race
Balvir Singh, a high school math teacher, became the first Sikh to be elected to the Burlington County Freeholder Board  and may be the first in the state to win a countywide seat.
The Inquirer Read more
Senate GOP bill delivers bigger blow to N.J. by killing your entire property tax break
The entire federal deduction for state and local taxes — an important tax break for New Jersey residents — would end under legislation proposed Thursday by Senate Republicans.
NJ.com Read more
Republican says he'll back minimum wage hike if Murphy kills millionaire's tax
Senate Republican leader Tom Kean, Jr. on Thursday said he'd support an increase in the state's minimum wage if Gov.-elect Phil Murphy dumps his  called-for "millionaire's tax" increase. And he said lawmakers should be pushing a middle class tax cut.
NJ.com Read more
After re-election, NJ mayor asks for 115% salary raise
On Tuesday, Mayor Adrian Mapp won re-election. On Wednesday, he asked for a raise.
NJ101.5 Read more
Christie names new Democratic prosecutor replacing the one who's been there 15 years
Gov. Chris Christie — with about two months left of his eight years in office — has nominated a new Democratic prosecutor for Gloucester County, ousting the current one who has held the job since before Christie was elected.
NJ.com Read more