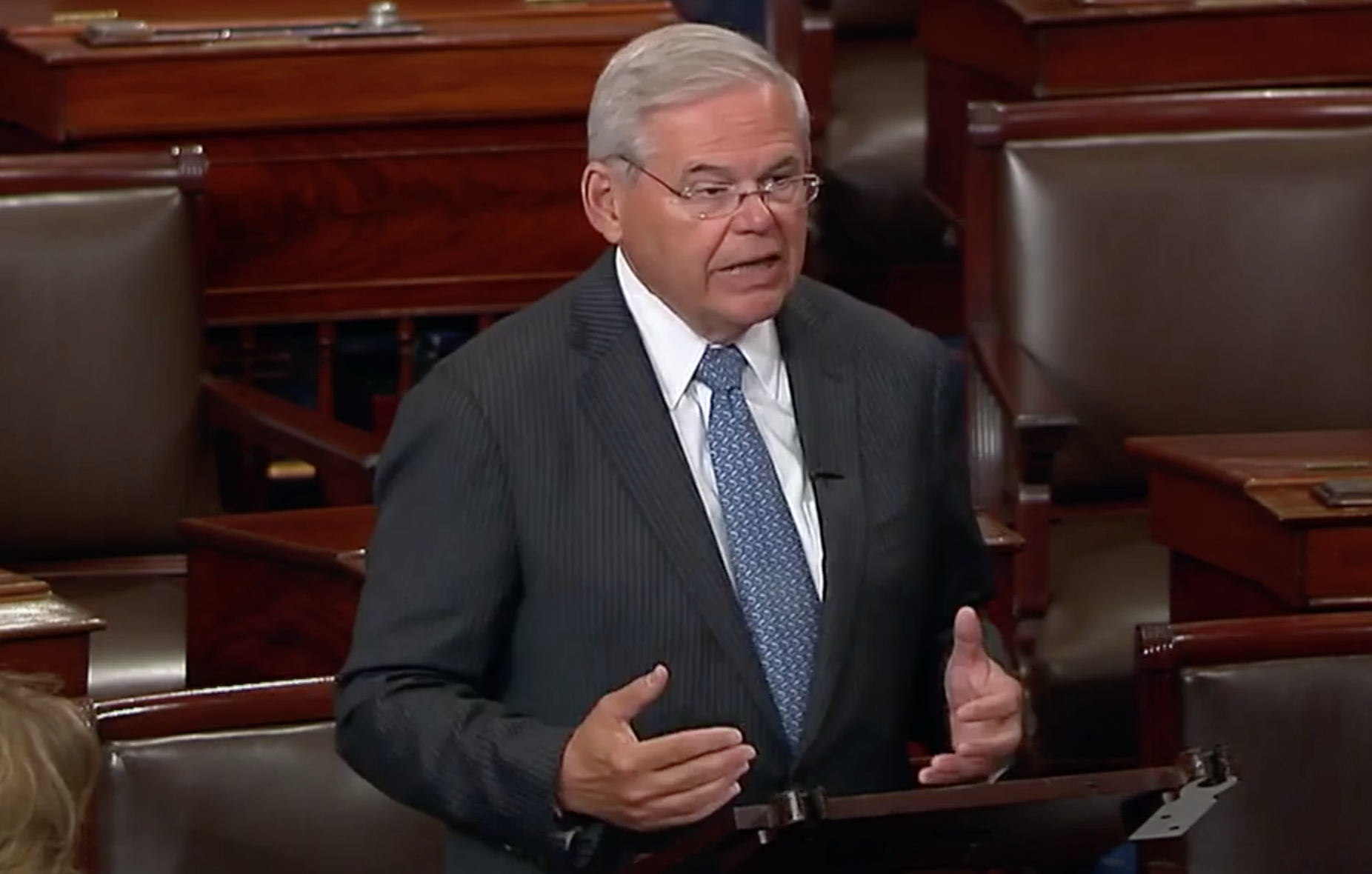 Sen. Bob Menendez called a proposed Republican tax overhaul "one giant hit job on New Jersey's middle class" during remarks Wednesday on the Senate floor.
Two hours before the Senate voted along party lines to begin debate on the GOP tax bill, Menendez suggested the legislation is designed to punish blue states like New Jersey. The Senate bill would eliminate the State and Local Tax (SALT) deduction, and high-tax states such as New Jersey would be particularly hard-hit by the move. Menendez said he planned to introduce an amendment to protect the SALT deduction.
The National Republican Congressional Committee has spoken with several potential candidates for Congress in the 2nd district, including Atlantic City Mayor Don Guardian, former Assemblyman Vincent Polistina, Hammonton Councilman Mike Torrissi Jr. and Assemblyman Chris Brown (R-Atlantic). Brown, who was just elected to the state Senate, said he is not interested in running for Congress.
And in 11th congressional district, 2018 has already arrived. Six challengers to Rep. Rodney Frelinghuysen (R-11) participated in a candidate forum nearly a year before the midterm election.
Quote of the Day: "To borrow an old phrase from the Lower Trenton Bridge – what New Jersey makes, the GOP takes." – Sen. Bob Menendez on the Republican tax plan.
NRCC Meets With Potential Candidates For LoBiondo's Seat
The National Republican Congressional Committee has met with several potential candidates for Congress in New Jersey's 2nd district to replace retiring Rep. Frank LoBiondo (R-2), sources have told Observer.
Christian Hetrick, Observer Read more
Six Frelinghuysen Challengers Face Off in Candidate Forum
The race will likely see a Democrat face Rep. Rodney Frelinghuysen, a 22-year incumbent whose district was once considered so safe that, in 2000, filmmaker Michael Moore registered a ficus tree to run against Frelinghuysen to highlight the uncompetitive district.
Alyana Alfaro, Observer Read more
Ted Cruz Endorses Lonegan for Congress
Republican congressional candidate Steve Lonegan has scored the endorsement of Texas Senator Ted Cruz—one of the most high-profile national Republicans and a 2016 presidential candidate—in the 2018 5th district primary.
Alyana Alfaro, Observer Read more
NJ Governor Race Cost $79.1 Million, Second-Most in State History
Record spending from independent groups and the largely self-financed primary campaign of Governor-elect Phil Murphy helped make the 2017 gubernatorial election the second most expensive in state history, according to New Jersey's campaign finance watchdog.
Christian Hetrick, Observer Read more
Murphy Promises to Fight GOP Efforts to Cut Obamacare Mandate
Governor-elect Phil Murphy said Wednesday that "everything is on the table" to preserve health insurance for New Jerseyans, a response to a Republican effort to remove the so-called the individual mandate in the Affordable Care Act.
Alyana Alfaro, Read more
Murphy won't discuss decision to keep transition work secret
Governor-elect Phil Murphy refused to answer questions on Wednesday about the decision to direct hundreds of volunteers to sign non-disclosure forms in order to participate in the transition, a move Gov. Chris Christie said he doesn't recall making after he won election eight years ago.
Politico Read more
Murphy Goes All in On Technology for NJ Economy
As his team's transition activities ramp up, governor-elect emphasizes importance of technology and innovation to renew Garden State
NJ Spotlight Read more
Trump tax bill 'one giant hit job' on New Jersey, Menendez says
U.S. Sen. Robert Menendez on Wednesday called the Senate Republican tax bill, which congressional scorekeepers said would raise taxes on those earning less than $75,000 a year, "one giant hit job" on the Garden State.
NJ.com Read more
Prosecutors Seek 30-Year Sentence for Menendez's Co-Defendant
A Florida eye doctor whose bribery trial with Senator Robert Menendez ended in a deadlock deserves 30 years in prison for his earlier conviction in a separate health-care fraud case, prosecutors wrote in a memo to a judge.
Bloomberg Read more
Christie's fight for sports betting heads to Supreme Court
Five years after being sued by the four major pro sports leagues and scolded by their top executives for seeking to overturn a federal ban on sports gambling, New Jersey Gov. Chris Christie may be on the verge of having the last word.
Associated Press Read more
Christie praises Trump (and trashes Obama) on opioids fight
Gov. Chris Christie crafted his latest public push to highlight the nation's opioid crisis with two parts praising President Donald Trump and one part blasting former President Barack Obama.
NJ.com Read more
Sires: I'm definitely running for reelection
Just in case anyone is wondering, Rep. Albio Sires wants to make it clear: He's running for reelection in 2018.
Politico Read more
Is extending PATH trains to Newark airport the best use of transit funds?
The Port Authority of New York and New Jersey is pressing ahead with a plan to extend PATH service to Newark Liberty International Airport.
NJ101.5 Read more
Kean: Trump Should Fire the E.P.A.'s Scott Pruitt
President Richard Nixon, who joined with a Democratic Congress nearly 50 years ago to create the Environmental Protection Agency, said then that clean air and water were "the birthright of every American" and that restoring nature was "a cause beyond party and beyond factions."
New York Times Read more
Gottheimer: Everyone in N.J. is against Trump's tax bill – it'll spark a housing crisis
There is no shortage of reasons why the Tax Hike Bill passed in the House this month would be catastrophic for New Jersey.
NJ.com Read more