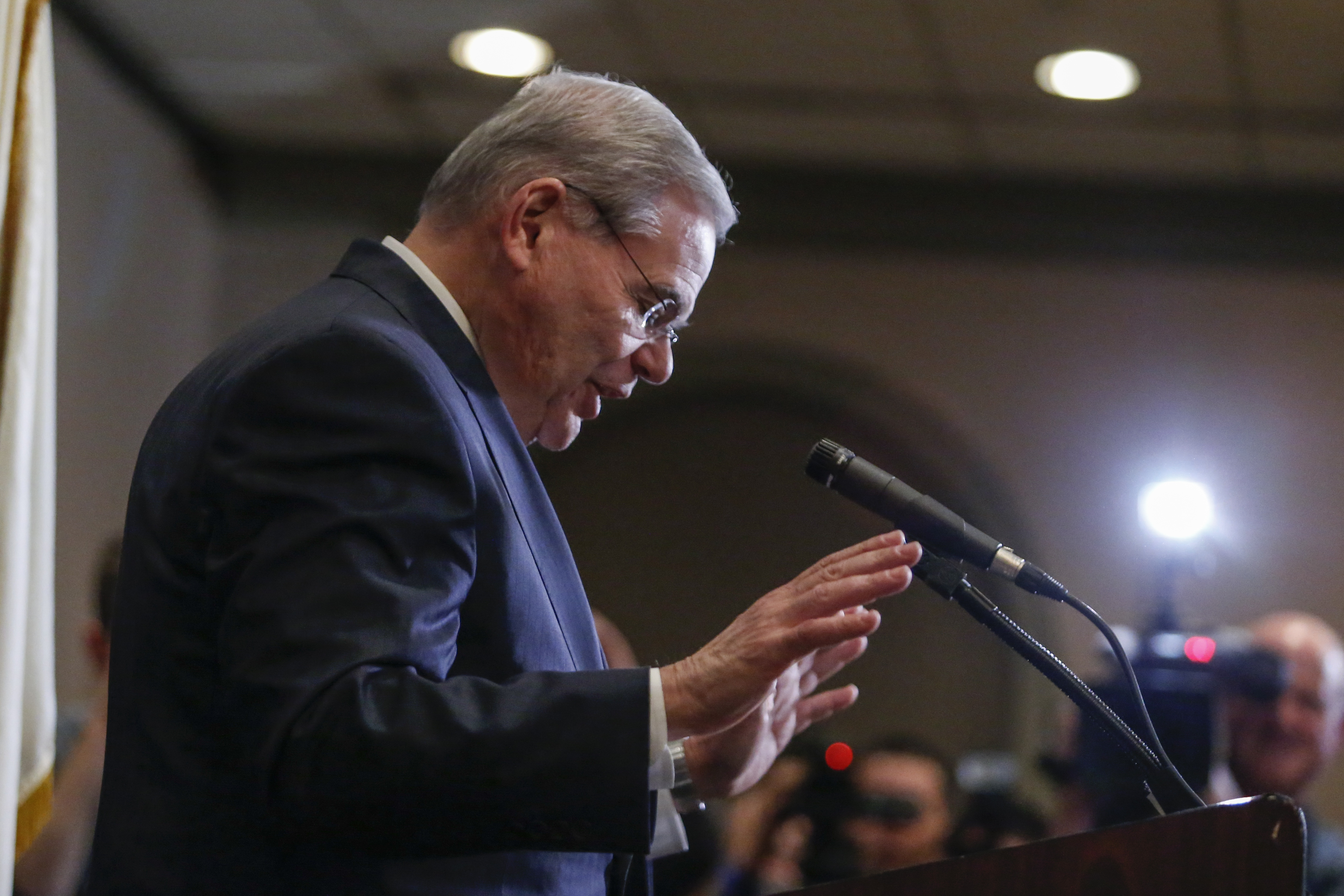 Democratic bosses and elected officials in New Jersey were practically tripping over themselves to get behind Sen. Bob Menendez on Thursday, pledging their full support if he runs for re-election in 2018. That's huge and largely overlooked in the coverage you will read elsewhere today.
If you haven't heard, Menendez's corruption trial ended with a hung jury, allowing him to walk out of Newark federal court in tears of joy instead of handcuffs.
Now, you can make a strong case that what Menendez did was deplorable. You can agree with the two jurors who purportedly wanted to convict. You can see why 59 percent of likely voters told Quinnipiac last month that Menendez did not deserve re-election. You can handicap whether the Senate ethics committee will give him anything more than a slap on the wrist. You can read what a million experts at fancy law firms have to say about the post-McDonnell landscape and whatnot.
But there are a few indisputable political realities in blue New Jersey, where the Democratic machine just crushed Republicans in last week's elections. That's the same machine that quickly fell in line behind Menendez on Thursday, the same machine that becomes more powerful as voters disengage and turn out in record-low numbers.
The political realities
With the backing of Governor-elect Phil Murphy, South Jersey power broker George Norcross, state Senate President Steve Sweeney and the incoming Assembly speaker, Craig Coughlin, among many other county bosses and elected officials, Menendez seems very unlikely to lose or even face a Democratic primary challenge next year. Bob Torricelli wouldn't run against him and neither would Rep. Donald Norcross. The very popular Sen. Cory Booker took the witness stand to vouch for Menendez and could be a powerful antidote on the campaign trail.
Republicans would have a field day repurposing the seamy story told by prosecutors, but they haven't won a U.S. Senate race in New Jersey since 1972 and they have no obvious top-tier candidate ready to burst out of the gate.
Menendez throughout most of his trial maintained higher approval ratings than Gov. Chris Christie and President Trump, with the president only narrowly gaining an edge (inside the margin of error) in recent surveys and Christie way below from start to finish. Menendez knows how to make those numbers bounce back.
There will be 33 Senate races in 2018 and you have to wonder how much money and resources national Republicans will want to sink into New Jersey when control of the chamber could be turning on a knife's edge in other states. Brigid Harrison makes the obvious point that this is probably not the electorate that will reward Trump with a Senate seat.
Speaking of which, registered Democrats outnumber Republicans by 880,000 in the state, a number that has been growing.
A lopsided majority, 11 out of 13 New Jersey residents, reviewed the evidence and said "not guilty." (That's 12 jurors plus one more who was dismissed.)
Prosecutors painted a sordid picture. Menendez lived high on the hog courtesy of his top donor, Salomon Melgen. He pulled the levers of power in a way that stood to benefit Melgen, who lives more than 1,000 miles from New Jersey in a gated community in Florida. The senator pushed to get visas for Melgen's foreign girlfriends — and then thanked Melgen's wife on Thursday for her "faith" in his innoncence. He failed to report flights on Melgen's private jet until reporters uncovered them. There's a lot more. The attack ads will sting like bleach in his eyes.
But Hudson County's favorite son is also a prizefighter with $3.9 million in his campaign account a year out from the election. He's already won one Senate race while being hounded by prosecutors. Although he wasn't acquitted on Thursday, he could try to cast himself as an innocent man, a Hispanic leader being persecuted, and point to a loud absence of convictions as he defends his name in the court of public opinion.
Just as Menendez prayed for a happy ending to his trial, Republicans better pray for a new one, because that's likely their only shot.
Quote of the Day: "To those who were digging my political grave so they could jump into my seat, I know who you are and I won't forget you." – Sen. Bob Menendez.
Menendez Survives: Judge Declares Mistrial Due to Hung Jury
In a striking reversal of fortunes, Sen. Bob Menendez survived a corruption trial after the jury deadlocked on all counts Thursday.
Salvador Rizzo and Alyana Alfaro, Observer Read more
Torricelli Will Not Primary Menendez in 2018
Bob "The Torch" Torricelli had been eyeing another Senate run, but his hopes have all but fizzled. The former U.S. senator will not challenge Sen. Bob Menendez in a 2018 Democratic primary, Torricelli told Observer on Thursday, hours after the judge in Menendez's federal corruption case declared a mistrial due to a hung jury.
Alyana Alfaro, Observer Read more
MacArthur Votes for GOP Tax Overhaul
Rep. Tom MacArthur (R-3) was the only House member from New Jersey to vote on Thursday for a Republican tax overhaul, a vote that could cost him next year as he goes up for re-election.
Christian Hetrick, Observer Read more
Murphy: New Jersey Is Poised for a Comeback
Governor-elect Phil Murphy said New Jersey is on track for a big comeback under his administration, but he didn't offer new details on his plans Thursday in his first major speech since the election.
Christian Hetrick, Observer Read more
Menendez faces Senate ethics probe after mistrial
The Senate Ethics Committee will resume its investigation into Sen. Bob Menendez, a move that came just hours after a mistrial was announced in the New Jersey Democrat's bribery and corruption case. Senate Majority Leader Mitch McConnell (R-Ky.) had called for an ethics probe of Menendez as soon as a mistrial was declared by U.S. District Judge William Walls.
Politico Read more
Opinion: The Menendez mistrial proves that sleazy isn't necessarily criminal
In the end, a number of the jurors apparently had a reasonable doubt about the quid pro quo, the linchpin of any corruption case.
Washington Post Read more
Chris Christie's bully image endures in the public's imagination
As Christie prepares to leave the governor's office in two months, one thing stands clear from more than two dozen interviews done by The Record and NorthJersey.com with voters, lobbyists, political analysts, legislators and other insiders: His intimidating style and bully persona will be the enduring image of his tumultuous eight years in Trenton.
The Record Read more
Christie Push for New Government Offices in Trenton Stymied
The Christie administration's plan to push through financing for construction of two new state-government office buildings before the end of Christie's tenure appears to have stalled, after lawmakers took notice and others said the project would not meet appropriate planning and code standards and was rushing the approval process.
NJSpotlight Read more
Proposal would make sex-harassment settlements public in NJ
The cascade of stories about powerful men who had engaged in sexual misconduct, only to have the settlements of subsequent lawsuits kept secret, may prompt state lawmakers to act to require records of such payments to be public.
NJ101.5 Read more
It's Hoboken vs NJ Transit in battle over proposed waterfront park
A battle may be brewing between city officials who have moved to acquire Hoboken's last working shipyard for use as a waterfront park and NJ Transit, which supports a plan by the property's new owner, New York Waterway, to use it as a ferry maintenance yard.
NJ.com Read more
Horizon CEO Robert Marino to retire; Kevin Conlin to take over
Robert Marino, the president and chief executive officer of Horizon Blue Cross Blue Shield of New Jersey, who led the insurer through the wake of Obamacare and conflicts with state lawmakers, will retire Jan. 1, the company said Thursday.
Asbury Park Press Read more