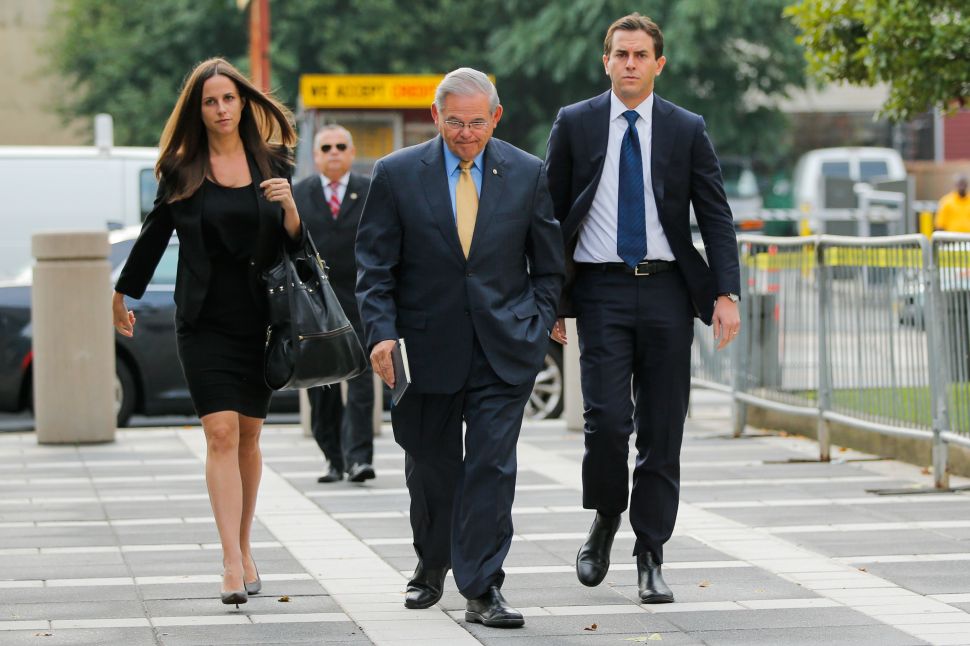 The jury in Sen. Bob Menendez's corruption trial will begin deliberations all over again this morning after failing to reach a verdict last week.
There's a possibility that the case will end with a hung jury, according to Evelyn Arroyo-Maultsby, the juror who was excused and replaced last week by Judge William Walls because she had a long-planned vacation to the Bahamas. A female alternate juror will be taking her place, and deliberations are starting from scratch.
Meanwhile, in Trenton, Assemblyman Craig Coughlin is holding an 11 a.m. event in the state house, presumably to declare victory in the race for the speakership.
And Gov. Chris Christie is attending a discussion on overhauling the tax code with Treasury Secretary Steven Mnuchin and Ivanka Trump.
Murphy Tells Teachers Boosting School Funding Is Top Priority
Governor-elect Phil Murphy got a hero's welcome Friday at the New Jersey Education Association's annual convention in Atlantic City, where he told teachers that his top priority will be boosting funding for public schools.
Christian Hetrick, Observer Read more
New Jersey Could Legalize Marijuana Next Spring, Scutari Says
As the smoke clears from the election, lawmakers, criminal justice reform advocates and lobbyists are preparing for a greener Garden State with legalized marijuana.
Alyana Alfaro, Observer Read more
Recapping a Wild Week in New Jersey Politics
Voters elected a new governor. The state Assembly settled on its next speaker. A congressman decided to retire. A senator awaited a verdict in his corruption trial.
Christian Hetrick, Observer Read more
Here are 19 big promises Gov.-elect Phil Murphy made to you during the campaign
Democratic Gov.-elect Phil Murphy's road to the Statehouse was paved with progressive promises. He's vowed to strengthen New Jersey's gun laws, he's backed a $15 an hour minimum wage and he wants to make community college tuition-free for all New Jerseyans.
NJ.com Read more
Ivanka Trump, Steven Mnuchin head to Jersey Shore to talk taxes
Ivanka Trump and Treasury Secretary Steven Mnuchin are coming to the Jersey Shore on Monday to stump for a controversial Republican-pushed tax reform plan.
Asbury Park Press Read more
Cory Booker Loves Donald Trump
One warm Saturday afternoon last month in a ballroom in the convention center in downtown Raleigh, North Carolina, a local business leader introduced Cory Booker as a man "who may be our next president."
Politico Read more
This lawmaker spent more of your tax dollars on mailings than anyone else in N.J.
Rep. Tom MacArthur, facing a potentially competitive House race next year, spent more taxpayer money to communicate with his constituents than every other New Jersey representative combined.
NJ.com Read more
NJ teachers union slams Star-Ledger editor over 'murder' tweet
The state's largest teachers union on Saturday demanded that the editorial page editor of the state's largest newspaper apologize. Not for any of the columns he regularly writes to attack the NJEA, but for saying on Twitter that the state's top Democrats "want to murder the leaders of the teachers union."
NJ101.5 Read more
Democrats who want to topple N.J. House Republicans next year revved up by Murphy win
Josh Welle, running against Rep. Chris Smith, launched the first ad of his campaign. Linda Weber, trying to take on Rep. Leonard Lance, sought donations to "keep the momentum going." Mikie Sherrill, opposing Rep. Rodney Frelinghuysen, picked up what could be an important endorsement.
NJ.com Read more
5 takeaways from Election Day in Jersey City
When Mayor Steve Fulop released an internal poll showing him with a 68 percent job approval rating among voters in October 2015, his critics roundly mocked him. Councilman Rich Boggiano called it "baloney," saying he spoke to voters regularly and did not believe Fulop was nearly that popular.
The Jersey Journal Read more
39 Dems beat out Republicans in Frelinghuysen's district (and why he should be worried)
In New Jersey's 11th congressional district, 39 members of the group NJ 11th for Change beat out Republicans this year — some for the first time — in races in Morris, Essex, Passaic and Sussex counties for seats on boards of education, municipal councils and freeholder boards.
NJ.com Read more
Comella to depart Cuomo administration
Gov. Andrew Cuomo's administration is reshuffling its staff as it heads into next year, sources told POLITICO, including the departure of Maria Comella as chief of staff.
Politico Read more
NJ Transit official alerted feds to staffing crisis 2 months before Hoboken crash
A top official at NJ Transit wrote a letter to federal safety regulators alerting them about a staffing shortage at the agency two months before a deadly commuter train crash last year, federal and state officials have confirmed.
The Record Read more
Oil trains: 13 defects found on CSX track used for trains in Bergen County, report shows
A federal inspection found 13 defects on CSX track in Bergen County in June last year, the same route that's become a corridor for millions of gallons of crude oil and ethanol to East Coast refineries.
The Record Read more
New Atlantic City mayor may gain from predecessor's pain
Voters in this seaside gambling resort turned their mayor out this week after a single term in which five of the city's 12 casinos shut down and the state seized control of its assets and major decision making power.
Associated Press Read more
Pinelands residents worry about proposed rules change that could hamper creation of firebreaks
Bill Brash stood with a cadre of residents of the Four Seasons at Mirage on the edge of the slender barrier between their development and the vast New Jersey Pinelands as they surveyed their handiwork.
Inquirer Read more
Woodcliff Lake agrees to build affordable housing
The borough has agreed to build 16 units of affordable housing on North Broadway and rezone two other properties to allow for construction of low- to moderate-income homes, per a settlement agreement with Fair Share Housing Center reached this week.
The Record Read more
Opinion: Governor to governor: Advice for Phil Murphy
The Record and NorthJersey.com invited all eight living former New Jersey governors to offer some advice to the next governor, Phil Murphy. All but former Gov. Donald DiFrancesco contributed. Here are their individual suggestions:
The Record Read more