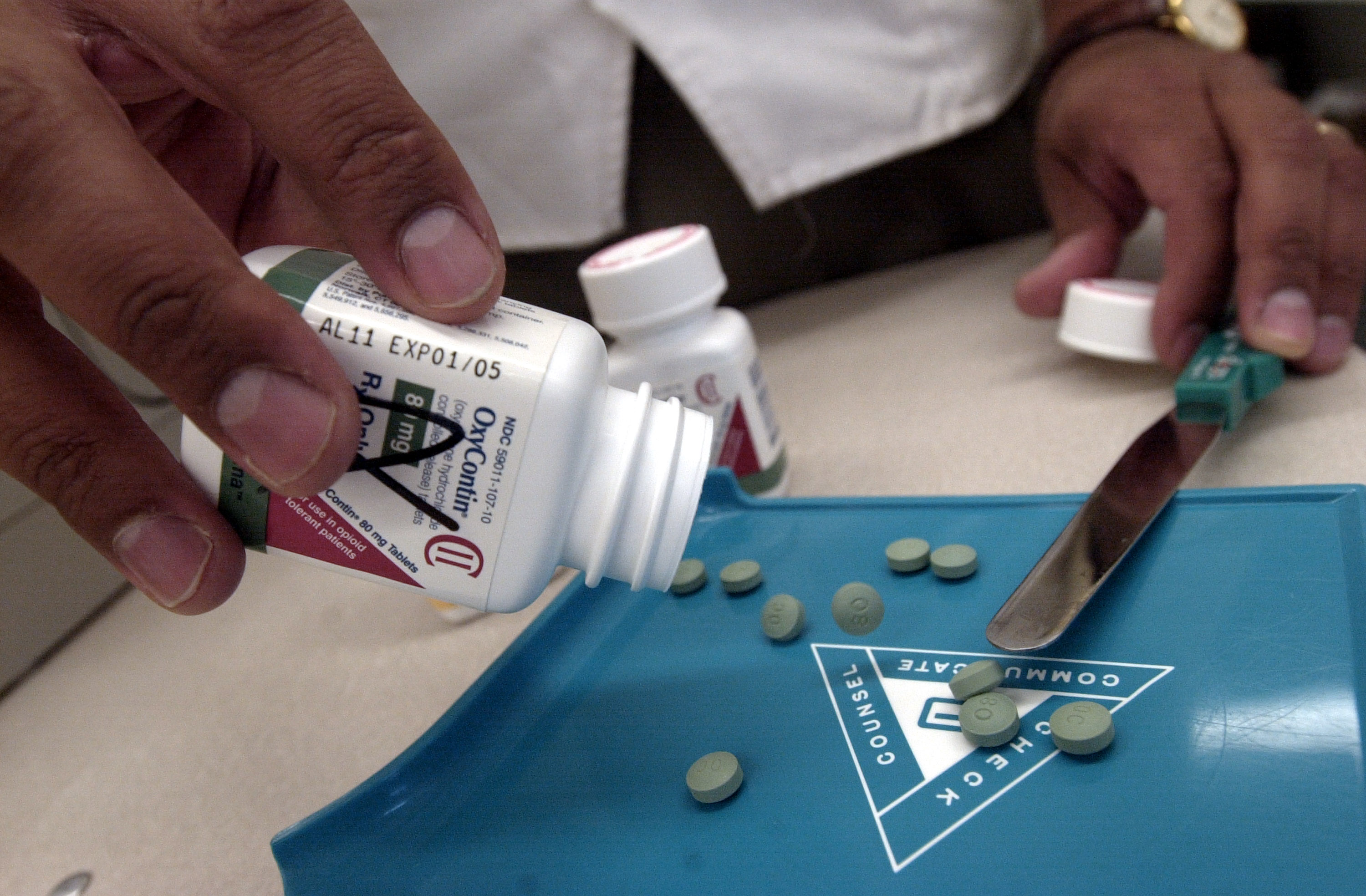 New Jersey Attorney General Chris Porrino sued the drug giant Purdue Pharma on Tuesday, blaming the company that makes OxyContin for the deadly opioid epidemic.
In his second lawsuit against a drug maker this month, Porrino alleged a direct link between New Jersey's opioid death epidemic and Purdue's aggressive marketing of addictive medications, claiming the company deceived the public and medical community about the risks and benefits of its blockbuster painkillers. The state seeks damages for false claims, maximum statutory penalties under the Consumer Fraud Act and the False Claims Act. Porrino also sued the drug company Insys Therapeutics on Oct. 3, alleging an "evil" scheme to boost sales of a fentanyl painkiller.
Phil Murphy has mostly steered clear of discussing his 23-year tenure at Goldman Sachs during his gubernatorial campaign. The Philadelphia Inquirer took a closer look at Murphy's time as head of the investment firm's Frankfurt and Hong Kong offices, while the New York Times examined his record as U.S. ambassador to Germany.
Quote of the Day: "It looks like I was collateral damage." — Barbra "Babs" Siperstein, a New Jersey activist and party official who says she was removed from the Democratic National Committee after not supporting the new DNC chairman, Tom Perez.
Tom Perez Removes NJ's Siperstein From DNC Roles
Barbra "Babs" Siperstein, the first transgender member of the Democratic National Committee, was removed earlier this month by the new DNC chairman, Tom Perez.
Alyana Alfaro, Observer Read more
Christie: No Conclusions to Draw From Papadopoulos Yet
Gov. Chris Christie said Tuesday that he does not have enough information to speculate whether there was collusion between the Trump campaign and Russia in the 2016 election, speaking in response to questions about the guilty plea by a Trump campaign adviser, George Papadopoulos.
Christian Hetrick, Observer Read more
Independent Groups Spend $10.6 Million in NJ Governor's Race
Independent groups have ramped up their spending in the New Jersey governor's race, pouring roughly $8 million into the contest during the last three weeks, according to the state Election Law Enforcement Commission.
Christian Hetrick, Observer Read more
'A classic Goldman archetype': Democrat Phil Murphy spent career on Wall Street, wants to be liberal N.J. governor
That an investment banker is the odds-on favorite to be the next governor of New Jersey is a little incongruous with the Democratic Party's drift to the populist left. Yet Goldman has populated government positions of both parties for decades, and Murphy seems poised to continue that tradition. So what'd he do during his 20-plus years there?
The Inquirer Read more
For Philip Murphy, Key Résumé Entries Are Often Left Unspoken
The résumé for Philip D. Murphy, the Democratic candidate for governor of New Jersey, features two impressive entries: a 23-year tenure at Goldman Sachs, with high-ranking positions in Frankfurt and Hong Kong, and a four-year tenure under President Barack Obama as ambassador to Germany. But Mr. Murphy, who has a significant lead in recent polls, rarely talks about his two high-profile jobs.
The New York Times Read more
Property tax pain: Here's how Murphy, Guadagno's property tax bills compare to yours
One candidate pays more than $200,000 in property taxes on a $9.6 million home. The other has a tax bill of about $30,000 on a $2.3 million home.
Asbury Park Press Read more
Bribery definition in play as Bob Menendez closings approach
Attorneys in the bribery trial of U.S. Sen. Bob Menendez gathered on Tuesday to hash out the legal instructions the judge is to give to the jury before deliberations, a crucial phase of the trial in light of a recent Supreme Court decision that has already prompted the overturning of several public corruption convictions.
Associated Press Read more
Trump opioid panel ducks question of new money
President Donald Trump's opioid commission will call Wednesday for big boosts in substance abuse treatment programs but stop short of asking for new funding that federal and state officials say is critical to pay for such programs.
Politico Read more
New Jersey sues drug company Perdue Pharma in opioid crisis
New Jersey's attorney general filed a lawsuit Tuesday against Purdue Pharma L.P., a drug-making giant that produces OxyContin, placing blame on the company for the state's deadly opioid crisis and alleging widespread deception over many years leading up to what is now a nationally recognized public health emergency.
The Record Read more
Christie blasts teachers union (again) over health care costs
Gov. Chris Christie on Tuesday continued his assault on the state's teachers union, lambasting union leadership for their high pay following a dispute between the union and the state over health insurance benefits.
NJ.com Read more
Campaign informant: I was paid $30 to hand messenger ballot to Atlantic City Democratic operative
Cotton would later report to the detectives that Callaway paid him $30 to obtain and sign for a messenger ballot for an Atlantic City man whom he said he did not know, and that rather than delivering that ballot to the man — as required by law — he handed it directly to Callaway, who put it in his pocket.
Inquirer Read more