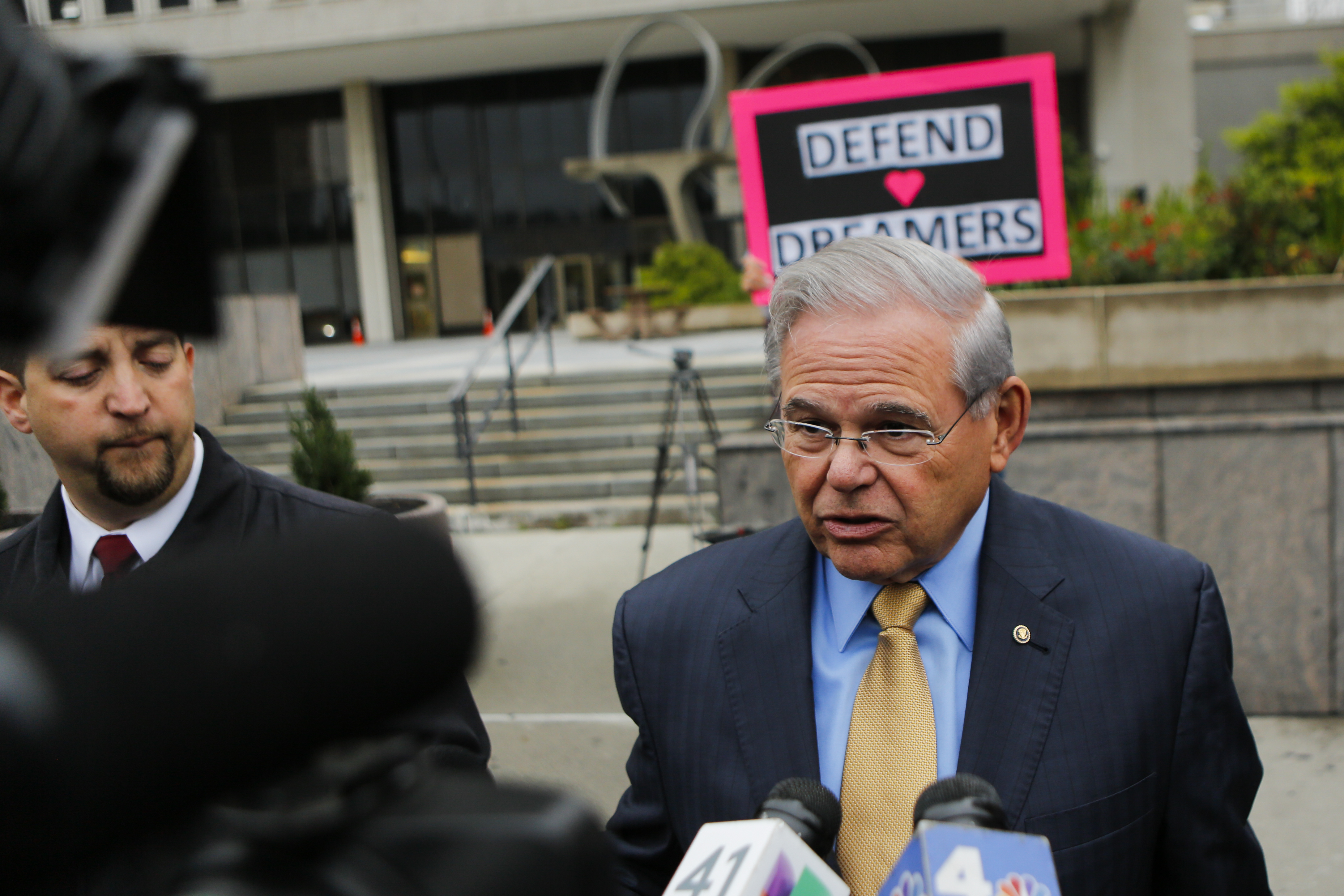 The jurors in Sen. Bob Menendez's corruption trial went another day without reaching a verdict. Will today be the day?
On Monday, the jurors sent Judge William Walls a note saying they could not reach a unanimous verdict on any of the 18 counts, raising the possibility of a mistrial. There were no notes or questions Tuesday, only a packed courtroom waiting all day.
Meanwhile, Governor-elect Phil Murphy filled the top two positions in his administration. He chose Democratic lobbyist Pete Cammarano as his chief of staff and his campaign policy adviser, Matt Platkin, as chief counsel.
POWER LIST: It's that time of year again. The PolitickerNJ Power List is out this morning, and it's better than ever. With a new governor headed to Trenton and Democrats poised to turn the page in a big way from the Chris Christie era, we worked extra hard this year to set out who's up and who's down in the new world order. Check it out here — and congratulations to all the winners.
GOP State Senator: Legal Weed Is a Road Hazard
Democrats are moving ahead with their plan to legalize marijuana once Governor-elect Phil Murphy takes office, but at least one Republican lawmaker says they are moving too fast and turning a blind eye to some of the risks.
Alyana Alfaro, Observer Read more
Murphy Taps Cammarano for Chief of Staff; Platkin for Chief Counsel
Governor-elect Phil Murphy named his two top advisers Tuesday, picking Democratic lobbyist Pete Cammarano as his chief of staff and his campaign policy adviser, Matt Platkin, as chief counsel.
Christian Hetrick, Observer Read more
Former Paterson Mayor Torres Sentenced to Five Years in Prison
Former Paterson Mayor Jose "Joey" Torres was sentenced to five years in prison by a state Superior Court judge on Tuesday.
Alyana Alfaro, Observer Read more
Analysis: After Joey Torres' fall from grace, Paterson braces for a political free-for-all
Joey Torres could get out of prison in time to attend the inauguration of Paterson's new mayor next July. But even behind bars, Torres looms as a central figure in the free-for-all that promises to be the city's upcoming mayoral race
Paterson Press Read more
Hung jury could save Menendez — but only temporarily
With a hung jury looking more likely in the federal corruption trial of Sen. Robert Menendez, New Jersey's senior senator could begin his reelection year with the threat of a new trial hanging over his head.
Politico Read more
NJEA spent $5.7M in union dues on recent election
Although no one from the NJEA was available to speak on camera, NJEA Communications Director Steve Baker confirmed by email that all of the roughly $5.7 million did come from membership dues, stating that "all independent expenditures are from dues."
NJTV Watch
Targeted by an addiction treatment center, union workers feel trapped as their benefits are drained
One after another, New Jersey public school teachers arrived at the Recovery Institute of South Florida after asking their union to find them addiction or mental health treatment. Instead of getting the help they needed, many said they were essentially trapped at the facility while their health insurance was billed tens of thousands of dollars.
STAT News and Boston Globe Read more
Craig Coughlin – Low Profile Legislator Now Assembly Speaker
Craig Coughlin is poised to become the third most powerful legislator in New Jersey come January. But aside from ending the State House drama between Senate President Steve Sweeney and Assembly Speaker Vincent Prieto, not much is known about the low-profile legislator.
NJSpotlight Read more
Kellyanne Conway trumpets GOP tax plan in Central Jersey
A "Jersey Girl" returned to her home state Tuesday to deliver the message that tax package of her boss, President Donald Trump, would be good for "job creators, job seekers and job holders."
MyCentralJersey.com Read more
How do NJ politicians feel about Trump tax plan?
President Donald Trump's tax plan has New Jerseyans thinking someone's about to reach for their wallets.
Asbury Park Press Read more
N.J. Republican blasts colleagues for shortchanging Jersey Shore on flood insurance
Rep. Frank LoBiondo, whose Jersey Shore district was devastated by Hurricane Sandy, blasted his fellow House Republicans for advancing a flood insurance bill that he said was biased against New Jersey.
NJ.com Read more
N.J. approves tax break for Mars candy maker to bring 483 jobs to Newark
The state Economic Development Authority Tuesday approved a 10-year, $31 million tax enticement to the Mars candy company in Hackettstown that would bring 483 jobs to Newark, including 113 new jobs for New Jersey.
NJ.com Read more
39 members of NJ 11th for Change win elections
A grassroots group formed following last year's presidential election has grown significantly in its first year, and saw 85 of its members run for office last week.
Daily Record Read more
Gaming industry backs NJ's fight for sports betting
The American Gaming Association says they are solidly behind New Jersey's efforts to change federal law to allow states to participate in sports betting.
NJ101.5 Read more
Is the opioid epidemic slowing?
Year-over-year drug deaths have fallen in Ocean County by about 25 percent, the first significant decline in years, in what could portend a rare bit of good news in an epidemic that has produced a tidal wave of misery and death across the nation.
Asbury Park Press Read more