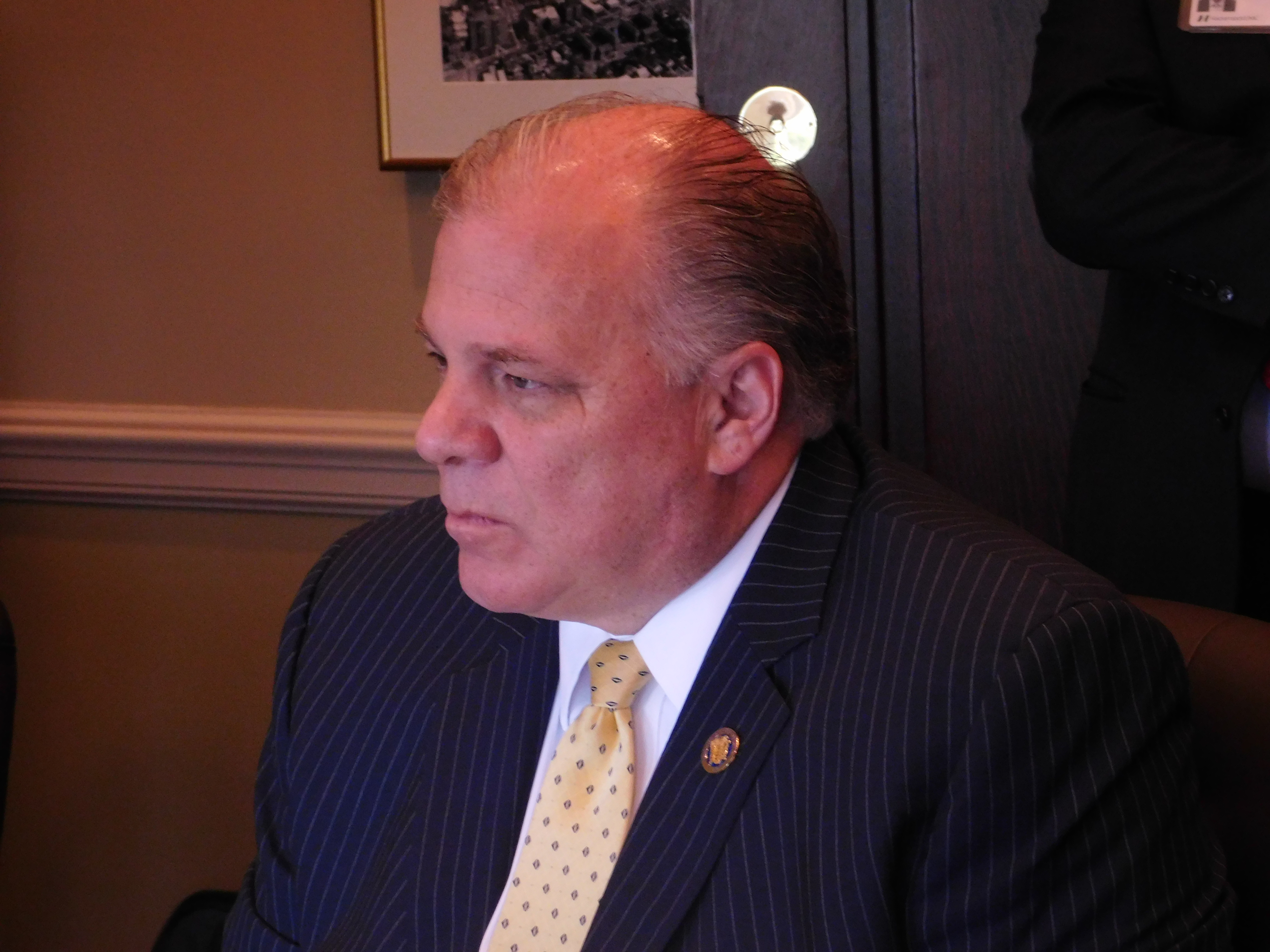 It's Election Day in New Jersey, and by tonight we'll know who will be running state government after eight years of Gov. Chris Christie. Polls opened just a second ago at 6 a.m. and close at 8 p.m.
Every public opinion survey points to a victory for Phil Murphy, the Democratic nominee for governor, who has consistently had a double-digit lead over Republican Kim Guadagno. That means the real drama today is likely in the battleground legislative districts.
A Democratic internal poll showed the party's 11th district Senate candidate, Vin Gopal, with a 1-point lead over state Sen. Jen Beck (R-Monmouth). Gopal's 49 to 48 percent advantage was well within the poll's margin of error of plus or minus 4.9 percentage points.
Assemblyman Chris Brown (R-Atlantic) leads Sen. Colin Bell (D-Atlantic) by 3 points in the 2nd district Senate race, according to a Stockton University poll released Friday. Brown's lead was also within the poll's margin of error, and 10 percent of respondents were undecided or did not name their choice.
The New Jersey Education Association's bid to oust Senate President Steve Sweeney (D-Gloucester) was doing some damage as of mid-October, when he had a 6-point edge over Republican Fran Grenier in the 3rd district Senate race, according to a GOP internal poll. A polling memo from the Sweeney camp gave him a wider, 12-point lead.
In a race on no one's radar, a Democratic internal poll showed a close Assembly race in the reliably Republican 40th district. Democratic Assembly candidates Christine Ordway and Paul Vagianos are tied with Assemblyman Kevin Rooney (R-Bergen) and his GOP running mate, Christopher DePhillips, according to an internal poll of likely voters.
It's going to be a long day. Aside from the elections, a federal jury is deliberating in Newark whether Sen. Bob Menendez is guilty or not guilty of corruption. There's no way to know when the jury will rule, but a decision could come today. We will be following everything, so stay tuned and check back often.
The Ultimate Field Guide to New Jersey's 2017 Elections
After months of campaign attacks and dueling policy platforms, expensive TV ads and millions of dollars spent, New Jersey will choose its next governor tomorrow and all 120 members of the state Legislature. Some big mayoral races are in the mix as well, and two ballot questions. Here's everything you need to know on Election Day.
Christian Hetrick, Observer Read more
Vin Gopal Has 1-Point Lead Over Jen Beck, Democratic Poll Says
A poll commissioned by Democrats gives a 1-point lead to Vin Gopal, the party's challenger to state Sen. Jen Beck (R-Monmouth) in the closest legislative race in New Jersey this year.
Salvador Rizzo, Observer Read more
Democratic Poll Shows Close Assembly Race in Unlikely District
Republicans have dominated Assembly races in New Jersey's 40th legislative district going back at least four decades, but they could be in trouble this year, according to a poll commissioned by Democrats.
Christian Hetrick, Observer Read more
Racist Campaign Literature Surfaces in New Jersey
Racist campaign literature has been distributed in two New Jersey towns with large immigrant populations ahead of Tuesday's election, in both instances targeting Asian American candidates.
Alyana Alfaro, Observer Read more
With 24 Hours to Go, Murphy Up by 12 Points in Latest Poll
A day away from the election, Phil Murphy maintained a double-digit lead over Kim Guadagno in a poll released Monday.
Christian Hetrick, Observer Read more
Jury Begins Deliberating in Menendez Trial
A verdict in Sen. Bob Menendez's corruption trial could come this week.
Twelve jurors on Monday began deliberating on charges that the senator accepted gifts and bribes from co-defendant Salomon Melgen in exchange for political favors, exactly two months since the trial began on Sept. 6.
Alyana Alfaro, Observer Read more
Top deputy tries to distance herself from Chris Christie in New Jersey governor's race
Lt. Gov. Kim Guadagno spent her final weekend campaigning in New Jersey's governor's race on a bus tour, with two former Republican governors praising her as the best candidate.
Associated Press Read more
N.J. Voters Worry About Taxes as They Elect a New Governor
The winner of the election will inherit a state facing large and expensive problems, from underfunded public pensions to crumbling transportation infrastructure, at a time when the electorate is loath to accept more tax increases.
Wall Street Journal Read more
Is Christie among Jersey's worst governors? Here's what a new poll says
Forty-one percent of the state regards Christie among New Jersey's worst governors, according to a Fairleigh Dickinson University PublicMind Poll released Monday. A majority, 53 percent, rate him somewhere in the middle and only four percent rank him with the best.
NJ.com Read more
Christie: Handing off a $600M budget surplus to next governor
The new governor who gets elected Tuesday won't inherit a state budget in freefall, as it was for the last transition eight years ago, when tax revenues plunged during the Great Recession. But that's not to say everything's in great shape.
NJ 101.5 Read more
Tax overhaul: Pascrell ready for fight against Republican tax bill he says will hurt N.J.
Pointing to the loss of income tax deductions, a cap on property tax deductions, and analysis that shows a ballooning deficit, Democrats plan to offer speeches and amendments this week to highlight damage they believe will be caused by a Republican plan to overhaul the tax code.
The Record Read more
Is Trump withholding $4M from N.J. due to sanctuary cities?
New Jersey's Democratic lawmakers on Monday accused President Donald Trump's administration of withholding $4 million in promised local law enforcement funds after several municipalities said they would not cooperate with federal immigration authorities.
NJ.com Read more
Judge denies Atlantic City mayor's request for 'wholesale' pre-Election Day ballot review
Superior Court Judge Julio Mendez denied a request Monday by the campaign of Atlantic City Mayor Don Guardian to be present when the county's 6,100 vote-by-mail ballots are reviewed by staff of the Board of Elections to allow the campaign to challenge ballots it contends were improperly submitted.
The Inquirer Read more
Pushing Ahead With Reforms to New Jersey's Criminal Justice System
A new report suggests policymakers can go several steps further to address the mass-incarceration issue and reduce wide disparities in the rates of imprisonment among white and African-American residents.
NJ Spotlight Read more