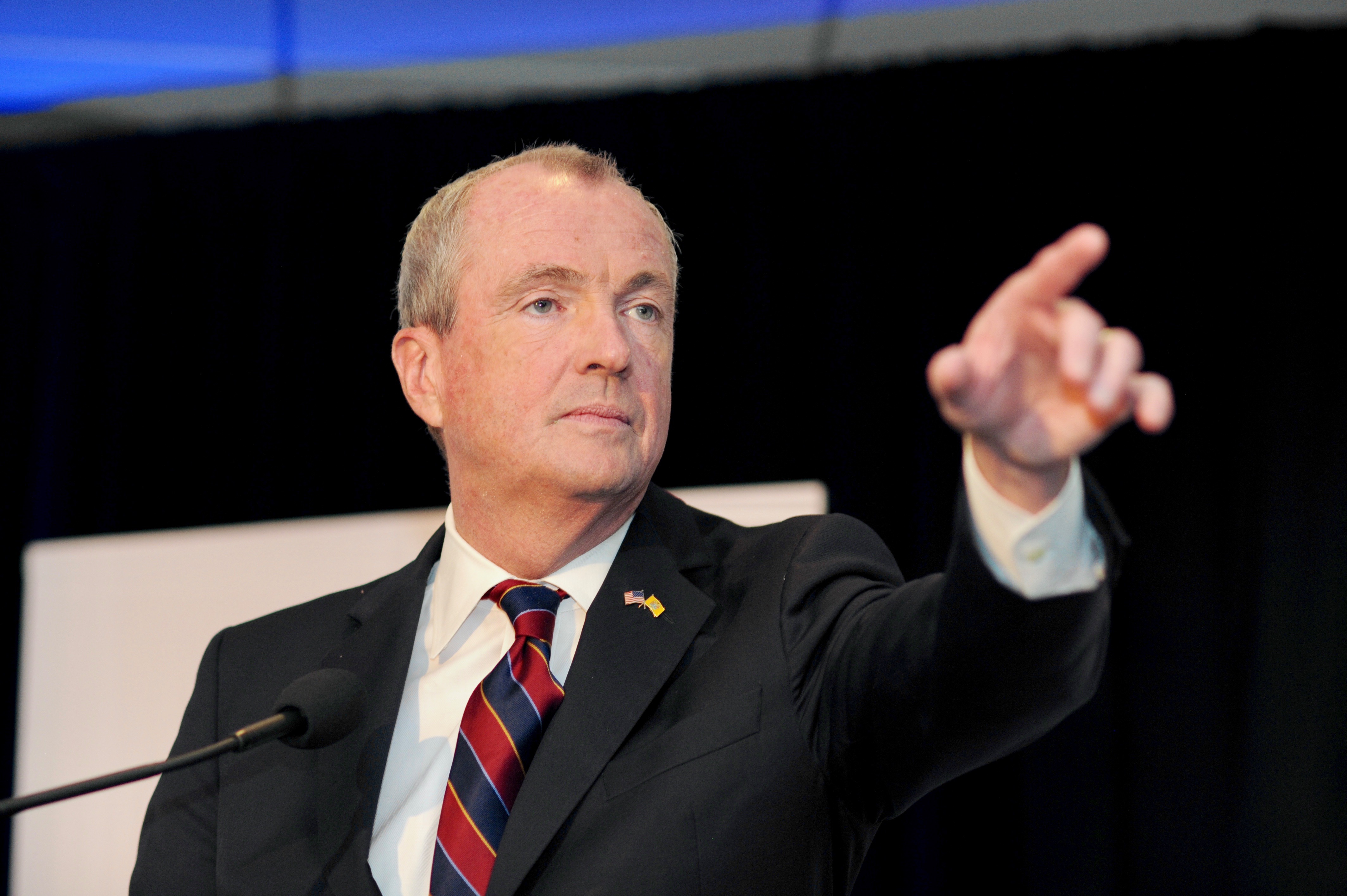 All of the public polls point to a double-digit win for Phil Murphy on Tuesday, and the latest surveys show nearly identical leads for the Democratic gubernatorial nominee.
Six of the last seven public polls released this month peg Murphy's advantage between 14 and 16 points. According to RealClearPolitcs, the average of polls shows Murphy ahead by 15.5 points. The outlier, if you can call it that, was a Quinnipiac University survey put out six days ago that gave Murphy a 20-point lead over Kim Guadagno, the GOP nominee,
Monmouth University on Wednesday reported a 14-point edge for Murphy and predicts a record-low turnout of 38 percent. A poll released Monday by Suffolk University showed Murphy with a 16-point advantage, while the number of undecided voters has been cut in half from 24 percent in September to 12 percent.
Here are the latest polls of the New Jersey governor's race:
Monmouth University: Murphy 53, Guadagno 39 – Murphy +14
Emerson College: Murphy 47, Guadagno 31 — Murphy +16
Suffolk University: Murphy 49, Guadagno 33 — Murphy +16
Stockton University: Murphy 51, Guadagno 37 — Murphy +14
Quinnipiac University: Murphy 57, Guadagno 37 — Murphy +20
Fox News: Murphy 47, Guadagno 33 — Murphy +14
Fairleigh Dickinson University: Murphy 47, Guadagno 32 — Murphy +15
Quote of the Day: "Steve Sweeney stood up for the taxpayers of New Jersey and now he's suffering for it in one of the most expensive legislative races in the country in history." – Kim Guadagno, the Republican nominee for governor, praising the state's top-elected Democrat.
NJ Supreme Court an Afterthought in Governor's Race
You wouldn't know it from this year's campaigns, but the next New Jersey governor will have the power to reshape the state Supreme Court, with the option of removing or giving tenure to all the Republican justices appointed by Gov. Chris Christie.
Salvador Rizzo, Observer Read more
Amid NJEA Fight, Guadagno Says Sweeney 'Stood Up for the Taxpayers'
Kim Guadagno waded into the fierce, multimillion-dollar battle between Senate President Steve Sweeney and the New Jersey Education Association on Wednesday, calling on Phil Murphy to take sides with either the powerful senator or the influential union.
Christian Hetrick, Observer Read more
Kim Guadagno's Statement on NJ Supreme Court
Lt. Gov. Kim Guadagno, the Republican nominee for governor, sent Observer a statement outlining her views on the state Supreme Court. Guadagno and Democratic nominee Phil Murphy both declined interview requests about this topic and have spoken very little about it, if at all, on the campaign trail. Murphy's campaign did not respond to written questions.
Observer Read more
ELEC Alleges Baraka Violated Campaign Finance Laws
A state watchdog agency accused Newark Mayor Ras Baraka on Wednesday of failing to comply with a host of campaign finance regulations, involving more than $361,000 in political contributions.
Christian Hetrick, Observer Read more
Michael Greenstein, Husband of State Senator, Passes Away
Democrats and Republicans offered condolences on Wednesday to state Sen. Linda Greenstein (D-Middlesex), whose husband passed away. Michael Greenstein was a professor at New York University and the College of New Jersey. He was also an active participant in his wife's campaigns and in the Middlesex County Democratic Organization. He is survived by his wife and his son, Evan.
Alyana Alfaro, Observer Read more
Murphy Leads Guadagno by 14 Points in New Monmouth Poll
Democrat Phil Murphy, a former U.S. ambassador to Germany and Goldman Sachs executive, has a 14-point lead in the New Jersey governor's race one week out from the Nov. 7 election, according to a Monmouth University poll of likely voters.
Alyana Alfaro, Observer Read more
After Manhattan attack, Guadagno draws link to Murphy's immigration plan
Republican candidate for governor Lt. Gov. Kim Guadagno linked Tuesday's terror attack in Manhattan to Democratic opponent Phil Murphy's pledge to make New Jersey a sanctuary state, saying his immigration policy would make the state and the region less safe.
The Record Read more
Murphy won't take position on visa program reportedly used by NYC attacker
New Jersey Democratic gubernatorial nominee Phil Murphy declined to take a position Wednesday on the visa program that was reportedly used by Sayfullo Saipov, the alleged perpetrator of Tuesday's deadly terrorist attack in lower Manhattan.
Politico Read more
Guadagno, Hoping to Succeed Christie, Tries to Escape His Shadow
For the past seven and a half years, Ms. Guadagno has been the second in command to the embattled governor. It was a position that a few years ago seemed to offer a clear path to the Statehouse for Ms. Guadagno, but that now has devolved into a seemingly insurmountable obstacle.
New York Times Read more
Jersey City director favored developer friends, ex-workers say
A group of former and current city workers made stunning allegations about Jersey City Housing, Economic Development and Commerce Director Anthony Cruz during depositions taken in recent months as part of a harassment case against Cruz.
NJ.com Read more
GOP Rep. MacArthur says restoration of property tax deduction means New Jersey 'won'
After opposing House leaders last week on the 2018 budget because of concerns about the Republican tax overhaul plan, Rep. Tom MacArthur said Wednesday he's closer to "yes" on taxes because of promises to retain the deduction for property taxes, even if the deduction for state income tax is eliminated.
The Record Read more
One Legal Challenge Against State House Work Remains
Work on a $300 million renovation of the New Jersey State House has been moving along in recent months, with cranes and hardhats now regularly seen at 125 West State Street in Trenton. But a legal challenge of the controversial project's financing still remains alive.
NJSpotlight Read more
What Trump nominee Garrett now says about federal bank he once blasted
Former Rep. Scott Garrett, a critic of the Export-Import Bank during his time in the U.S. House, said he would ensure that the bank continued to operate if confirmed as its president.
NJ.com Read more
White House opioid commission calls for wide-ranging changes to anti-drug policies
The commission, headed by New Jersey Gov. Chris Christie (R), called for expanding drug courts — an alternative system that tries to channel substance abusers accused of crimes into treatment — into all 94 federal court jurisdictions. Currently they are in fewer than half.
Washington Post Read more
Ex-police chief in South Jersey faces bias charges in assault on handcuffed black suspect
Saying the man who once led the Bordentown Township police department had "a significant history of making racist comments concerning African Americans," federal authorities announced hate-crime and assault charges against him on Wednesday.
Inquirer Read more
Another NJ pol with Confederate flag — He's from town accused of anti-Semitism
A picture showing Councilman George Ervin posing with a Confederate flag has surfaced a week before the election — and days after the municipality was sued by the state for allegedly trying to keep Orthodox Jews from moving in.
NJ101.5 Read more
Importance of Coattails in LD16 Races
New Jersey's high-profile gubernatorial contest between former Ambassador to Germany Phil Murphy and Lt. Governor Kim Guadagno is having a coattail effect on this year's down-ballot races. In some places, it's creating pick-up opportunities in the Legislature for warring Republicans and Democrats.
NJSpotlight Read more