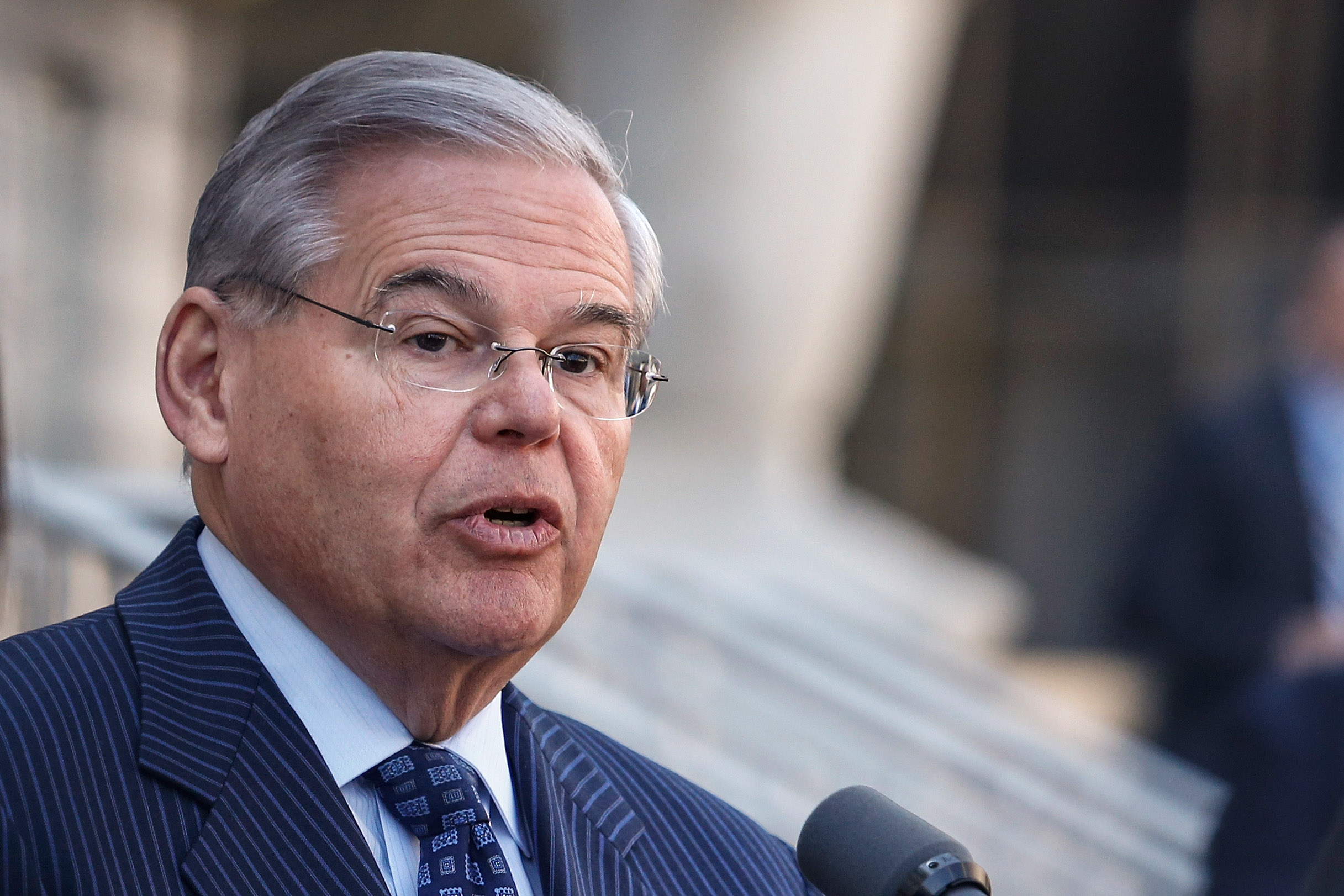 Sen. Bob Menendez won't say who was digging his "political grave" during his corruption trial.
Menendez, who said he won't forget those who eyed his Senate seat while he was in court facing bribery charges, refused to name names on Monday when interviewed by the Bergen Record. One of his top allies, Rep. Albio Sires (D-8), told the newspaper that Menendez was referring to former Sen. Robert Torricelli and Jersey City Mayor Steven Fulop.
Senate President Steve Sweeney is calling on the Casino Reinvestment Development Authority to reject a request from billionaire Carl Icahn to get $5.6 million in state funds to demolish the former Trump Plaza casino. Sweeney, who has feuded with Icahn before, called the investor "no friend to Atlantic City."
And former Assistant Secretary of State Tom Malinowski is the latest Democrat to mount a challenge against Rep. Leonard Lance (R-7). There are now six Democrats running for Congress in New Jersey's seventh district.
Quote of the Day: "I said for those who were digging my political grave, I know who they are, and I won't forget. They know who they are. I know who they are. That's all that's important." — Sen. Bob Menendez.
Sweeney: Don't Give Icahn State Funds to Demolish Atlantic City Casino
Senate President Steve Sweeney said Monday that billionaire investor Carl Icahn shouldn't be allowed to use state funds to demolish a closed casino, calling Icahn's request "another scheme" to take advantage of cash-strapped Atlantic City.
Christian Hetrick, Observer Read more
Legislative Preview: Bump Stock Ban to Get Thursday Committee Hearing
An Assembly panel will consider a bill Thursday that would ban the use a gun accessory found in the hotel room of the Las Vegas mass shooter.
Alyana Alfaro, Observer Read more
Meet Tom Malinowski, One of the Democrats Challenging Leonard Lance
Former Assistant Secretary of State Tom Malinowski is one of six Democrats hoping to challenge incumbent Rep. Leonard Lance (R-7), a Republican whose district could become a battleground during the 2018 midterms, a critical election for Democrats as they attempt to overtake the Republican majority in the House.
Alyana Alfaro, Observer Read more
Menendez won't say who crossed him during trial, but 'they know who they are'
In a brief interview as he headed to the Senate chamber, Menendez rejected the suggestion he had an enemies list, but reprised the political warning he had issued outside the federal courthouse after a mistrial was declared Nov. 16 by U.S. District Judge William H. Walls.
The Record Read more
Sen. Cory Booker promises to campaign against NJ lawmakers who support tax overhaul
U.S. Sen. Cory Booker is promising to campaign against any New Jersey representative who votes to support the Republican tax overhaul, arguing that the proposed legislation is a "direct assault" on the state's taxpayers. The senator — perhaps New Jersey's best-known and most popular Democratic politician — did not mention anyone by name, but only one lawmaker has voted to support the tax legislation so far: Rep. Tom MacArthur (R-3).
Burlington County Times Read more
New Normal For NJ Republicans: Finding Ways to Be Bipartisan
With Democrats having control of both houses of the state Legislature for well over a decade, Republican lawmakers in Trenton have grown accustomed to being in the minority. But starting next year, the Republicans will face a new, more partisan reality.
NJSpotlight Read more
Sheila Oliver discusses how Murphy will govern
In about 50 days, the state's second-ever lieutenant governor will take the oath of office in an administration that will likely stand in sharp contrast to the Christie years. Lt. Governor-elect Sheila Oliver sat down with Senior Correspondent David Cruz.
NJTV Watch
Weed? Taxes? Murphy's priorities already facing a reality check
Three weeks since he was elected governor, and still seven weeks until he takes office, some of Phil Murphy's major promises from the campaign are already running into a rough patch. Neither the millionaires' tax nor the prospect of legalizing marijuana are off the table. But Murphy's fellow Democrats who will lead the Legislature next session are already flashing go-slow signals at a few cornerstones of the incoming governor's agenda.
NJ 101.5 Read more
NJ legal marijuana may also mean car insurance gets high
New Jersey drivers could expect to see higher auto insurance rates down the line if the state legalizes the recreational use of marijuana, based on crash data from states that already have gone that route.
Asbury Park Press Read more
Sen.-elect Brown forms committee to vet Superior Court judges
Sen.-elect Chris Brown and the Atlantic County Bar Association have created a bipartisan committee to identify and recommend local candidates to become judges of the New Jersey Superior Court, the Office of Administration of Law and the Division of Workers' Compensation in Atlantic County.
Press of Atlantic City Read more
This Guy Makes Money Off Your Cigarette Butts and Flip-Flops
In Tom Szaky's vision of the new economy, nothing is garbage. Not cigarette butts. Not dirty diapers. Not even used tampons. Szaky, the founder of TerraCycle, a New Jersey-based garbage startup, has built a $24 million business around the belief that everything is recyclable.
Bloomberg Read more
In Camden, a Memorial Marks Where Slaves Were Brought Ashore
It is a small marker, a cast-iron sign proclaiming in large gold letters the weight of America's original sin: "Enslaved Africans Once Sold Here." The sign was unveiled on Monday in a park here, where the waters of the Delaware River once reached and where overcrowded ships arrived carrying people from Africa to be sold off as slaves.
New York Times Read more
NJ Scientists Urge State to Curb Another Chemical in Drinking Water
New Jersey scientists are urging the state to impose a strict limit on a chemical that has been linked to cancer, developmental problems, and changes to the human immune system in the latest move to curb the presence of perfluorinated chemicals (PFCs) in drinking water.
NJSpotlight Read more
Church vandalism won't be probed as bias crime after arrest
Prosecutors say several acts of vandalism committed at five predominantly black churches in northern New Jersey are no longer being investigated as possible bias crimes.
Associated Press Read more
Lesniak: In the opioid crisis, recovery schools for children are essential
The recent focus by politicians and other public officials on opioid addiction and the tragic consequences of this health crisis on the lives of its victims, their families and communities is welcomed by all of us who have long been directly involved with recovery programs, treatment centers and prevention efforts.
NJ.com Read more