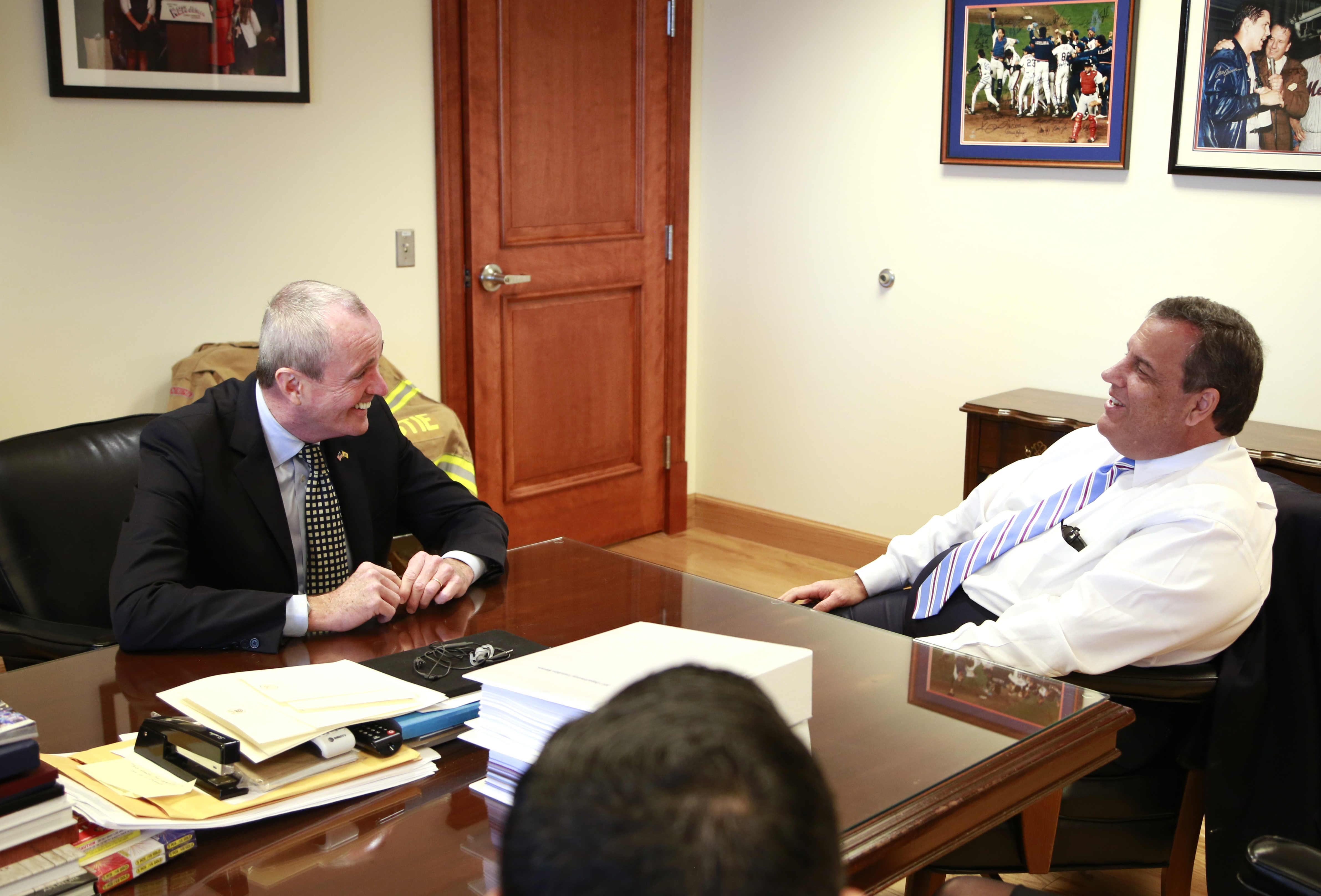 Gov. Chris Christie said he's here to help Governor-elect Phil Murphy — but only if his successor wants it.
"I said to him, 'This can be the first of many conversations, or this can be our first and last, but that's completely up you,'" Christie said Tuesday, recalling his 90-minute meeting with Murphy earlier this month.
The ominously-worded comment was an invitation for more meetings. Christie's wife, Mary Pat, met with Murphy's wife, Tammy, at the governor's mansion on Tuesday, Christie said during his monthly "Ask the Governor" radio show on NJ 101.5. He said his secretary is now working for Murphy's transition.
By contrast, Christie said former Gov. Jon Corzine "barely spent any time with us at all" when he was taking the reins of state government in 2009.
Quote of the Day: "The Republican Party is no worse off than when I became governor and, in fact, in many ways it's better off because of the exposure it's gotten in the last eight years." — Gov. Chris Christie on the state of the New Jersey GOP.
Oliver: I Was One of Murphy's Earliest Backers
Lieutenant Governor-elect Sheila Oliver knew three years ago, after her first meeting with Phil Murphy, that she would be backing him in the governor's race, she said in an interview Tuesday.
Alyana Alfaro, Observer Read more
DCCC Launches Ad Campaign Targeting NJ House Members
A national Democratic group launched digital ads tying two New Jersey Republican House members — Reps. Leonard Lance (R-7) and Rodney Frelinghuysen (R-11) — to the unpopular GOP tax plan, even though neither man voted for the bill.
Alyana Alfaro, Observer Read more
Tax bill moving through Congress is 'dangerous' for New Jersey, business group leader says
The head of the New Jersey Chamber of Commerce called a tax bill moving through Congress "very dangerous" for the state on Tuesday, the same day the national chamber urged senators to support it and said those who don't would get negative marks on the group's congressional scorecard.
The Record Read more
'It needs to stop' Sen. Rice says of troubled college's woes
Speaking at the institution he once graduated from, state Sen. Ronald Rice expressed his anger and frustration at Essex County College's shaky status with its accreditation.
NJ.com Read more
Christie Says He Wishes He Eliminated Sick-Leave Payouts
New Jersey Gov. Chris Christie says he wishes he was able to do away with state payouts to public pensioners for unused sick leave.
Associated Press Read more
Feds Threaten to Cut Law Enforcement Grants to Sanctuary Cities
In what could be the first skirmish in the fed's fight with local governments in New Jersey over the issue of immigrant "sanctuaries," justice officials have informed two New Jersey localities and more than two dozen others across the nation that federal law enforcement grants hinge on their agreeing to work with immigration enforcement authorities.
NJSpotlight Read more
New push to give unauthorized immigrants NJ driver's licenses
A member of the state Assembly is hoping with a new governor will come a new opportunity to get undocumented immigrants legal permission to drive.
NJ101.5 Read more
State gives initial OK for $5.6M to help Icahn raze casino
A New Jersey redevelopment agency has given preliminary approval to a $5.6 million payment to billionaire investor Carl Icahn to help pay for the demolition of part of Atlantic City's former Trump Plaza casino.
Associated Press Read more
Does Keystone XL permitting decision spell the end of oil trains? Not quite
Will Nebraska's decision to approve a permit for the controversial Keystone XL pipeline signal the end of movements of large volumes of crude oil by rail?
The Record Read more
Hoping a New Jersey windfall will help N.J. journalism
Should New Jersey use nearly a third of a $332 million windfall to bolster and expand local journalism across the state?
The Inquirer Read more
Push for Statewide Mental Health Screening Gains Momentum
A legislative proposal to effectively double the reach of New Jersey's county-based mental-health screening system is one step closer to reality, an advance advocates hailed as necessary to help the state better address — and possibly reduce — a growing behavioral health crisis.
NJSpotlight Read more
Pre-Thanksgiving delivery makes N.J. Senator a dad
The first child for Democratic state Sen. Joseph Vitale and his wife Robin arrived about a week past her due date at 8:10 a.m. Saturday, after 12 hours of labor at Robert Wood Johnson University Hospital in New Brunswick.
NJ.com Read more