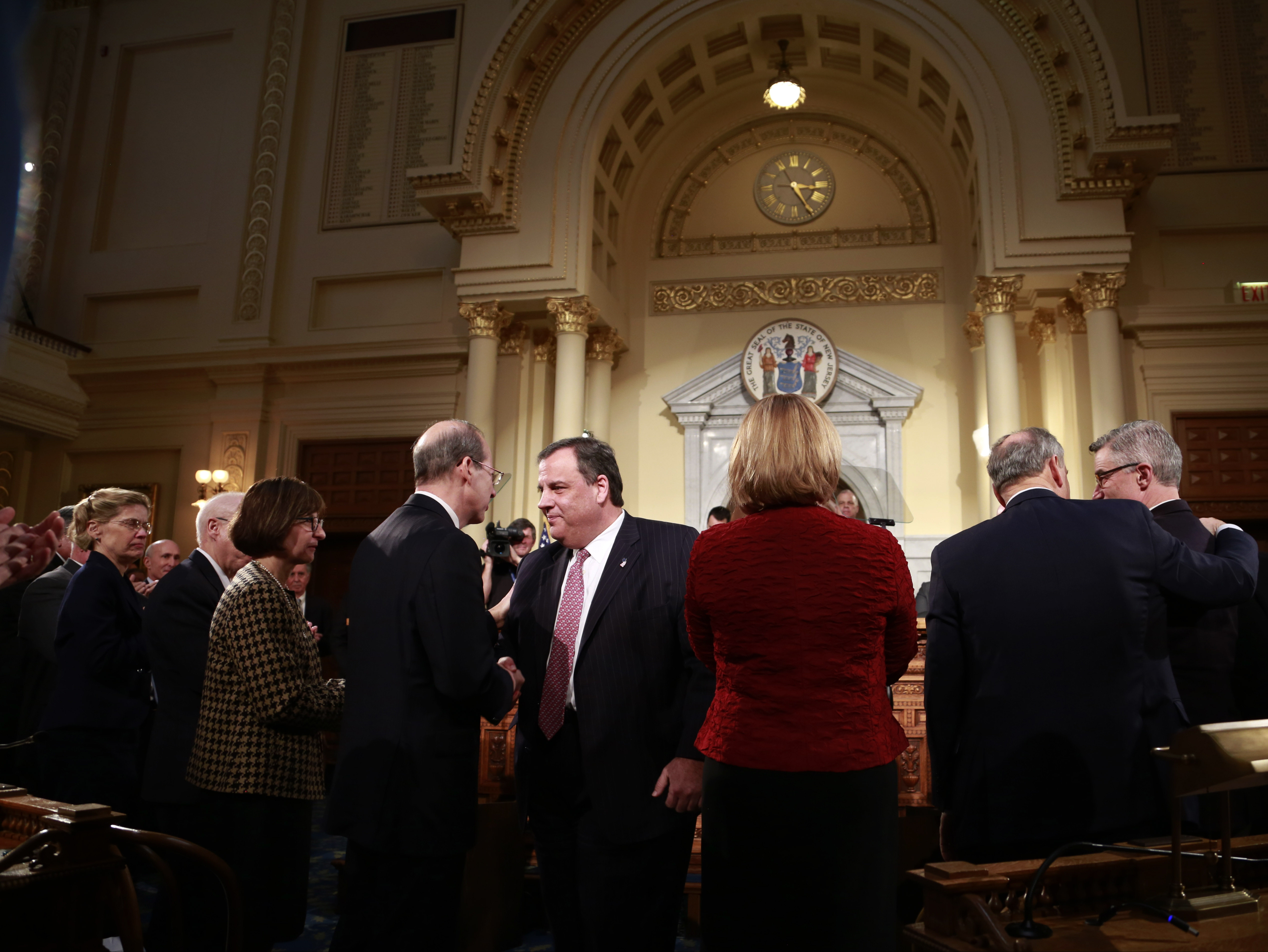 You wouldn't know it from this year's campaigns, but the next New Jersey governor will have the power to reshape the state Supreme Court, with the option of removing or giving tenure to all the Republican justices appointed by Gov. Chris Christie.
Moving the Supreme Court rightward was one of Christie's core pledges during his first gubernatorial run in 2009, starting with his very first campaign event. He now says he is pleased with the results after appointing four justices to the seven-member court: three Republicans and a Democrat.
But it's a mystery whether Christie's legacy will survive the next governor.
The Republican and Democratic nominees this year — Kim Guadagno and Phil Murphy — have steered clear of discussing the court in debates and public appearances. Neither mentions the Supreme Court or the judiciary in their campaign websites or their TV ads. Both campaigns declined requests for an interview about Supreme Court appointments and related issues.
For New Jersey residents, few issues are more consequential. The makeup of the Supreme Court has huge ramifications in some of the state's biggest policy debates — school funding, affordable housing, pension benefits for public workers — and in individual legal matters such as medical issues, criminal law, privacy and free speech rights. When New Jersey lawmakers and governors can't reach agreement on thorny matters, it's common to see the debate kicked to the Supreme Court for a resolution.
The justices are highly regarded in some circles as a scholarly group, with a long legacy of trailblazing decisions that have leveled the playing field on school funding, housing rights and the rights of criminal defendants. Others resent the court for those rulings and the indirect pressure they exert on the state's finances and tax rates.
Currently, the court consists of three Democratic appointees, three Republicans and one unaffiliated voter, Justice Jaynee LaVecchia, who often swings the outcome of high-profile cases.
State judges and Supreme Court justices in New Jersey must be nominated by the governor and confirmed by the state Senate. They serve an initial term of seven years and then are eligible to be nominated by the governor and confirmed by the Senate to a tenured term. All judges must retire at age 70.
The lone Democrat appointed by Christie, Justice Walter Timpone, will turn 70 in 2020. That will create one vacancy for the next governor.
Justices Anne Patterson, Faustino Fernandez-Vina and Lee Solomon — the three Republicans on the court, all appointed by Christie — will come up for tenure during the next governorship, starting with Patterson in September 2018.
That potentially creates three more openings, although governors usually follow two traditions in Supreme Court appointments.
The first is to maintain a partisan balance on the court, replacing Democrats with Democrats and Republicans with Republicans. The second is that, if a justice demonstrates the temperament and competence to handle the job's demands, that person usually gets reappointed regardless of the governor's personal or political preferences.
Christie, however, broke a lot of china by denying tenure to two justices and sparked a years-long war with Senate President Steve Sweeney (D-Gloucester) over judicial appointments. The governor declined to nominate the Supreme Court's only black member, Justice John Wallace, for tenure in 2010, saying he wanted to shift the Supreme Court's ideological direction. Wallace, a Democratic appointee, was close to Sweeney, and the Senate president kept that seat vacant for six years until Christie agreed to nominate another Democrat.
Christie also declined to nominate a Republican for tenure, Justice Helen Hoens, amid his re-election campaign in 2013, a move that ended up halving her pension.
The state Bar Association balked at the governor's unprecedented moves to unseat competent justices, and lawyers and retired judges for years criticized Christie for his attacks on judicial independence. Heads cooled when Christie granted tenure to Chief Justice Stuart Rabner, a Democratic appointee, in 2014.
Christie has defended his moves, noting that — whatever traditions may have come before him — the state constitution gives free rein to the governor on court nominations. Asked whether Patterson, Fernandez-Vina and Solomon deserved tenured terms, Christie told reporters that it was up to the next governor.
"I think they've done a good job, but as I've proven, that's up to each governor to decide," Christie said Tuesday. "I think they've done a good job, but it's not going to be my decision. It's going to be theirs."
Observer reached out to Guadagno and Murphy on Oct. 5 to request an interview about the Supreme Court. Both campaigns said that they were booked solid through the Nov. 7 election and could not make time.
Guadagno provided a statement laying out in general terms her philosophy on the court, but her campaign did not answer whether she would reappoint Patterson, Fernandez-Vina and Solomon.
"As a former prosecutor and assistant attorney general, I believe in an independent judiciary which interprets the law, not writes legislation from the bench," Guadagno wrote. "When choosing who sits on New Jersey's bench, I will seek input from every group across this state and select judges who will serve honestly, ethically, treat people equally and uphold the rule of law. I will review current justices after their seven year term expires to make sure they meet that criteria as well.
"That said, allowing the judiciary to set the state's school funding and affordable housing policy has been a disaster for taxpayers."
Guadagno in her statement proposed to take a more methodical approach toward school funding than Christie, pledging to develop a new court record that the state could present to the justices to prove that booming municipalities such as Hoboken and Jersey City should no longer be considered impoverished districts and receive extra school funds under current law. (Read Guadagno's full statement here.)
Murphy, on the other hand, is expecting a blank check from voters on Supreme Court appointments. Murphy spokesman Derek Roseman at first said that the campaign might be able to provide written answers to questions instead of an interview, then declined to respond to those written questions. (Murphy's campaign did find time to fill out a jaunty, Mad Libs-style questionnaire for the New York Times, published this week.)
At the U.S. Supreme Court, the conservative and liberal justices often clash on big cases. But the New Jersey Supreme Court is less partisan. Unanimous opinions are fairly common. Christie's appointees cast votes that stray from the governor's positions from time to time. Although school funding and pension benefit cases often produce partisan splits, the latest affordable housing case — a landmark ruling that will lead to thousands of units being built — was decided 6-0.
Patterson voted in favor of gay marriage in 2013, bucking Christie. Solomon wrote a unanimous opinion on gun control ordering a lower court to remove a retired police officer's gun-carrying privileges and firearms after he was involved in a domestic violence dispute.
Still, the impact of their biggest decisions can be monumental. The justices effectively legalized gay marriage in New Jersey in 2013. They allowed Christie to cut billions of dollars in promised payments to the state pension system. They ordered that thousands of affordable housing units be built to cover a period of little construction from 1999 to 2015. They're the last word on all civil and criminal cases that end up before them, and it's exceedingly rare that their decisions get reviewed by the U.S. Supreme Court.
"We've never seen a gubernatorial race turn on the judiciary," said Patrick Murray, director of the Monmouth University Polling Institute. "It's just too far removed from the voters' decision-making process. When we saw the controversies that arose during the Christie administration and polled on it a couple of times, it didn't resonate at all."
From the candidates' point of view, Murray said, the thinking goes, "Why say something that could get you in trouble?"