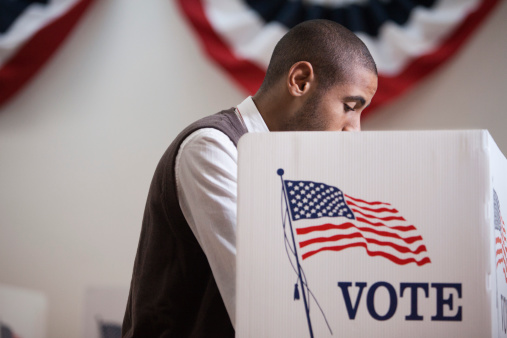 Four days before New Yorkers hit the polls, Comptroller Scott Stringer said that substantial breakdowns in the way that the city's Board of Elections carries out elections — including mishandled ballots and poorly trained workers — have harmed New Yorkers' right to vote.
In April 2016, WNYC reported that more than 100,000 Brooklyn voters were kicked off the voter rolls in the presidential primary.
After the voter purge was discovered, auditors for the comptroller's office examined the BOE's operations at 156 poll sites over three elections — June 28, 2016; Sept. 13, 2016; and Nov. 8, 2016 — then cross-checked their findings with federal, state and local laws and looked at voter rolls.
The audit found that at 82 polling sites, or 53 percent, federal and state election laws were broken, and that the BOE ignored its own internal rules. The BOE, the audit discovered, failed to properly staff more than three-quarters of sampled polling sites, resulting in confusion and delays at the polls.
The auditors said that the board often failed to provide help for voters with disabilities and that poll workers' training was insufficient. They also uncovered how the board unlawfully purged 117,305 voters from the rolls in Brooklyn during the April 2016 presidential primary, as first reported by WNYC.
"As many of you know, during last year's presidential primary, 115,000 New Yorkers were stripped of their democratic rights and that was the voter purge of 2016 that we all know about," Stringer said.
He said that his office worked with the BOE "for a very long time" and that is is "very much aware of the audit and the audit findings."
"I think its an agency that has run the same kind of elections operation for decades and decades and decades and it's hard to change that model," Stringer continued. "This audit suggests that we must change the model because it's not working anymore."
Manhattan Councilman Dan Garodnick recently called on the BOE to post signs at old polling sites indicating that they are no longer polling sites in accordance with legislation he sponsored that the mayor signed into law.
He said that the board "does not have the right to pick and choose which local laws it is going to follow."
"Last year, New York ranked 41st out of 50 states for voter turnout," Garodnick said. "You know why? Because as the comptroller noted, state law and our own New York City Board of Elections do not make [it] any easier for citizens to exercise their fundamental democratic rights. My message to the Board of Elections is you need to do better."
Last month, WNYC reported that, according to a draft consent decree, the board agreed to corrective measures that will be in place through the November 2020 presidential election. The agreement gives the purged voters their rights back and comes up with a strategy to ward off voter purges.
At 14 percent of sites, affidavit ballots were mishandled, according to Stringer's office. And in 10 percent of sampled polling sites, auditors saw voters who generally did not receive help when issues came up.
They also witnessed unlawful electioneering at various poll sites, including poll workers discussing candidates on the ballot near voters, an interpreter for voters with limited English proficiency telling voters which candidate to vote for and a poll worker telling a voter who needed assistance with an affidavit ballot which candidate to support.
Auditors also found that poll workers were not familiar with the procedure for closing a poll site at the end of Election Day at nearly a dozen sites, and that voters were given ballots before they signed registration rolls at 27 percent of the sites.
During the course of the probe, Stringer's office identified staffing problems at 118 of the 156 poll sites, or 76 percent of those visited. They discovered issues such as the BOE ignoring a poll site coordinator's request for replacement staff after realizing that many poll workers were not planning to show up to a site in Brooklyn.
They also found that the BOE did not provide sufficient help for people with disabilities at 45 of the 156 sampled poll sites, nearly 30 percent. And after attending five training sessions for poll workers, they discovered that instructors skipped certain information due to time constraints, gave little hands-on training and discovered that the poll worker exam was an open book exam.
And the office found that between March 2014 and July 2015, the BOE's Brooklyn office improperly canceled the registration of 117,305 voters based only on the fact that they had not voted since 2008.
Stringer's office recommended that the BOE consider extending training hours for poll workers so that the sessions cover all of the material; making sure that all poll sites are fully accessible and staffed, including with the appropriate language interpreters; and increasing poll worker pay.
The comptroller also proposed that the board assess a pilot program that tried to increase the number of poll workers by enabling them to work half-day shifts and forming a working group to come up with and carry out reforms.
Susan Lerner, executive director of Common Cause New York, the group that filed the lawsuit alleging that the board flouted federal law by removing the voters, said the audit "sadly confirms" what Common Cause and other groups have been pointing out for years.
"Too much of the time, the good government groups and city government are forced to come up with workarounds to serve the voters because of the Board of Elections commissioner's intransigence and unwillingness to sit down with representatives of the public, good government groups and voters and come up with a better election administration," Lerner said.