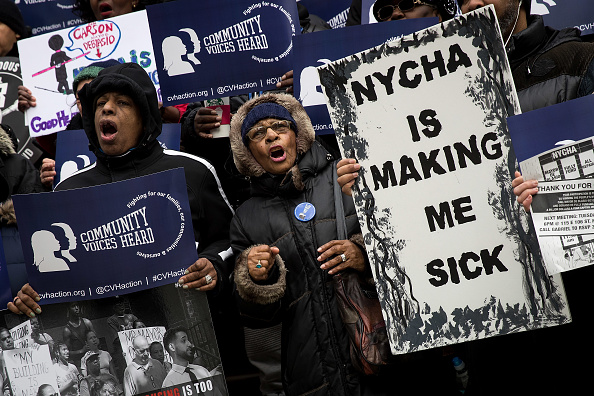 Gov. Andrew Cuomo is weighing whether to appoint an independent monitor to preside over the New York City Housing Authority in the wake of a scandal in which the agency neglected to inspect apartments for lead paint and lied about it in federal documents.
A Department of Investigation report released Tuesday found that NYCHA failed to carry out mandatory safety inspections for lead paint over a four-year period starting in 2013, but handed in false documentation to the U.S. Department of Housing and Urban Development stating that NYCHA was complying with federal laws that require the inspections to be conducted.
Despite its senior staff being made aware that NYCHA was not in compliance with city lead laws in 2015, and NYCHA Chairwoman Shola Olatoye being told in 2016 of non-compliance with both city and federal regulations, certifications were still sent to the federal government, the report said.
Bronx Borough President Ruben Diaz Jr. sent a letter to Gov. Andrew Cuomo, New York Attorney General Eric Schneiderman and State Comptroller Thomas DiNapoli requesting that they appoint a joint monitor of NYCHA and its management.
The DOI also called for the appointment of a monitor, who would report to the DOI, to ensure that NYCHA comply with inspections in areas including lead paint, smoke alarms and carbon monoxide detectors.
"We have continuously expressed concerns with NYCHA's operational failures and these latest allegations — and potential legal violations — that the agency knowingly
committed by exposing New Yorkers to lead paint are particularly disturbing," Abbey Fashouer, a spokeswoman for Cuomo, told Observer in a statement. "We just received the letter, and we will be reviewing it with our fellow state partners, the Attorney General and the State Comptroller."
Through a spokeswoman, the attorney general declined to comment. A spokesman for DiNapoli did not immediately respond to a request for comment.
Olivia Lapeyrolerie, a spokeswoman for the mayor, said that de Blasio is taking the DOI's recommendations into consideration.
"After learning of the scope of the problem, the chair re-started inspections," Lapeyrolerie said in a statement. "Every apartment with kids under 6 where there may have been lead paint was inspected in 2016 and will be again by the end of 2017."
Jean Weinberg, a spokesperson for NYCHA, said that the agency started addressing the issues more than a year ago in connection with an investigation by the U.S. Attorney's Office for the Southern District of New York.
"Since the Housing Authority learned it wasn't in full compliance with lead-based paint regulations and reporting, it has taken steps to address the underlying issues," Weinberg said in a statement. "We owe our residents better, and we'll take today's recommendations into careful consideration."
NYCHA said that it completed inspections in apartments with children under the age of six in 2016 and will do it again this year to ensure that these households are free of lead-based paint hazards. The agency also said that it started inspecting apartments this October that may have lead-based paint to address any issues and that its work will target the apartments of families with young children first.
Diaz Jr. said that he agrees with the DOI's recommendation to appoint a monitor but that it should not come from the city due to its "compromised status" as the current overseer of public housing in the city. He also said that a federal monitor would be a "waste of time" because President Donald Trump and the current HUD management "have not indicated any support for public housing" or shown competency in other areas.
Public Advocate Letitia James said that the agency needs comprehensive operational changes, independent monitoring and transparency and called on Olatoye to resign.
"Most importantly, it's time for new leadership and a fresh start at NYCHA," James said. "The circumstances surrounding the city's failure to conduct lead inspections and the false reporting that followed are simply unacceptable."
A source in the public advocate's office told Observer that James arrived at her position after meeting with Olatoye and two members of her executive team for a little more than an hour on Thursday and said that they did not present a real explanation as to what happened or a plan on what to do to solve the issue.
De Blasio, who is on a family vacation in Connecticut with First Lady Chirlane McCray, took to Twitter to defend Olatoye and seemed to take a jab at James and others calling for Olatoye's resignation.
Anna Brower, a spokeswoman for James, blasted the mayor.
"While the mayor is busy tweeting from Connecticut, we're focused on protecting the homes of New Yorkers," Brower said.