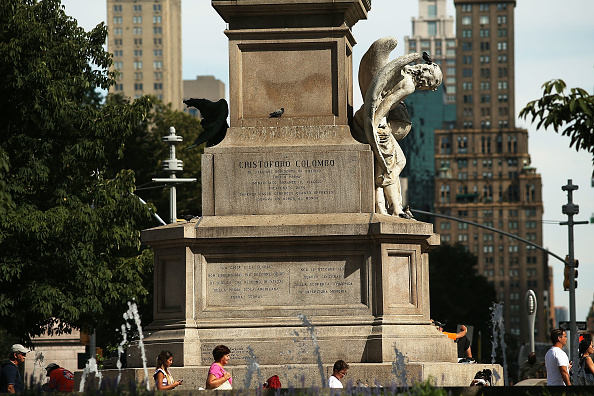 Mayor Bill de Blasio's statues and monuments commission held its first public hearing in Queens on Friday morning, where residents, advocates, historians and elected officials expressed mixed views on statues and monuments named after divisive historic figures — and whether or not they should remain in place.
In September, de Blasio announced the 18 members of the commission, which is co-chaired by Darren Walker, president of the Ford Foundation, and Tom Finkelpearl, commissioner of the city's Department of Cultural Affairs. The violence stemming from a white nationalist rally in Charlottesville, Va. ignited a movement across the country seeking the removal of statues, monuments and markers with the names of Confederate generals, including in New York City.
The commission will present its recommendations by the end of the year as well as a description of the mayor's final decision. The Public Design Commission, which handles oversight of public art works, monuments, public structures and open spaces, will subsequently make a decision as to whether the monuments should be modified or removed.
The city has more than 800 monuments, according the city's Parks Department's website, all of which are being reviewed.
"The idea that there are controversies around public art, people are worried about them is not a new thing," Finkelpearl said during the hearing at Queens Borough Hall. "It's been going on in New York City for a very long time. In the country, we obviously understand that this is a moment in which we are thinking about monuments."
He pointed to the statue of Confederate General Robert E. Lee in Emancipation Park in Charlottesville, Va., which sparked a white nationalist rally after the City Council voted to remove it, and the statue of former Philadelphia Mayor Frank Rizzo at the City Hall, which Philadelphia officials recently said they would move, after as examples. He said that he was not weighing in on those particular statues but illustrating his point.
Other cities that have set up processes similar to that of the city include Richmond, Va.; Louisville, KY; Dallas, TX; Atlanta, Ga.; Baltimore, MD; and Alexandria, Va., according to the Cultural Affairs Department.
"We are not alone in this," he continued. "There are jurisdictions all over America that have formed commissions quite like this…we've been talking to people in different cities, looking at the findings from those other cities. So it is something that is a national discussion."
He told reporters after the hearing that there were a "variety of opinions."
"There's a little bit of a misapprehension, this all or nothing proposition," he said. "It's either it stays or it goes and there's a whole variety and this is and we've been saying this from the beginning, some of the people … there are other things aside from something stays or goes. There is interpretation and there's educational opportunities, the whole idea of using technology, the QR codes, etc."
Roughly 60 people showed up, and the speakers were a mixture of current and former local elected officials, activists and advocates with varying views on the Columbus statues and other statues, monuments and other sites of contention, area residents and students from Robert F. Kennedy Community High School in Queens.
Queens Councilman-elect Robert Holden, who beat incumbent Queens Councilwoman Elizabeth Crowley, said that the United States' past mistakes made have to be considered but that the past should not be destroyed "to be politically correct."
"I hope the mayor actually listens to the people," Holden said.
Shawnee Rice, a representative for the American Indian Community House, which is based in Chinatown, said that the statues should "reflect what the city reflects," noting that the city prides itself on being inclusive and diverse.
"I think a lot of the statues, specifically talking about statues and monuments in high traffic areas are a lot of older white men," Rice said. "I think for indigenous people, people of color … it's problematic that we have to look up and see white men on these pedestals and we can't see statues that look like us."
She said that the original reason why some statues went up does not matter today.
"I think when the Columbus statues went up, it was to create some sense of unity among American folks because he 'discovered what is now the Americas' but now that we have all the information about what was in his diary, is that what we want to have on a pedestal at Columbus Circle," Rice continued. "And this is not an attack at all on Italians."
One speaker said that the commission's decision should be not be influenced by elitist or populist views or political expediency. Another speaker noted that there are other examples that should be considered by the commission that may not be seen as monuments, including the Tweed Courthouse and Rikers Island.
Others cautioned against "whitewashing history" and some even took direct jabs at the mayor and at City Council Speaker Melissa Mark-Viverito, who has called for both the Columbus statue in Columbus Circle and the statue of J. Marion Sims, a 19th century doctor who has been called the "father of modern gynecology," to be removed from Central Park. And while some speakers called for removal of some statues, others suggested keeping them in place and adding more historical context to clarify the figures' histories.
Joseph Guagliardo of the Conference of Presidents of Major Italian American Organizations, which is among Italian American and Catholic organizations that want to keep the Columbus statue.
"I would recommend strongly that we don't start taking down statues but we start adding to the history," Guagliardo said. "We start looking at indigenous people, we start looking at blacks, Hispanics and people that have made a difference, bring them to the litmus test, let's go forward."
The commission will also be holding public hearings in Manhattan, Brooklyn, the Bronx and Staten Island.