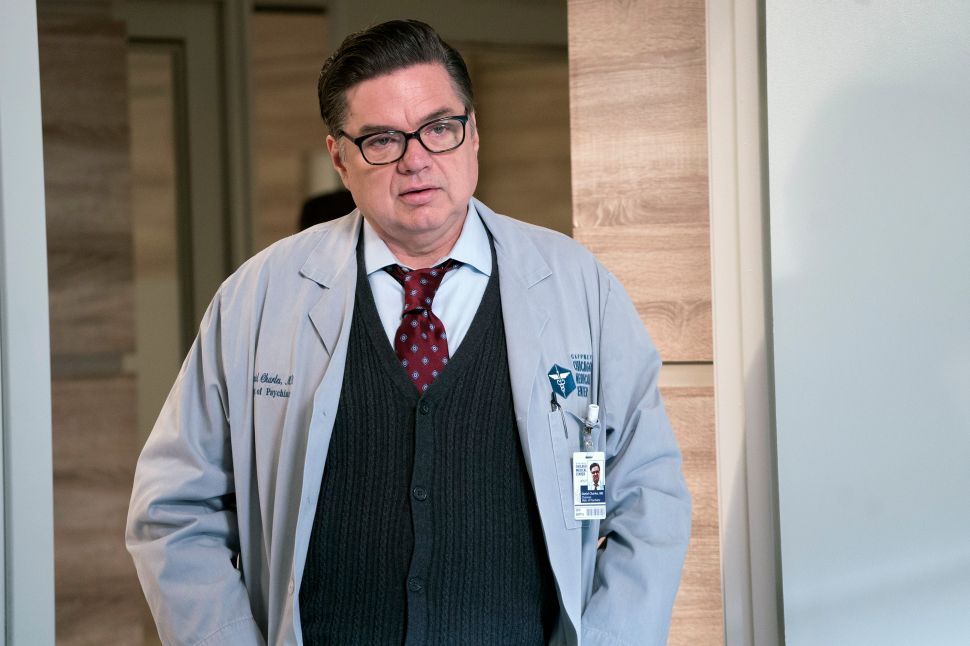 The third season of Chicago Med opens with a bang. Yes, an actual gunshot rings out.
This episode picks up right where the drama left off last May—with one of the main characters hovering between life and death.
When the series concluded in the spring, Dr. Daniel Charles, the hospital's resident psychiatrist, had been assaulted on the front steps of the building by one of his patients. The last moments showed him lying on the ground, bleeding, as he tried to process what had just happened.
"It's actually really fun to do that stuff," said the actor who plays Charles, Oliver Platt, at a recent press event. "In this show, we don't usually personally experience violence because we're usually in the hospital taking care of the people who do. So, it's kind of fun from a technical level to take the hit and roll over."
It's not really a spoiler alert to say that Dr. Charles survives, as this is revealed almost immediately in the season opener.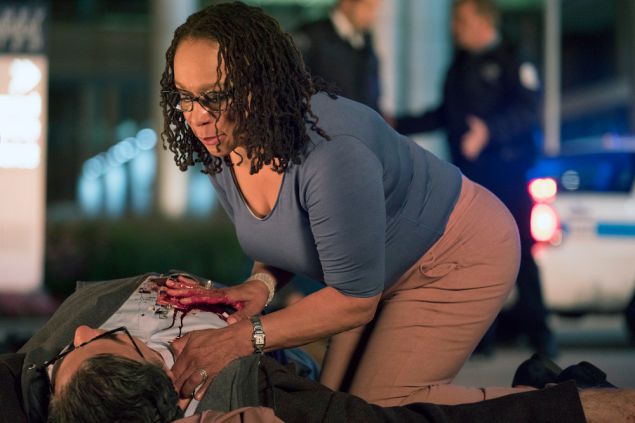 Platt said that the heart of the narrative is about the after effects of this act of violence and how it affects everyone on staff. "The first part of the season is devoted to how a psychiatrist getting shot by one of his own patients is processed. The writers do a marvelous job going to unexpected places with that."
One thing's for sure, Dr. Charles' close professional relationship with his young charge, psychiatry resident Dr. Sarah Reese, will be severely tested.
Rachel DiPillo, who plays Dr. Reese, explained, "When you experience conflict with anyone that's of value to you…what does trauma do to that situation? I think it can do a lot of things. When we're blinded by a present conflict it kind of snaps you back into what the core of that relationship is. And I think that's more or less what we see."
While medicine clearly plays a large role in the narrative, it's the relationships that are at the core of the series, say showrunners Andrew Schneider and Diane Frolov.
"We have these great, intriguing, complicated characters and it's our task as writers to continue to find new areas to explore that are both interesting and make sense with what's been set up in the past," said Schneider.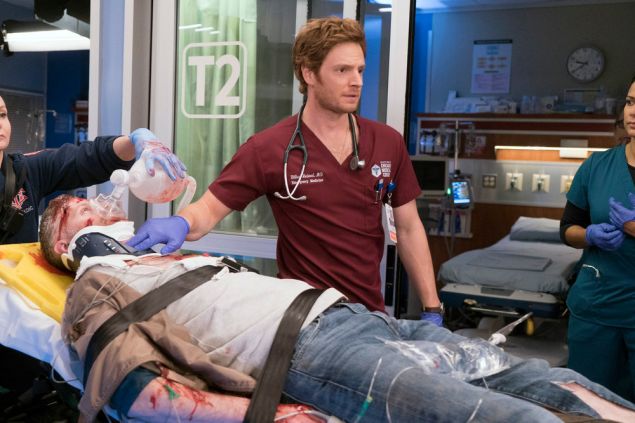 The duo revealed that they arc out what they want to happen with the characters when they first plot out the season, and then look for the medical cases that are going to illuminate those stories.
Talking specifically about what's to come this season on the drama, Frolov revealed that, "We're going to introduce some family members that we haven't seen yet."
Schneider added, "One of the doctors, Dr. Choi, has a sister we haven't met, and Dr. Reese's real father will show up. He's a complex individual and we'll learn why she hasn't seen him since she was six years old."
Complicating the storytelling this season was a shift in the on-air schedule, with the drama moving from a September start date back to beginning in November, said Schneider and Frolov. "We were originally going to have the first episode be all about the immediate aftermath of the shooting rather than have a time jump to a bit after the incident," said Frolov.
"But then we learned that we were going to be on three months later and that we had to be in sync with the other shows – [Chicago] Fire and [Chicago] P.D.—so we had to adjust. That took some retooling and rethinking and storylines changed," explained Schneider. The writers laughed a little as they said, "There were a few curse words about that."
Storylines involving harassment and female empowerment will also be featured this season, as well as a plot that directly deals with abuse.
"People may not know that girls in something like 11 states can be married, with their parents' consent, at age 12 or 13," said Frolov. "We have a story about that."
Colin Donnell, who plays Dr. Connor Rhodes, said that his character gets to spend some time with the Chicago Fire team, "playing with some great toys," when he's called on to do some surgery in the field in a tense episode
He also added that one of his favorite moments so far this season involves working with guest star Malcolm McDowell. The Golden Globe-nominated actor will play Dr. Jaffrey, a world-renowned heart surgeon.
On working with McDowell, Norma Kuhling who plays Dr. Ava Bekker, said, "He's such a big, amazing actor that I was nervous about how to talk to him."
Schneider and Frolov admitted that they already have some ideas about how the series will wrap up its third season in the spring, but that those notions will mostly likely evolve as the current episodes are being created.
They did reveal that, "we're going to do conjoined twins and that's really big, "said Frolov. "That surgery has to be rehearsed because every department in the hospital is involved."
"And we have an idea involving Dr. Charles that we think will tip us into next season," said Schneider. "That's what you want to do, you always want to be creating a foundation for stories for the following season."
Some viewers may think of Chicago Med as just another medical show, but S. Epatha Merkerson, who plays hospital administrator Sharon Goodwin, says that the series employs a unique feature to set it apart. "This is Chicago, not New York or L.A. Showing this city and actually shooting it here in this city gives our show a fullness that we wouldn't have if we'd done it somewhere else. We have all the real Chicago neighborhoods and landmarks and weather and all of that really fills the show out."
Two other elements that Merkerson believes heighten the value of the show are its storytelling and its foundation, she said as she gave a shoutout to the producer behind the series, proclaiming, "I always say that when sit down to watch a Dick Wolf show, at the end of the hour, when you get up, you've learned something."
'Chicago Med' airs Tuesdays at 10/9c on NBC.
Anne Easton is a West Coast based writer for Observer. She's an Emmy-award winning writer and producer who has worked in news, sports and children's television for FOX, ABC/Disney and the ReelzChannel. Follow her on Twitter at @anne_k_easton.