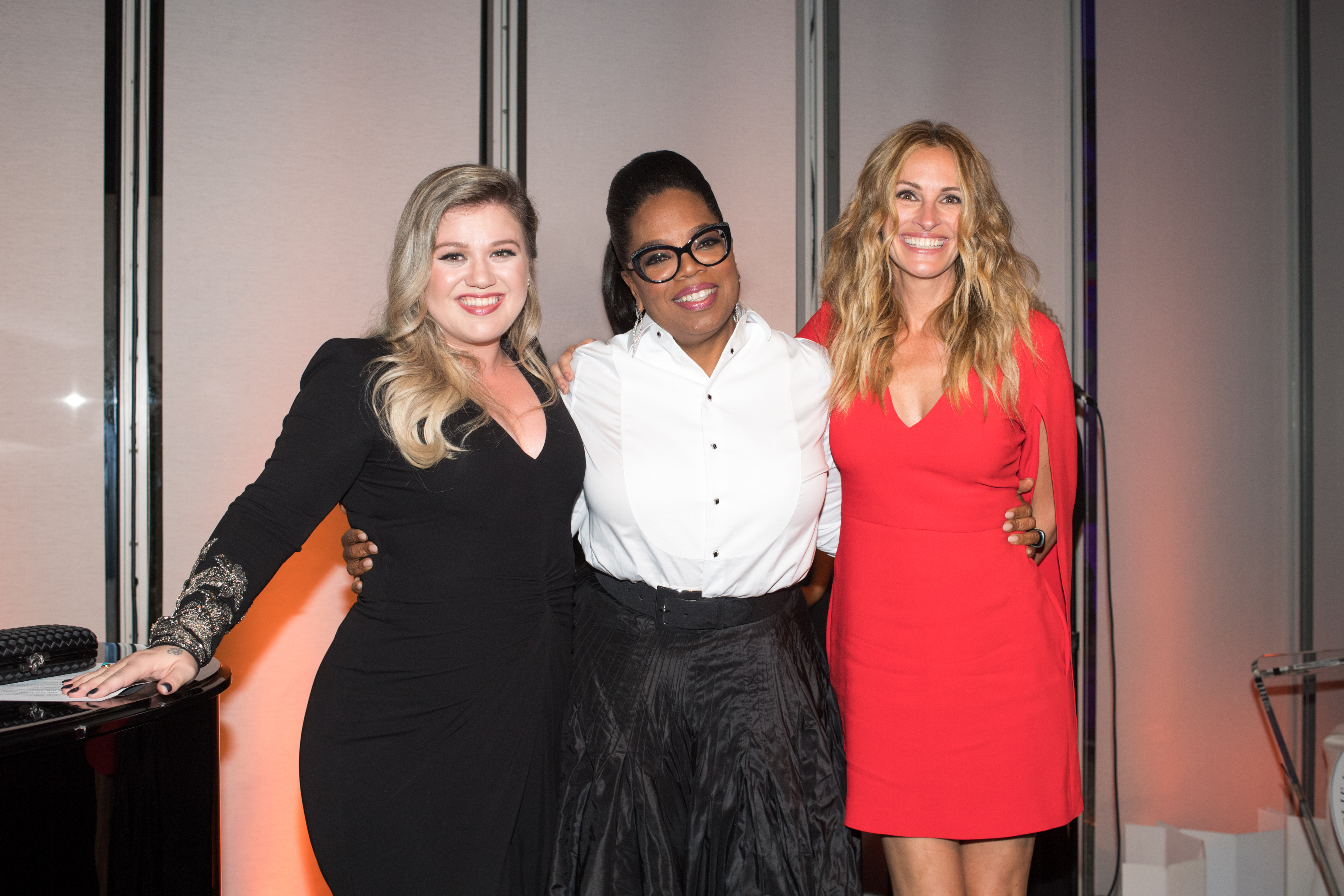 Last night Oprah Winfrey delivered a moving tribute to Elie Wiesel and victims of the Holocaust.
At the J.P. Morgan Library in Midtown Manhattan, the Elie Weisel Foundation for Humanity held its first ever Legacy Award Gala, 18 months after the passing of the Nobel Peace Laureate. One of the organization's greatest achievements is the Beit Tziporah schools for Ethiopian-Israeli children in Israel, now run jointly with WIZO. As her son Elisha pointed out, Marion Wiesel—Elie's wife and partner in all of these incredible projects—moved to the United States in the 1950s and immediately joined the NAACP, even campaigning for civil rights in the American south. "She wanted to make sure," Elisha said, "that none of these children ever experience the discrimination that she'd witnessed in the United States."
With the Foundation so dearly committed to education and equality, it seemed most fitting that the first-ever legacy award in its founder's name be awarded to Oprah Winfrey.
Oprah has dedicated her life toward helping children across the world gain access to the highest levels of education, most famously with her Leadership Academy for Girls in South Africa. Equally remarkable is how much Oprah has done to highlight the plight of the Jewish people in the Holocaust. At an event honoring the legacy of the man who became the living face of the six million martyrs of the Holocaust, Oprah had proven herself to be particularly deserving.
The tribute dinner drew an impressive cast of leaders from religious, cultural, political and business spheres. Speaking warmly and graciously, Julia Roberts served as the event's Master of Ceremonies. David Zaslav, CEO of Discovery Communications, who was instrumental in organizing the evening, spoke movingly of Elie Wiesel and his own relatives who had been murdered in the Warsaw Ghetto. Kelly Clarkson closed the evening with a momentous performance, beginning with Lee Ann Womack's "I Hope You Dance"—the song, she admitted, that came up when she googled "Oprah's favorite song." Other participants included Ralph Lauren, Congresswoman Gabby Giffords and Katie Couric.
The night's most moving moments were the two keynote addresses.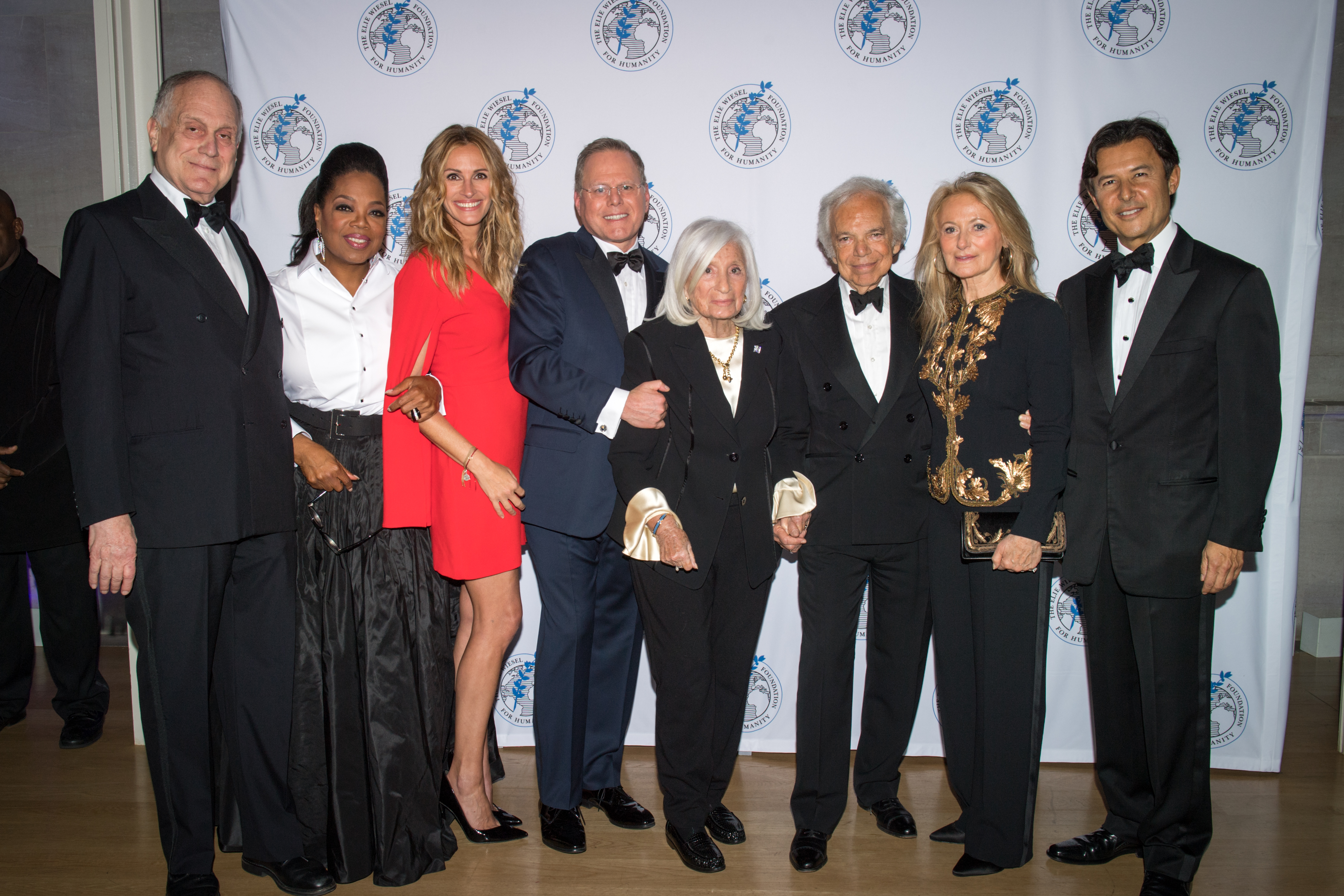 The first came from Elie's son and ultimate legacy, Elisha Wiesel. He began with the story of Rabbi Yitzchak Berkow, one of the great Hasidic masters of old. Following his passing, his friend had allegedly gone to heaven to find him in the celestial sphere. He searched through all of the palaces of the righteous men, yet failed to find him. Finally, the angels told him that he must cross the dark forest at the edge of heaven. Crossing the forbidden terrain, he came upon an ocean, with waves crashing and screaming in a painful, chaotic chorus. There, on the shore, stood the great Rabbi Yitzchak Berkow. "This is the ocean of tears cried by Jews throughout the centuries," Rabbi Yitzchak told his puzzled friend. "I've told God that I will not depart this shore until he dries the tears of our people." Cutting into the core of his audience, Elisha told us that though his father was gone, he knew he was up in heaven "looking at G-d and daring Him to make his next step."
"But even as he negotiates with G-d on our behalf," Elisha said, "we face all manners of wickedness around us. Holocaust denial in Iran. Thirteen countries in the EU still closing their borders to refugees. A Jewish father and his two children killed while eating their Sabbath meal. Not even eighteen months have gone by since my father's passing, and our world has already moved closer to the edge."
Still, Elisha reminded us, though his father showed us a mirror of absolute darkness, his was a message of absolute hope.
Elisha impressed that it was incumbent of the audience to continue his father's legacy. "Will you stand with my mother and demand truth? Will you also call out the endless Israel bashing—which amounts to anti-Semitism—that is tolerated in the chorus of the progressive left? Will you demand an end to the calls for the annihilation of Israel and make it clear, finally, that the Jews will not be killed again!"
"The story," he said, "is yours. The question is: what will you do with it."
Following his forceful and inspiring address, Oprah delivered her own speech of unforgettable eloquence.
Having accepted the first-ever Elie Wiesel Legacy Award, Oprah recounted how deep and meaningful an impact Elie Wiesel had made on her.
She said that Elie Wiesel was a hero. But, more than a hero, he was a mentor and a friend. These were terms, Oprah said, that she never used lightly. Receiving this award, she expressed, made her feel as though the universe itself was winking at her, encouraging her in the way Wiesel had always done. "You knew you were in the presence of someone who had endured the unimaginable worst of times and could still give and teach the best that love has to offer. Every day he taught, lectured and lived compassion, peace, empathy for other souls and truth."
Oprah then said something that made the audience shudder. In haunting and unforgettable words she said, "As I walked through Auschwitz with Elie Wiesel, I felt the sorrowful, still eyes of the wise, weary consciousness of Being Itself on me. Meaning the collective Spirit of all life, all human beings, walking beside me, step by step. It was holy, being there with him. One of the holiest moments I've ever experienced."
Arguably the most influential woman in America just said that walking among the dead Jewish spirits of the holocaust, with the living face of the six million themselves, was one of the holiest of her life.
Oprah spoke of how Elie Wiesel had pointed out to her that Auschwitz was a factory of death. Campbell's made soup. Microsoft made computers. In Auschwitz they made death.
She added that Elie had a way of consecrating, enchanting a common moment into something more multi-dimensional, a moment more aware of itself and what it meant.
She went on to recall the exquisite gentleness and quietness of Elie Wiesel's voice. His was a voice, she said, which carried truth. So much truth that it had to become quiet. It had to become still to carry such a tremendous burden, and to get humanity to listen.
How, she asked, had such a quiet, gentle voice survived Auschwitz? Hitler and the Nazis had tried everything to silence his voice along with those so many others. But they had failed. Why? Because Elie Wiesel's voice was one that spoke truth. "There is such a thing as truth, and it is indestructible… and it will prevail."
The Nazis, who were pure evil, had to set out to silence the voice of the entire Jewish people. But voices like Elie Wiesel not only survive but go on to defend the voices of millions who follow.
The light of truth, Oprah concluded cannot be extinguished forever. Nor can it be dimmed by chaos and confusion.
The truth, she concluded, would endure forever, just like the legacy of Elie Wiesel
And David Zaslav revealed that in a conversation with Oprah years earlier he had asked who, among her hundreds, perhaps thousands of interviews, was the most memorable. She thought for a moment and then said, "Elie Wiesel."
The great truth that the holocaust's most famous survivor embodied beckon us still: to fight genocide, stand up for human rights, and argue with God in the face of tragedy and pain.
Rabbi Shmuley Boteach is the international best-selling author of 31 books, most recently The Israel Warrior. The winner of the London Times Preacher of the Year Award, he has been called by Newsweek "the most famous Rabbi in America" and named by the Jerusalem Post as one of the 50 most influential Jews in the world. Follow him on Twitter @RabbiShmuley.