For Paa Joe, death has been a main focus for the majority of his life. The Ghanaian artist has been in the fantasy coffin business for the last 40 years, creating masterful sculptures that emulate everything from chili peppers to chic Porsches, designed to transport their commissioners into the afterlife in a celebratory spirit. Now, in celebration of his own 70th birthday, the artist is teaming up with his son Jacob Tetteh-Ashong—who is following in his dad's coffin-making footsteps—and Ghana-based performance artist Elisabeth Efua Sutherland, to actively illustrate the story of passing into the great beyond. The collaborative exhibition, entitled "One does not take it anywhere," opens on November 21 at Gallery 1957 in Accra.
According to the gallery's founder, Marwan Zakhem, the show is meant to commemorate Paa Joe's life-long career, which has been spent memorializing the lives of others. But the artist's creative contributions extend far beyond the idiosyncratic desires of individual casket buyers. "It's an important time to be celebrating Paa Joe's legacy, not only to mark his 40th year in this business, along with his birthday, but also to reflect on his legacy in the wider context of Ghana's exciting contemporary art scene," Zakhem told Observer.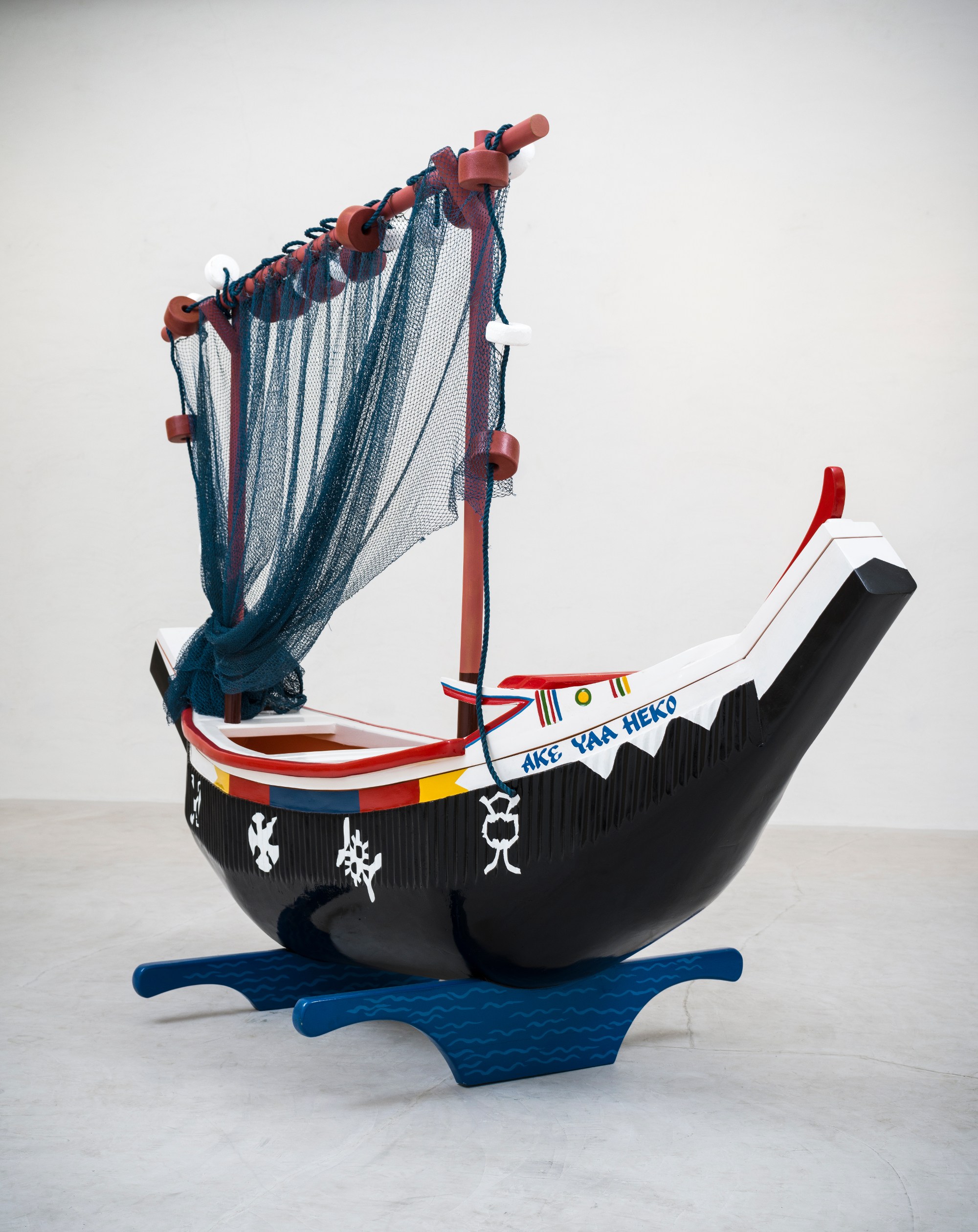 Indeed, Paa Joe's work has sparked international interest over the years, even though the tradition of fantasy coffins, or abebuu adekai, is relatively new, taking root in the mid-20th century. It stems from Accra's regional Ga community, members of which believe that existence continues on after death in much the same way that it does in our current terrestrial incarnation. Family members, therefore, want to send off their loved ones in a style befitting the best of their time here on Earth.
Coffins are only produced on a made-to-order basis—there's no catalog to select from—and much of the time they reference the deceased's profession. Former U.N. secretary general, Kofi Annan, and ex-U.S. president Bill Clinton have visited Paa Joe's studio, and it's believed that Jimmy Carter purchased two coffins. The artist's work was introduced to Western audiences in the 1989 Centre Pompidou exhibition "Les Magiciens de la terre" in Paris, and has since been shown at the British Museum and the V&A in London, as well as in New York at the Brooklyn Museum and, most recently, at Jack Shainman's galleries in Manhattan and Kinderhook.  
Despite the commercial and institutional interest it's garnered abroad, the fantasy coffin business in Ghana has, until recently, been seen as a skilled trade rather than an art practice. Indeed, it is still learned by apprenticeship, like other vocational professions. Paa Joe studied with Kane Kwei until 1974 before making the first coffin under his own name in 1978—a building-shaped vessel for a real estate developer. Tetteh-Ashong, his 28-year-old son, joined him as an apprentice in 2008, but as Accra's art scene swells suddenly—Gallery 1957 opened in 2016, followed closely by the announcement of the region's first fair, Art Accra, and the launch of the art space ANO in early 2017—there's an increased desire to see the practice recognized as a codified art form of the region. Which is precisely why Zakhem saw the benefit of incorporating an emerging contemporary Ghanian artist like Sutherland in "One does not take it anywhere."
"By showing Paa Joe's work—and that of his son and apprentice Jacob—alongside Elisabeth, a brilliant performance artist, we are also acknowledging the dynamism of Ghana's art scene, which thrives off such interdisciplinary and multi-generational collaborations, which challenges traditional and structural definitions of art," he said.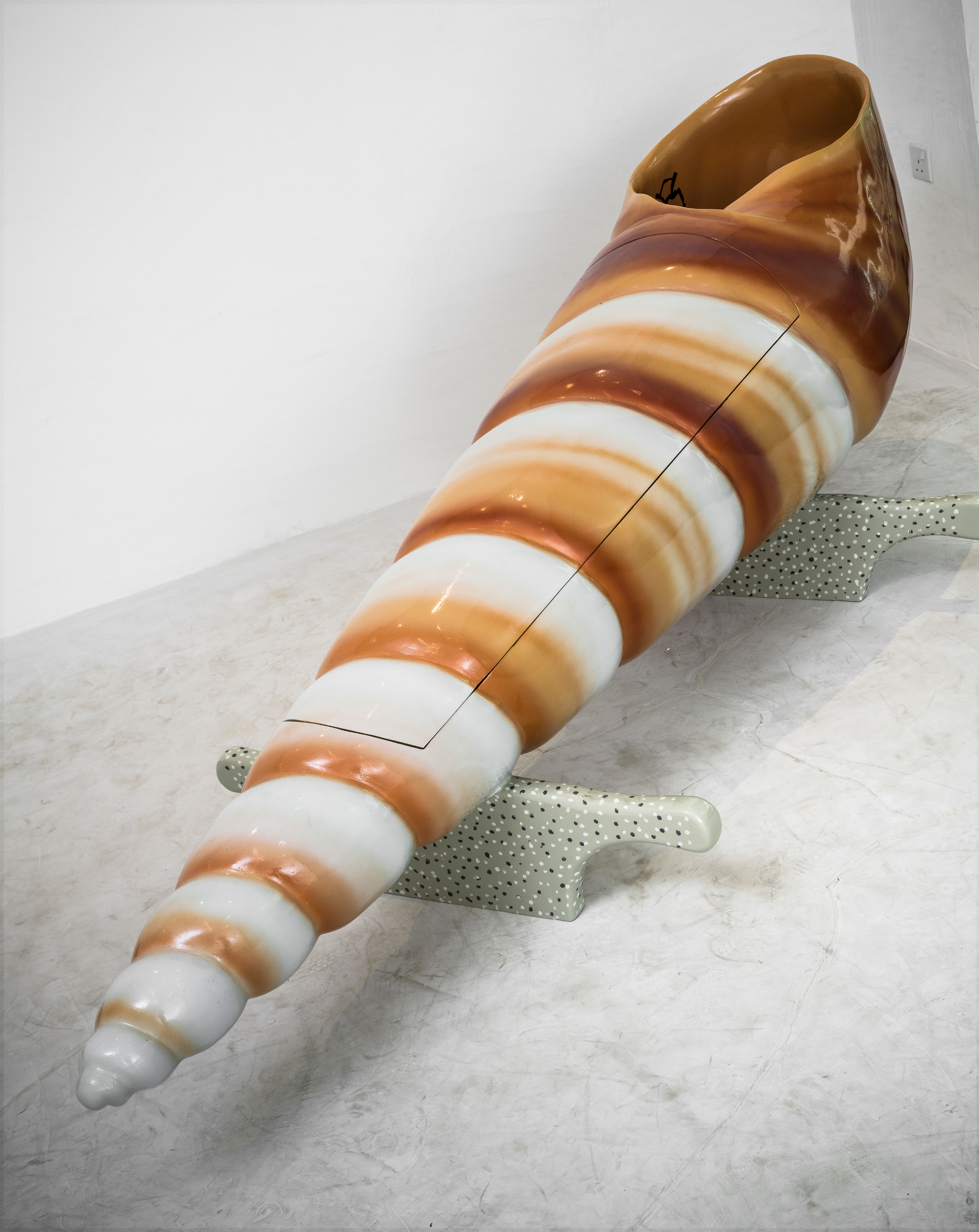 Sutherland, for her part, was honored to be asked to participate in the exhibition when Tetteh-Ashong approached her about it earlier this year. The artist told Observer that "they were interested in bringing more action and technology to the works," which are necessarily static and sculptural, given their function. Having been familiar with Paa Joe's work for most of her life, however, Sutherland was just interested in linking her practice with his.
"We're both coastal people," she said, explaining that the performance is gathered around water. "We're using the metaphor as life as a beach, from which you push off into the sea, the unknown." Weaving together specific funeral practices of the country's Ga and Fante communities—the coastal communities to which the artists respectively belong—it becomes a narrative of a fictional passing of a young girl. A dozen performers in funeral costumes re-enact a kind of last-rites processional, alongside video projections featuring conversations between the performers, Sutherland, and Paa Joe.
The exhibition showcases six of Paa Joe's coffins that he's made with Tetteh-Ashong, each inspired by the seascape. In the context of Sutherland's performance, they become shiplike, although they are already vessels by which one journeys into the afterlife. As with any extended trip, it's better to travel lightly, as underscored in the show's title, taken from the Ga proverb "akԑ yaa heko" ("one does not take it anywhere"), a gesture toward the inevitably limit of wealth and materialism. A coffin, then, as the last thing you'll ever buy, might as well be fantastic.