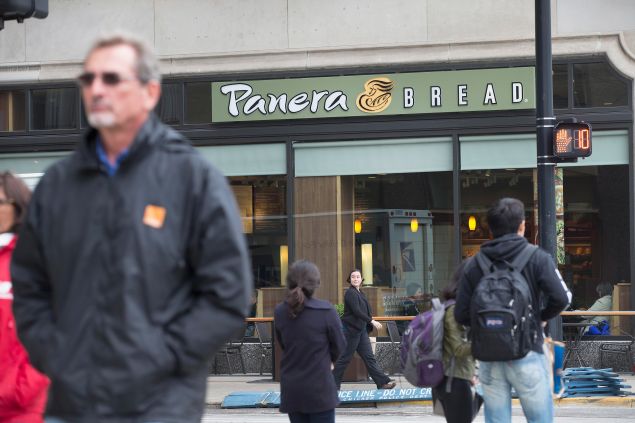 Panera will be making a lot more bread bowls—but with a different person at the helm.
Panera CEO Ron Shaich announced yesterday afternoon that the company is acquiring Au Bon Pain, an eatery he co-founded in the 1980s. A half hour later, Shaich also revealed that he's resigning as CEO at the end of the year, though he will remain the company's executive chairman.
The twin announcements show both Panera's wish to expand its footprint and Shaich's desire to spread his wings. Terms were not disclosed for the Au Bon Pain deal, which should close by the end of the year.
But Shaich is no stranger to the fast casual chain—indeed, he was once its CEO. Shaich's bakery The Cookie Jar merged with Au Bon Pain in 1981, creating the Au Bon Pain Company. In 1993 the firm also purchased the St. Louis Bread Company, which within four years had changed its name to Panera.
Shaich sold Au Bon Pain in 1998 to focus on growing Panera—Au Bon Pain was then purchased by The Compass Group. But almost two decades later, the eateries are together again.
This acquisition certainly wasn't for sentimental reasons, however—it will help grow Panera's foot traffic. Au Bon Pain has over 300 locations in areas like universities, hospitals and bus and train stations that Panera (which operates over 2,000 restaurants) hasn't gotten a foothold in at this point.
Au Bon Pain will also benefit from re-associating with Panera, because its profits have tumbled three percent in the last year. It's unclear whether Au Bon Pain locations will be revamped as Paneras or the two brands will remain separate.
This new deal comes just six months after Panera was purchased by JAB Holding, a privately held company based in Luxembourg. Panera was valued at $315 per share, or about $7.5 billion.
Given the timing of Shaich's retirement announcement, some analysts thought he had reservations about the Au Bon Pain deal and was looking to cut and run. But Shaich told CNBC this was not the case.
"This is not about me," he said. "This transaction makes powerful sense for Panera. This is a strategic growth play."
Company president Blaine Hurst, who previously worked at Papa John's and Boston Chicken, will take over as Panera's CEO—he will also remain in his old job.
Shaich was not clear about his future plans, but he's well-known as a proponent of long-term investing. And he knows of what he speaks: his early business bets on Au Bon Pain and Panera have led to a 1,500 percent return on investment over the last three decades.
There are also rumors that Shaich will follow Starbucks CEO Howard Schultz's path into politics and advocacy, so maybe one day bread bowls will be served in a governor's mansion.